---
How do Marin County Microclimates Affect Your Roof?

Microclimates
The cities and neighborhoods of Marin County are each characterized by their own microclimates with a wide range of temperatures and atmospheric conditions that affect the life of the roof. From the hot summers in Novato, to the moist marine fog layer in Sausalito and Mill Valley, to Marin's wettest spot – Kentfield. Each unique microclimate requires a roofing system with specific attributes that promote durability, high performance, and optimize energy efficiency.
On the Shores of San Francisco Bay
Selecting a roof for a home on the shores of the San Francisco Bay, such as in Tiburon, Belvedere or Sausalito, requires specific considerations due to salt-water exposure and the possibility of corrosion.
Hot Summers
In the warmest areas of Marin, such as San Rafael, Lucas Valley, Nicasio, and Novato the benefits of a cool roofing system are tremendous in lowering energy costs and keeping the home comfortable during the summer.
Redwood Groves and Oak Trees
Proper roof selection and an emphasis on maintenance are necessary for the shady neighborhoods of Marin, such as Mill Valley, Larkspur, and Fairfax where roofs are vulnerable to the growth of litchen, mold, and moss under a canopy of redwood trees or oaks.
Fire-Safe Roofing
It is important to note that many Marin homes and buildings are in designated "Wildfire Urban Interface" areas. These neighborhoods are at increased risk of danger from major wildfires and are subject to more restrictive city and county regulations for roofing options. In these areas, the selection of a Class-A fire rated roofing system is an important safety decision. Please visit Fire Safe Marin for vital information.
---
What is the True Cost of a New Roof?
As we reported previously, installing a new roof on your Marin County home is actually a good investment. Many home remodeling projects offer a poor return on investment at resale. Whereas, the National Association of Realtors ranks new roofing as the top exterior remodeling project, with an incredible 105% return on investment.
---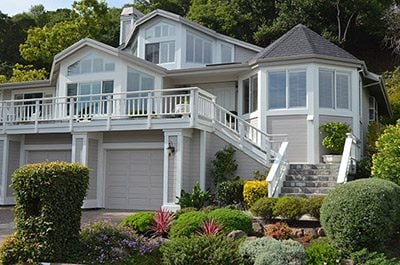 What are the Most Popular Roofing Systems in Marin County?
Throughout Marin County, Spray Foam is the top choice for flat and low-sloped roofs. Homeowners and businesses appreciate the sleek look of a spray foam roof and the lower energy costs resulting from the installation of this highly-insulated, reflective roofing system featuring a low VOC coating.
Ultra-dimensional architectural shingles are the top roofing system for steep slope roofs in Marin. The most popular brands are GAF's Timberline, Camelot, Glenwood, Grand Canyon, and Woodland designer shingles; CertainTeed's Presidential and Landmark luxury shingles; Owens Corning's Berkshire and Woodcrest extra-large shingles; and premium shingles from IKO and Malarkey.
From Novato to Sausalito, clay tile roofs are an integral link to Marin County's architectural history. Popular on newer homes are concrete tile roofs. Both are long-lasting, sustainable roofing systems. Tile Roofing brands include Boral, Eagle, Ludowici and MCA Roof Tiles
Class-A Fire Rated Metal roofs are adaptable to all types of Marin County architecture, from Cape Cod houses in Marinwood to ultra-modern homes in Mill Valley. Standing Seam Metal Roofing Systems by ASC Metal, Metal Sales, and Custom-Bilt Metal are popular choices in Marin, as well as Metal Roof tiles manufactured by Gerard/Boral and Decra.
What are the newest trends for roofing in Marin County?
Mixed Material Roofing
The newest roofing trend is a combination of both standing seam metal panels and high-definition shingles installed on separate pitched roof sections. Combination roofs are also seen on Eichler homes in San Rafael and Lucas Valley with spray foam roof installed on the flat roof sections, and shingles on the steep sections.
Slate roofs have become increasingly popular in Marin County as the beauty of a slate roof is undeniable, and with a lifespan reaching the century mark, there is no better roof for sustainability. Genuine slate roofing brands include American Slate, Evergreen Slate, and GAF TruSlate.
Top Marin County Roofs
Sausalito Spray Foam Roof, Dillon Beach GAF Shingle Roof, San Anselmo Clay Tile Roof, Ross Slate Roof, Kentfield Metal Roof and San Anselmo Mixed Materials Roof.
---
About Wedge Roofing
Voted as the winner for "Best Roofs in Marin County" in the 2022, 2021, 2020, 2019 and 2018 Marin IJ Readers' Choice Awards, Wedge Roofing has earned the reputation as Marin's Trusted Roofing Contractor with 46-years of premiere-quality, cost-effective roof installations, and repairs.
Founded and owned by second-generation Marin County residents, Wedge Roofing is the only local roofing company to achieve the highest standards in the industry, receiving premier accreditations and awards for roofing expertise, customer satisfaction, and ethical business practices.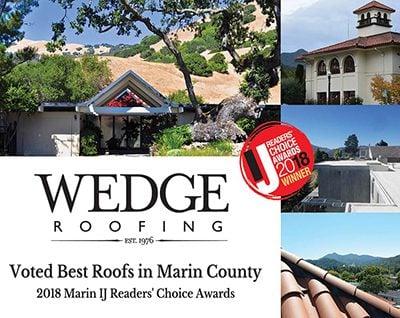 Roofing Services
From shingle roof installations in Belvedere and Tiburon, to spray foam roofs in Novato, Sausalito, and Mill Valley, to flat roof repairs in San Rafael, homeowners and businesses rely upon high-quality, dependable roofing services, including new roofs, roof replacements, re-roofing, roof repairs & maintenance, roof coatings, emergency roof leak repairs, historic roof restoration.
Recent Awards for Marin County Roofing Projects
2014 Top Marin Real Estate Project for Historic Renovation of the City of San Anselmo Tower and Town Hall
2015 Best Spray Foam Roof Nationwide Award for Eichler home in San Rafael, CA
2016 California Legislature Recognition from Marin Couty Assemblymember Marc Levine.
2018 Best Spray Foam Roof Nationwide for historic home in Sausalito, CA.
2018 Marin Independent Journal Readers' Choice Awards for Best Roofs in Marin County.
2019 Marin Independent Journal Readers' Choice Awards for Best Roofs in Marin County.
2019 Best Spray Foam Roof Nationwide Award for the Birkenstock building in Novato, CA.
2020 Marin Independent Journal Readers' Choice Awards for Best Roofs in Marin County.
2020 Best Spray Foam Roof Nationwide Award for Eichler home in San Rafael, CA.
2020 Best Roof Coating Award for Mill Valley, CA condominium.
2021 Marin Independent Journal Readers' Choice Awards for Best Roofs in Main County.
2022 Marin Independent Journal Readers' Choice Awards for Best Roofs in Marin County.
Membership, Leadership and Philanthropy
Wedge Roofing is a proud member of the Marin Builders Association, San Rafael Chamber of Commerce, San Anselmo Chamber of Commerce, Tiburon Chamber of Commerce and Corte Madera Chamber of Commerce. An industry leader, Wedge Roofing founder and president, Ralph Wedge is a past president of the Marin County Builder's Association. Wedge Roofing supports many local non-profit organizations, including Marin's Can Do Public Schools, Celebrate Life Breast Cancer Foundation, Guide Dogs for the Blind, Marine Mammal Center, and Wildcare.
---
Wedge Roofing Reviews

Wedge Roofing's clients range from homeowners of villas in Ross, Tiburon, and Belvedere to property managers of commercial buildings in San Rafael, apartments in Novato, HOA in Mill Valley, hotels in Sausalito, shopping centers in Kentfield, and even houseboats in Sausalito. Here are some of their reviews:
"These guys are good, honest, and not trying to sell that isn't needed. I highly recommend them."
Chris R. Mill Valley
"Extremely pleased with the work done. Clean, polite crew, very professional, and all work completed on schedule."
Aldersley Retirement Community
"This is why your company has the reputation they have. Everyone has provided such great service and communication and it is greatly appreciated."
Sheryl P. Mill Valley
"It is rare to find a company that stands by its reputation and walks the talk, offering solutions when other companies would disappear. They run their business like I run mine and I really appreciate it. I cannot recommend them highly enough."
L.B. Sausalito
"Fast, clean, communication with me as a client, detailed quotes and invoices. Very knowledgable of all things roof."
Coleman B., Tiburon
"Fantastic job. Several years after they put my roof on, a tree fell and hit the roof and blew out a skylight. They came back and cleared the roof of debris, checked everything out (no real damage to the roof), and even put the skylight back on. No charge. Highly recommend."
Homeowner Mill Valley
"We use Wedge Roofing and they are a wonderful, local family-owned company."
Elaine R. San Rafael
"Wedge Roofing just completed a foam roof for us and we are very pleased with their work. They're probably the most experienced foam roofers in the county. Terry and crew were always on time and promptly responded to questions."
Homeowner San Anselmo
---
Videos