---
Storm Damage Roof Repairs
In response to storm damage, Wedge Roofing repair crews are on the scene to repair roofs damaged by fallen trees, wind, and any other storm-related incidents. As a licensed Roofing and General Contractor, Wedge Roofing's full-service repair crews of highly experienced roofers and carpenters can expertly repair both the roof and any structural damage to the building.
Fallen Tree Roof Repairs
If a tree has fallen on your roof, we can arrange for an arborist to remove the tree, and then our repair crews can install a temporary roof cover to protect your home or building until the storm subsides. Our estimators will provide a thorough assessment of the roof and any structural damage, including engineering analysis as needed. After obtaining all necessary building permits, we will professionally complete all repairs to the highest quality standards. Additionally, our office staff can coordinate with your property insurance provider. Read more here.
---
Full Service Repairs
The Wedge Team offers much more than roof repairs, we recognize your need to work with one contractor you can trust to repair both exterior and interior damage to your structure.
As a licensed General Contractor, Wedge Roofing's full-service repair crews include experts in dry rot, structural repair, water mitigation and the complete restoration of interior areas damaged from water intrusion.
After the fact, Wedge Roofing's office staff will work closely with your insurance carrier to assist you in your claim.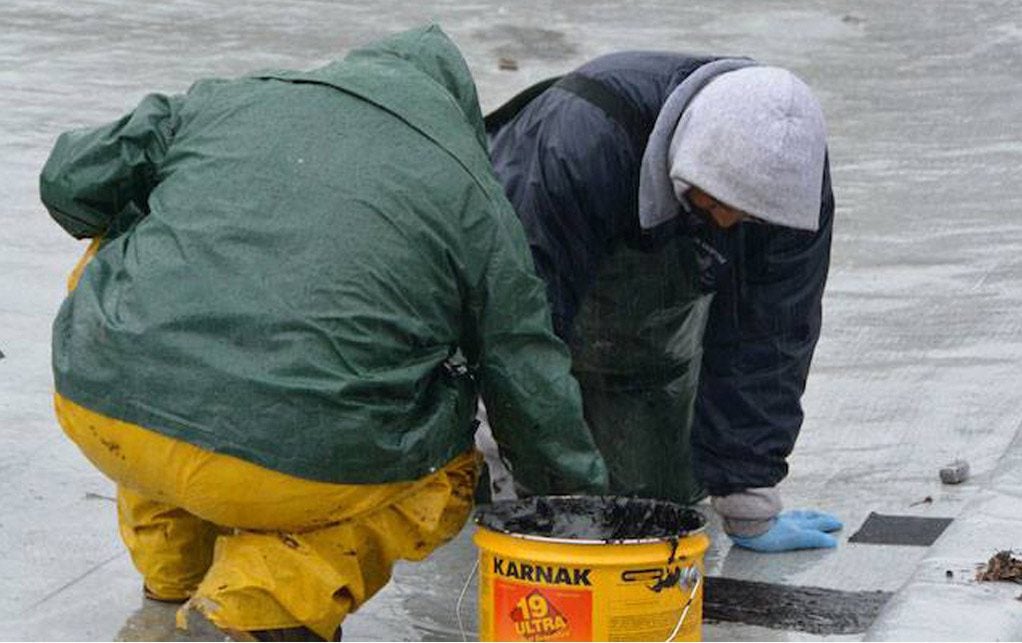 What Our Clients Say
"I can tell you that my experience with Wedge Roofing has been excellent. We had all sorts of leaks, including skylight problems. I called them, and they sent someone out the same day to do guaranteed emergency (temporary) repairs. They were clear in their cost and experts at fixing these leaks. Professionally behaved people who guaranteed their work for at least three months until I could do the full roof project."

– Lisa S., Mill Valley – Roof Leak Repairs

"Know that I am grateful from the bottom of my heart for your professional services. Thank you, thank you, thank you. I weathered last night's storm with a smile on my face… I had no interior flooding. Bless you and your team."

– Cheryl R., San Rafael – Emergency Roof Leak Repairs

"I've also used Wedge many times and refer to clients too. Their leak response team is speedy, efficient and get the job done right every time. Good luck – roof leaks are the worst."

– Rose A., Mill Valley – Emergency Roof Leak Repairs.

"Wedge is great. They fixed a leak on my Petaluma house roof right over my desk! The Guys were super professional and very knowledgeable. 5+ years later, things are fine."

– Mark's North Bay Real Estate

"Wedge Roofing is great! We moved into a new home a few years ago, and after heavy rains, we had several leaks in our roof. They did a fantastic job repairing all the leaks and other roof defects. They were professional from start to finish."

– Kathy P., Novato – Roof Leak Repairs

"These guys are great! They took care of my mother in laws house after the first big storm. They came over asap and patched up the roof. Great people to work with! Very happy with Wedge Roofing. Thank you so much for taking the stress out of a stressful weekend."

– Ann V. – Roof Leak Repairs

"Wedge Roofing came to my rescue. They literally saved my house from disaster. Water was pouring into the house, and they did the repairs in the middle of a storm. I would give them the highest recommendation."

– Stephen K., Novato – Roof Leak Repairs

"Wedge Roofing repaired a leak we had around a large skylight, it never leaked again."

– Sandy N., Novato – Roof Leak Repairs

"I appreciate how Wedge values their customers and understands the stress leaks put on the homeowners and responds by having crews come out as soon as possible"

– Mark B., San Rafael – Roof Leak Repairs

"Wedge Roofing is totally professional – with guarantees!"

– Lisa M., Mill Valley – Emergency Roof Leak Repairs

"We had a leak happen during a bad storm. Wedge came out the same day and did an emergency cover which held us over until the weather was better. They recently replaced our roof, and we are happy with their work. I would recommend them."

– Eric Z., Corte Madera – Roof Leak Repairs

"Their response time and service are impeccable. These are the guys you want to call when your roof leaks, and you want to sleep ok that night! They are on your team and won't nickel and dime their work. All they want is to stop the leak and offer good customer service at the same time."

– Rachel B., Novato – Roof Leak Repairs

"The day before Christmas after 5 pm, they had a team at the house as they promised and did the emergency repairs because of an upcoming storm."

– Natalie, Novato – Roof Leak Repair

"I had a bad experience with another local roofer… waste of time and money, and they didn't fix our roof leaks. I finally went with Wedge Roofing, and they did a great job. Very professional in both determining the issues and fixing the leaks. They're more expensive than other roofers, but they're my go-to roofer from now on."

– K.E., Petaluma – Emergency Roof Leak Repairs

"The roof on my triplex failed during heavy rains in December 2018. Water poured in and damaged the ceiling in one unit. The tenant was inconvenienced. I called several roofers. Except for Wedge Roofing, all gave me the dreaded voicemail treatment and did not call back. In my hour of need, Wedge promptly organized a temporary repair that stopped the leak. Wedge Roofing has my highest recommendation."

– Gary C., San Rafael – Shingle Roof Installation

"I was in an emergency situation with a job done incorrectly by a previous company. I was desperately seeking help in a situation that could have been a disaster if it weren't for Wedge's help. I cannot tell you how much I appreciate the integrity and excellent service."

– Kathy, Corte Madera