San Francisco Bay Area Storm Damages Roofs
Atmospheric River Storm
The Pacific "Atmospheric River" rain storm that slammed the San Francisco Bay Area is leaving behind a wake of storm damaged roofs.The most intense storm in many years with heavy rain and powerful wind gusts wreaked havoc upon rooftops from Sonoma and Marin Counties to San Francisco and the South Bay. Wind gusting up to 70 MPH toppled trees onto roofs and peeled away skylights and roofing shingles.
Drought Neglected Roofs
The intense rain exposed the inability of drought neglected roofs to provide a safe and watertight shelter for those living and working in many Bay Area buildings.
Roof Leak Repair Teams
It is all hands on board at Wedge Roofing as hundreds of calls are coming in from desperate homeowners and businesses requesting Emergency Roof Leak Repair Service.
Wedge crews are quickly dispatched to homes and commercial buildings in the Northbay and San Francisco. Once on the scene, these expert roof technicians quickly identify and remediate the source of the roof leak.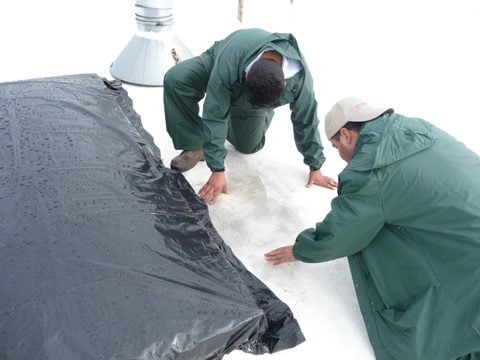 Roof Leak Source
From fallen tree damaged roofs, plugged roof drains and windblown shingles to deteriorated roofs that have exceeded their life span during the drought, the repair crews halt the interior water intrusion.
Long-Term Repairs
Following the emergency service, Wedge roof inspectors provide documentation of the roof's condition along with their recommendation for a long-term roofing solution.
Read More: Roof Collapse: Prevent a Roof Crisis

Read More: Roof Leak Repairs in a Pinch

Read More: Post-Storm Roof Care