---
San Francisco Bay Area's Spray Foam Leader
As San Francisco Bay Area's first SPFA-Accredited Spray Foam Insulation and Roofing Contractor,  and as the recipient of the 2015, 2016, 2017, 2018, 2019, 2020, 2022, and 2023 Spray Foam National Industry Excellence Awards, Wedge Roofing is the leader for safe and precise spray foam applications in the Bay Area. 
---
Spray Foam Roofing
Available in Marin County, San Francisco, Sonoma County and Napa, our award-winning spray foam roof installations are cost-effective, energy efficient and Title 24 compiant.
---
Spray Foam Insulation
Wedge interior Spray Foam Insulation provides exceptional R-value insulation properties with the added benefit of air-sealing and noise reduction in commercial and industrial buildings, as well as vineyard tanks. Our award-winning spray foam insulation service is available in Napa, San Francisco, Marin County and Sonoma County.
---
Certified Expertise
The Wedge Team of highly-trained Spray Foam Specialists are experts in the intricacies of the proper installation techniques, and are certified as Advanced Level Spray Foam Project Managers and Installers by the Spray Polyurethane Foam Alliance and by the manufacturers of all the Spray Foam and Roof Coating products we install.
---
What is Spray Foam?
Spray Polyurethane Foam, commonly referred to as Spray Foam, is a spray-applied, insulating, foam plastic that is installed in liquid form and then quickly expands into a permanent, solid, insulating material. As the foam solidifies, it expands at many times its original size. Spray Foam can be easily adjusted based on the requirements for the application, and has many different physical properties and uses.
---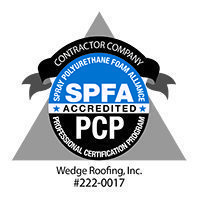 Highest Standards
We provide our clients with the highest level of safety, performance, quality and professionalism, well above industry standards.
Wedge Roofing was the first contractor in California to successfully pass the new, rigorous standards of testing, regulated by the Spray Polyurethane Foam Alliance, receiving certification as Advanced Level Spray Foam Master Roofing and Insulation Installers and Advanced Level Spray Foam Roofing and Insulation Project Managers.
This internationally recognized, ANSI accredited verification is the most rigorous, extensive and defining program for Spray Foam Professionals in the world. This distinction certifies our demonstrated expertise, essential knowledge, skills and abilities inherent among the highest class of Spray Foam Professionals.
What Our Clients Say
"Wedge Roofing is an Award-Winning, Industry-Certified, Leader in the Application of Spray Foam Roofing and Insulation."

– Spray Polyurethane Foam Alliance
Accreditations and Awards