---
The Roof: Critical Building Component
Historic preservation experts define the roof as the most critical building component for the preservation of historic buildings and advise that restoration measures should begin with the roof. Interior water infiltration from a failed or leaking roof can quickly destroy the prized historical building materials and ultimately destroy the entire structure.
Original Historic Roofs
For original roofs of sustainable materials such as slate roofing, clay tile roofing and metal roofing, we recommend preservation of these historically significant roofing materials. Our roof craftsmen replace missing or damaged roof components with matching heritage roofing materials from our own reclaimed roofing collection or through our historic sources. In projects where the substrate deterioration requires replacement, our roof craftsmen will carefully remove the historic roof materials for re-application.
---
Historically Authentic Roof Systems
Although the goal of historic roof restoration is the use original materials, in many instances this is not possible. For example, many building codes place restrictions on the use of wood shingles, a common roofing material in 19th century San Francisco Bay Area structures. Through historic research and physical investigation of the roof, Wedge Roofing's historic specialists can gain insight into the original roof materials, roof top architectural features, roof top design elements and historic roof construction techniques. We can then recommend a historically authentic roof system that accurately reflects the historic character of the building.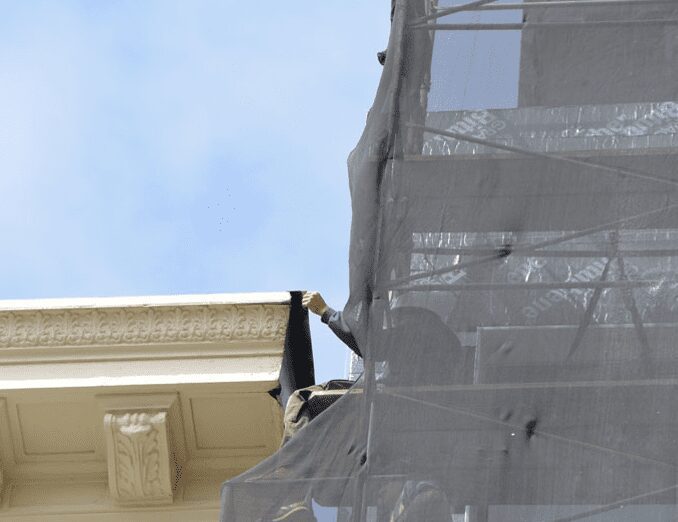 Craftsmanship
From San Francisco Bay Area steeply-pitched Victorian gable roofs, to gentle sloping Bungalow hip roofs and even Eichler Mid-Century flat roofs, Wedge Roofing's highly experienced historic roof restoration team and exterior construction artisans offer their vast expertise to provide a thorough and thoughtful restoration of San Francisco Bay Area's architectural treasures. Wedge Roofing's work complies with Federal guidelines to qualify as "certified rehabilitation" if applying for the Federal Historic Preservation Tax incentive program.

Additional Historic Services
Wood and metal exterior roof features: cornices, entablatures, modillions, dentils, corbels and cresting
Architectural sheet metal fabrication
Dry rot repairs and structural restoration: roof framing, rafter tails and roof sheathing
Historic siding repair and replacement: cedar shingle siding, clapboard siding, tongue & groove siding
Gutters and downspouts for historic roofs
Porch and veranda structural restoration including columns, railing, flooring, spindles and balustrades
Energy-efficiency improvements for historic buildings: moisture barriers, air sealing, insulation upgrades, spray foam insulation and roof ventilation
Roof-top solar systems for historic buildings
Historic roof consultation
---
Training
Our staff has completed training in historic preservation and restoration from the Historic Preservation Education Foundation, the American Institute of Architects and Federal Historic Preservation.
As members of the National Trust for Historical Preservation, San Francisco Architectural Heritage, Sonoma County Historical Society, Heritage Homes of Petaluma, Healdsburg Historical Society and the Eichler Network we continually update our base of knowledge.
---
Videos
What Our Clients Say
"We chose Wedge Roofing after determining that they were the most honest/knowledgeable about what needed to be done with our 1924 bungalow home. They asked for our permission to apply for recognition from Heritage Homes for our re-roof, and low-and-behold ended up winning an award." 

– Zack M., Petaluma – Award-winning historic home

"I had a rehab job, and those always come with complications on old houses. Wedge took care of maintenance and was sensitive to architectural integrity, quality work, clean-up of the site and great communication. Excellent company."

– L. C., Historic Home, Petaluma

"Extremely Pleased with the work done. Clean, polite crew, very professional, and all work completed on schedule."

– Aldersly Retirement Community, Marin County – Roof Replacement

"We have a 1911 house in SF with a 30+ year roof. I had called several roofers seeking to see if it
could be repaired. Several were unwilling to visit for a potentially small job. Wedge, however responded promptly and provided a thorough recap. While the roof needed to be replaced, I did not feel up-sold, rather I had photos and info leading to a correct decision.

The contract, material selection, and scheduling process were smooth. Calls and emails were returned promptly with appropriate responses. During the work, the team showed up on time and worked hard. The job site was left clean each day. We had a change order for work I requested, which was accommodated within the schedule. The best surprise was that while we anticipated some contingency for damaged wood or other surprises, it was not needed. While that is a testament to the house, it is also easy for contractors to increase their invoices by finding extra work. Overall, we are very pleased with our roof and would definitely recommend Wedge Roofing for residential work."

– Ryan M., San Francisco – Victorian Roof Replacement
Accreditations and Awards