New Flat Roof for San Francisco Bay Area Mid-Century Modern Masterpiece
Seamlessly blending Mid-Century Modern architectural design with high-tech roofing technology, spray foam roofing proved to be an elegant and subtle method in the design of a modern flat roof to preserve renowned modern architect Calvin Straub's final masterpiece in the San Francisco Bay Area.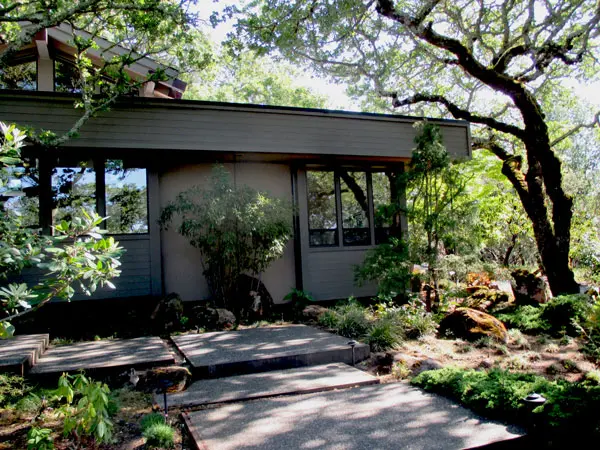 "To Live and Build"
After an illustrious award-winning 46-year career, Calvin Straub considered the "father of post and beam architecture" held onto one final professional goal. The retired architect with a motto of "to live and to build," vowed to fulfill a promise he made decades earlier to a client whose childhood dream was to live in a home designed by Straub. This particular client was his daughter, Kathrin, and her Sonoma County home would be the architect's final creation before his death in 1998.
Created in celebration of nature, as a touching final collaboration between father and daughter, Kathrin Straub worked closely with her father in designing the house built on one of Sonoma County's most picturesque hillsides.
As with all Straub architecture, the residence was uniquely created in harmony with the site, function, climate, and client. The 4,000 square foot house features the character-defining elements of a Straub California Mid-Century Modern home: exposed wood post and beam, vaulted ceilings and walls of glass in an open, interconnected layout. Inspired by the existing natural surroundings, every room opening to a landscape of mature oak trees and epic hillside vistas.
Completed in 1993, the home described by Katherin as a "living sculpture, both harmonious and beautiful" serves as a testament to the architectural genius of Calvin Straub and was the architect's single and exclusive Northern California residential design.

High-Tech Roofing
Recently, Wedge Roofing was tasked with installing a new modern flat roof to preserve Straub's final architectural masterpiece. Matching modern architecture with high-tech roofing, spray foam was selected as this state-of-the-art monolithic roof system provides a seamless, leak-free seal. The closed cell spray foam system provides superior insulation with the highest R-value reducing energy use. Esthetically, the clean, minimal look of a spray foam roof compliments the horizontal lines of the streamlined modern flat roof.
As the home was exceedingly well-built, the spray foam roofers were able to install the new spray foam roof system directly over the existing roof membrane, avoiding roof removal and providing extra insulation properties to the home. As in all projects, Wedge Roofing's planners and installers methodically installed the spray foam roof carefully and safely, protecting the buildings and landscape. The team worked tirelessly to put just as much effort, thought and ingenuity to this construction project as Calvin and Kathrin Straub put into constructing this remarkable Bay Area home.
---
More about Calvin Straub
Calvin Straub designed Southern California Mid-Century Modern masterpieces from Pasadena to Pacific Palisades with his firm Buff, Straub & Hensman, including Case House #20. Working independently, Straub created highly-acclaimed buildings throughout Arizona, and in Napa, he designed the French Provincial Peju Winery Tower featuring a weathered copper roof. As a professor of architecture at the University of Southern California and the University of Arizona, Straub inspired the next generation of architects with his vision of the "California Modern Home."
More about Katherin Straub