Choosing the right roof and roofing contractor for your home, business, or winery in Napa, CA, is a crucial decision that can significantly impact your property's aesthetics, functionality, and safety. Here's what you need to know about roofing to make an informed and satisfying choice.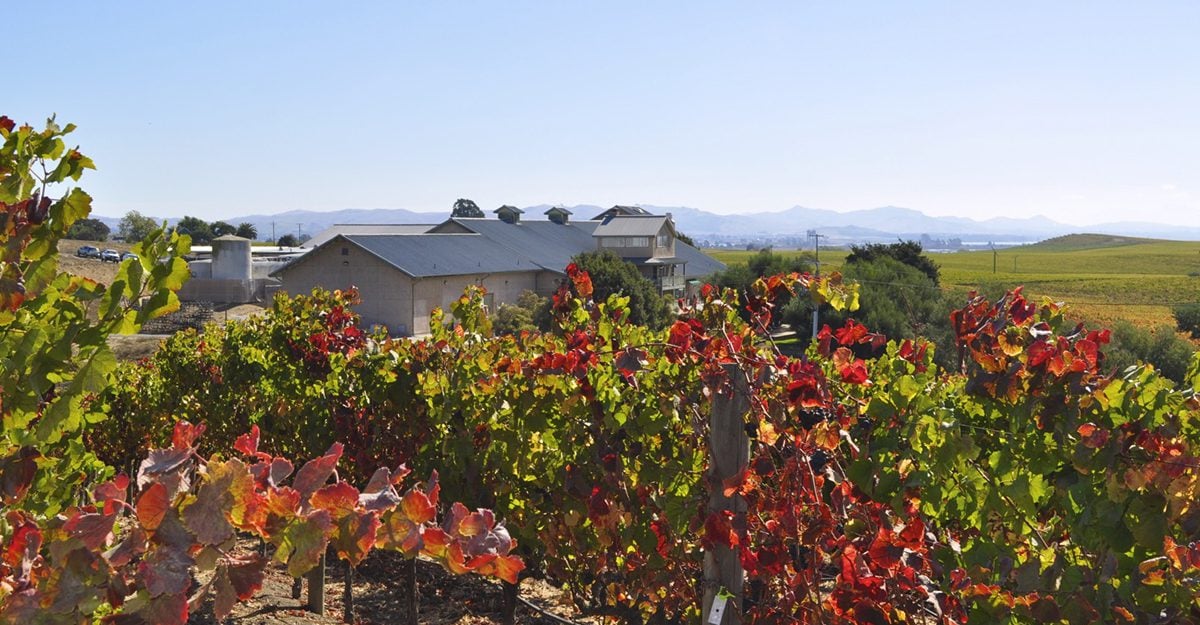 1. Napa Wildfires
In response to the devastating 2017 wildfires, the number one consideration for your Napa roof is hardening against wildfires. Class A fire-rated roofs provide the best protection from wildfire and are required throughout Napa. Homes, buildings, and wineries within California's Wildland-Urban Interface (WUI) areas are subject to even more restrictive requirements for roofing systems.
Please refer to the Napa Fire Hazard Severity map and the County of Napa's Wildland-Urban Interface Fire Conformance Checklist for more detailed information.
2. Napa Microclimates
Napa's diverse microclimates create ideal conditions for cultivating a wide range of grapes, resulting in the production of some of the world's finest wines. However, the region's high temperatures, low humidity, seasonal high winds, and rainy seasons also demand high-performance roofing systems and construction practices. Choose durable roofing systems with extensive warranties.
3. Roof Maintenance Requirements
No matter what type of roof you choose, we recommend subscribing to a roof maintenance program where your roof is inspected and cleaned before wildfire and rainy seasons. Proper roof maintenance can help protect you and your property.
4. Eco-Friendly Roofing
If sustainability is a priority, explore eco-friendly roofing choices like solar roofing shingles, roofing systems containing recycled materials, sustainable long-lasting roofs such as slate, tile, and metal.
5. Napa Roofing Requirements
The cities of Napa have their own building departments with their specific requirements, including re-roofing permits and inspections. Contractors must be licensed by the State of California and licensed by the city. Individual building departments include Calistoga, St. Helena, American Canyon, Yountville, City of Napa, and Napa County.
Roofs of Napa Valley
Napa is home to California's most breathtaking wineries and residences, boasting exquisite architectural beauty. From Tuscan and Mediterranean villas to wine country modern farmhouses, and classic California ranch style, there is a perfect roof to match. Here are our suggestions: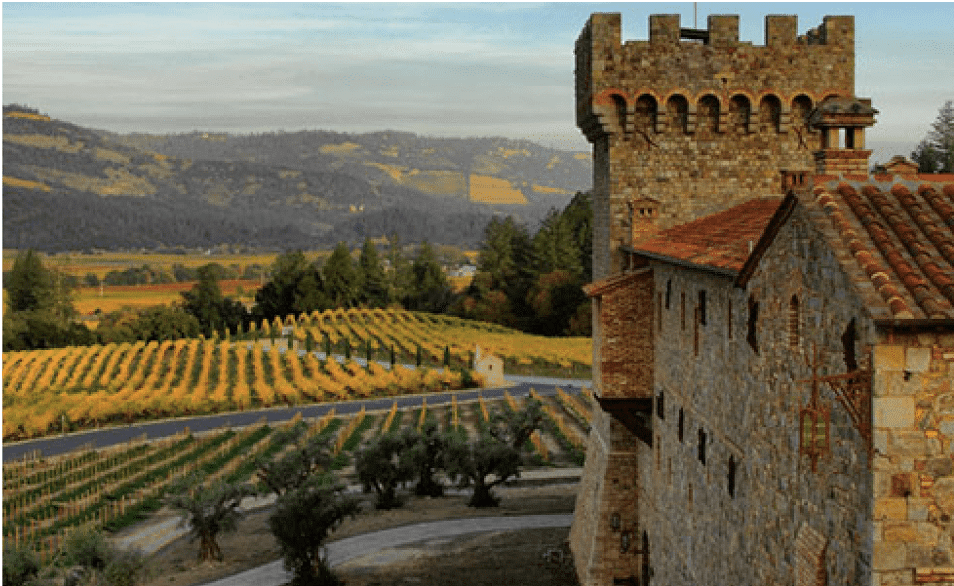 Tuscan Terra Cotta Roof Tiles
Tuscan style blends effortlessly into the colors and textures of Napa Valley with stucco walls in earth tones; the perfect roof also reflects the colors of surrounding vineyards and mountains. We suggest Handcrafted reddish-brown terra cotta clay roof tiles to form a captivating mosaic blending harmoniously with Napa's landscape.
---
In Calistoga, Terra Cotta Roof Tiles provide old world elegance to the stunning Castello Di Amorosa Winery. (photo credit: https://castellodiamorosa.com/)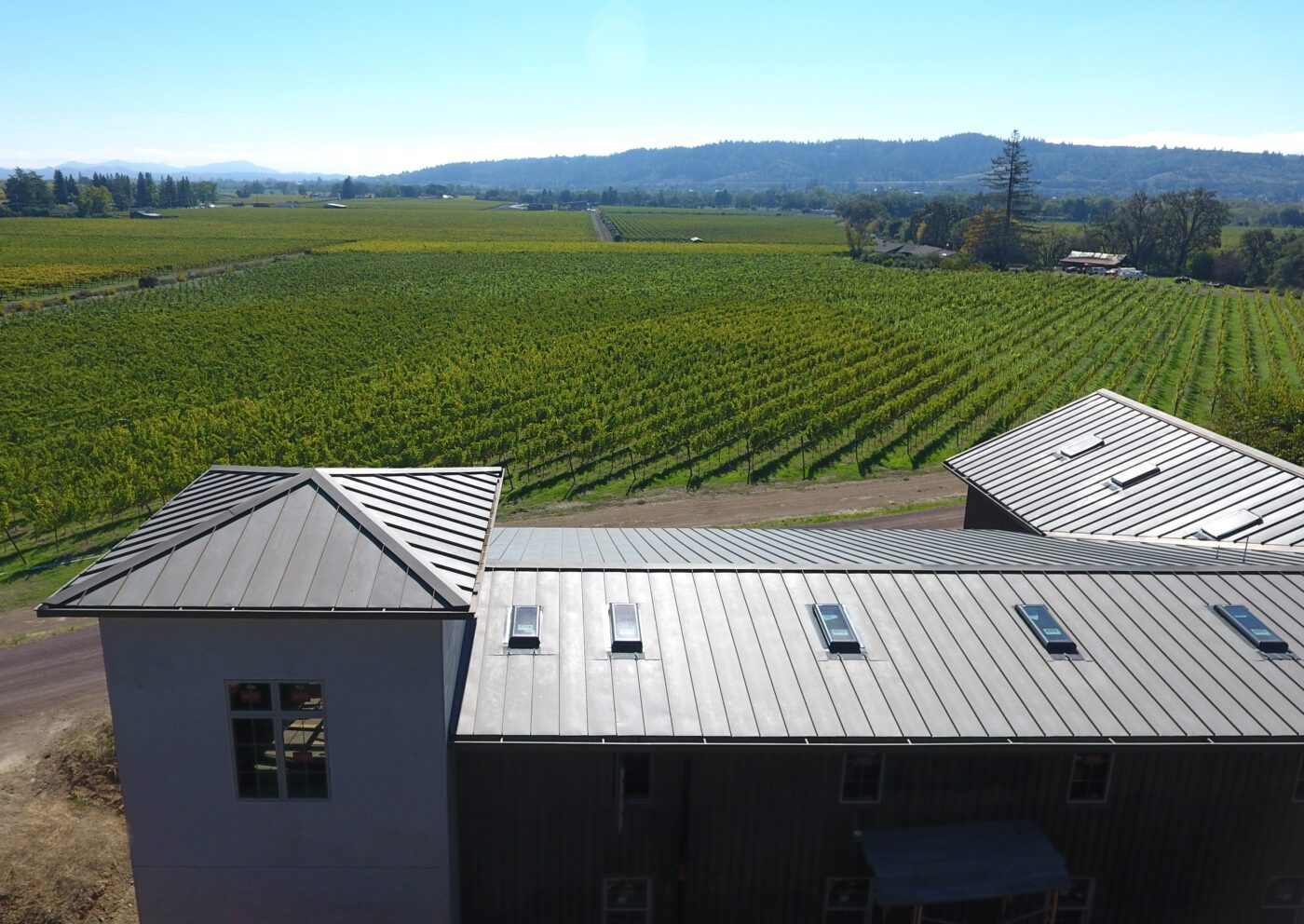 Rustic Modern Metal Roofs
An aged metal roof on a Napa rustic modern home seamlessly blends vineyard charm with contemporary style, resonating with the mountains and vineyards of Napa. It evokes a rich sense of history and heritage while embracing the area's natural beauty. The modern elements add a sleek touch, creating a harmonious balance of past and present, providing a unique and inviting character amidst the beauty of Napa Valley. We suggest aged metal roofing in gray zinc, copper patina, rusted and bonderized steel for the rustic modern look.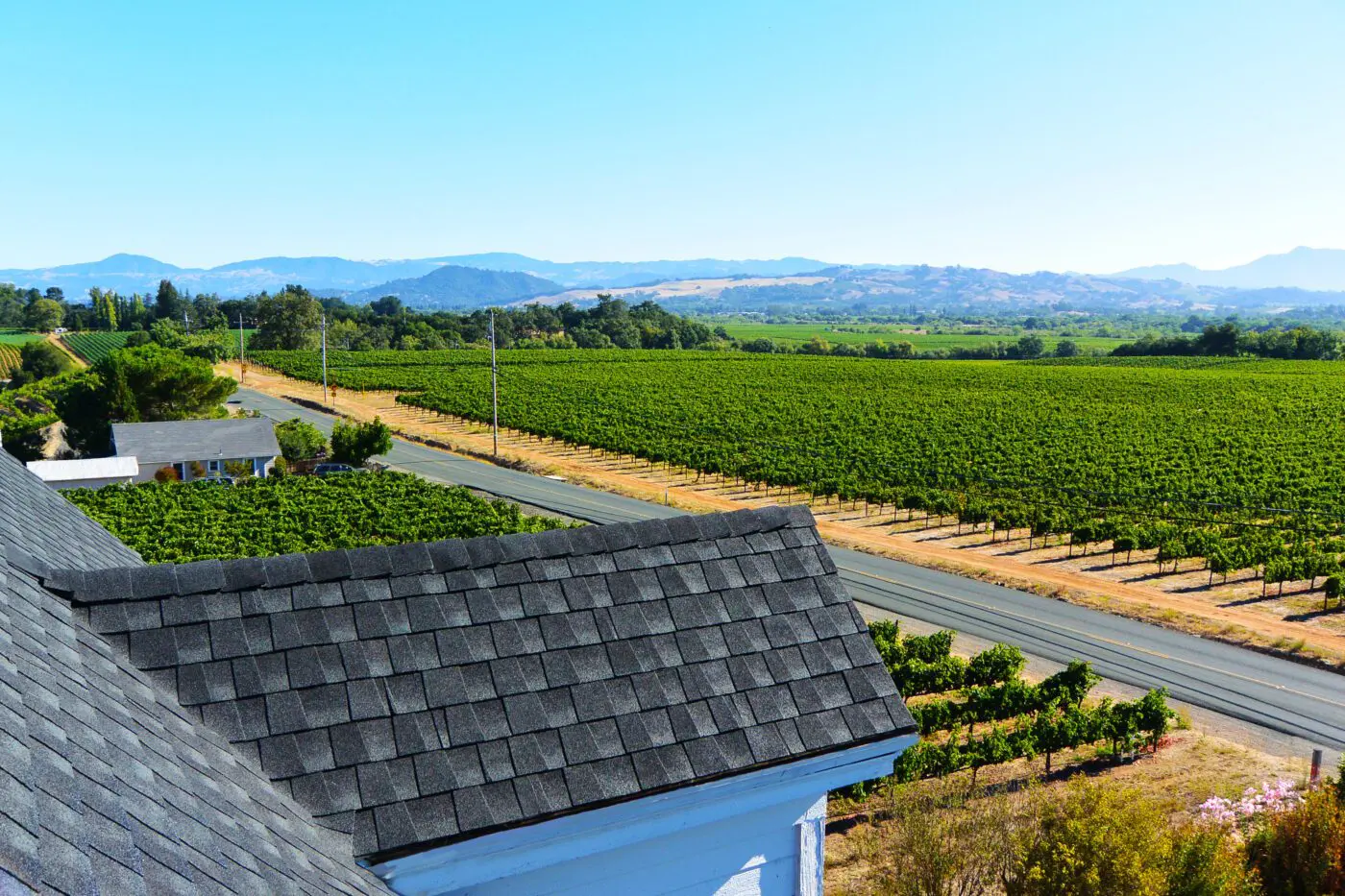 Wine Country Farmhouse
Napa Valley farmhouses offer breathtaking views of the surrounding vineyards, rolling hills, and majestic mountains, creating a seamless connection between indoor and outdoor living. A carefully chosen roof complements the architectural style, infusing the farmhouse with character and charm and seamlessly blending with the surrounding landscape. We suggest the durability and sheer elegance of standing seam metal roofs or highly dimensional asphalt shingles. Another option is a combination roof with metal and shingle installed on the different roof levels.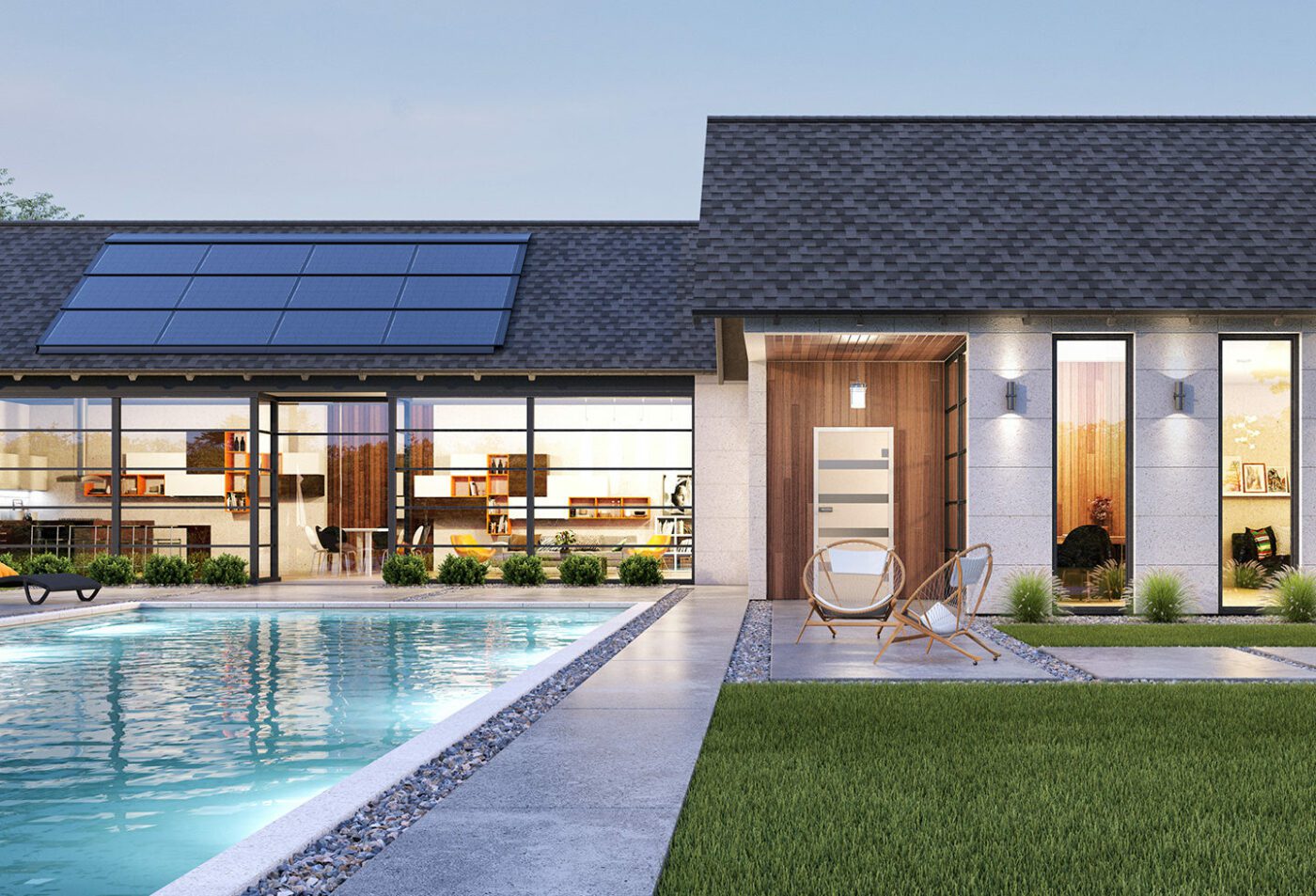 Modern California Ranch House
The Mid-Century Modern Napa Ranch House is a captivating blend of timeless design and contemporary flair. With its iconic single-story layout, low-pitched roof, and clean lines, it exudes an air of effortless sophistication. We suggest GAF's Timberline Solar Roof to provide energy built right into your shingle roof.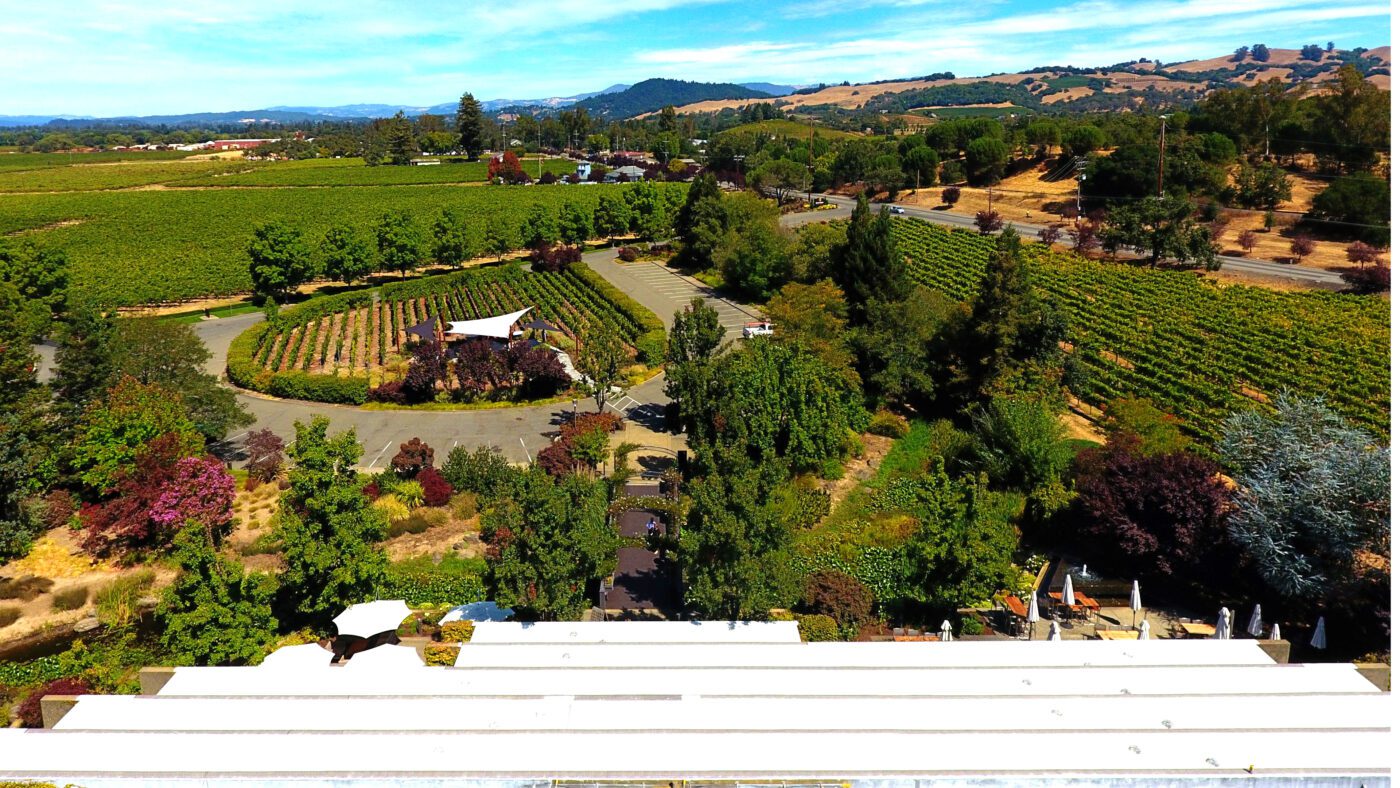 Contemporary Flat Roof Designs
Napa's contemporary architecture embraces a sophisticated and modern design style while paying homage to the region's natural beauty. Characterized by clean lines, spray foam flat roofs are a common design element contributing to contemporary architecture's sleek and modern aesthetics, providing a minimalist look. Well-suited for the Napa environment, highly insulated spray foam roofs featuring a sustainable low VOC coating which can lower energy costs.
---
Napa Winery Roofing Expertise
Wedge Roofing specializes in roofing services for wineries and is privileged to collaborate with renowned brands in Napa and Sonoma. Understanding the unique demands of the wine business, we work diligently to ensure our roofing projects fit seamlessly into your winery's operations. With a solid commitment to meeting timelines and staying within budget, you can trust us to upgrade your winery's roof without disrupting your day-to-day operations.