Wedge Roofing Earns Health Safety Qualified Certification
Wedge Roofing has sucessfully passed the rigorous requirements to earn certification as a HealthSafety Qualified Business operating in the San Francisco Bay Area, including Marin County, Sonoma County, and Napa.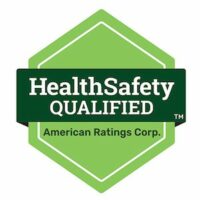 Created in response to the COVID-19 global pandemic by the American Ratings Council in partnership with Diamond Certified, the HealthSafety Qualified certification provides Bay Area consumers with the peace of mind that the service company that visits your home or business is compliant with safety practices.
This certification recognizes that our company and each team member are trained, educated, and provided with the necessary resources to protect themselves and their community from the potential spread of COVID-19. See Wedge Roofing's COVID-19 Safety Plan.
---
To Earn the HealthSafety Qualified Certification (HSQ), Wedge Roofing Passed the Following Requirements.
Scored over 90% on the HSQ test affirming an in-depth knowledge of safety practices as detailed by the CDC and other organizations.
Provides employees with personal protection equipment and supplies.
Train employees utilizing HSQ resources and testing for compliance with COVID-19 safety protocols.
Confirmation of COVID-19 safety compliance with periodic audits and un-scheduled inspections.
---