---
Our Commitment to Your Business
Our team, headed by our commercial roofing project manager ensures that every aspect of your roofing project is organized, executed, and completed as promised to the highest quality standards. All work will be finished on schedule, in budget, and compliant with building codes and regulations.
---
We execute your roofing project with the least disturbance to your business. Working closely with your facility management team in pre-job planning, we will initiate proactive solutions and scheduling to mitigate disruption during the roof construction.
---
On the job, our commercial project manager establishes that every aspect of the work is organized and executed in an efficient manner with an emphasis on safety, ensuring work areas are kept confined and clean.
---
Non-work areas, including; driveways, walkways and landscaping are covered and protected during construction. Wedge Roofing's crews will treat our client's property with the utmost of care and respect.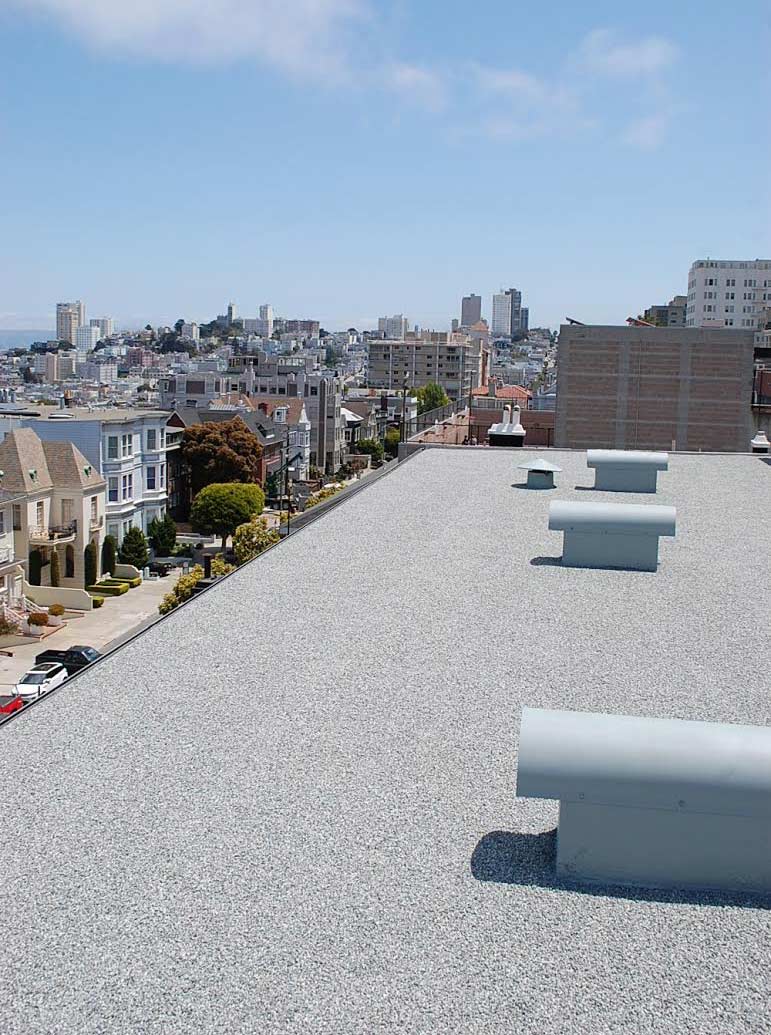 ---
Commercial Roofing Services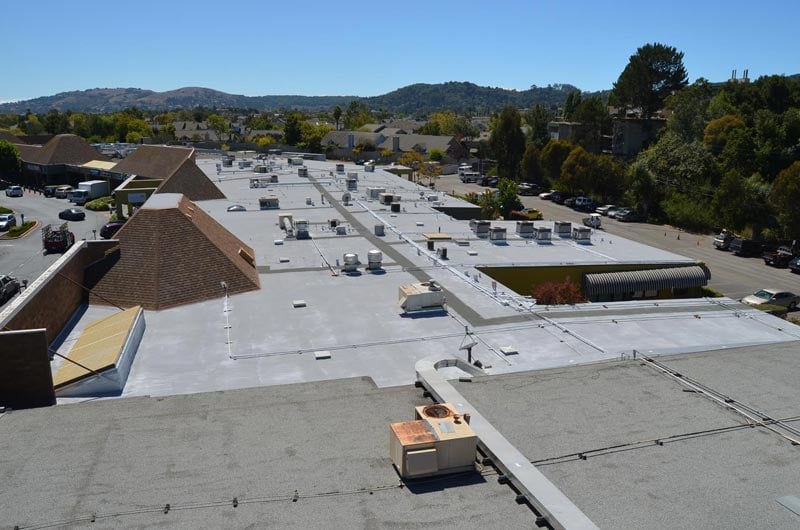 ---
Commercial Roofing Projects
Our commercial roofing clients include Bay Area auto dealerships, hotels, churches, hospitals, health care facilities, retail centers, restaurants, shopping malls, wineries, office complexes, condominiums, apartments, high-rise buildings, banks, industrial buildings, warehouses, manufacturing facilities, food manufacturing facilities, schools, universities, government buildings and more in Marin County, Sonoma County, San Francisco and Napa.
---
Commercial Roof Systems
---
Roof Smart Equipment Installation
The expanded use of commercial roofs as a platform for rooftop energy systems and equipment increases the performance responsibility of the roof system. We are experts in techniques for the installation of rooftop equipment including Photovoltaic Solar Systems that do not compromise the integrity of the roof and the manufacturer's warranty.
Roof Walkway Systems
Roofing membranes are frequently damaged by foot traffic leading to premature wear or failure. Installation of a roof walkway system protects your roofing investment against this damage while providing a safe, non-skid walkway for rooftop traffic.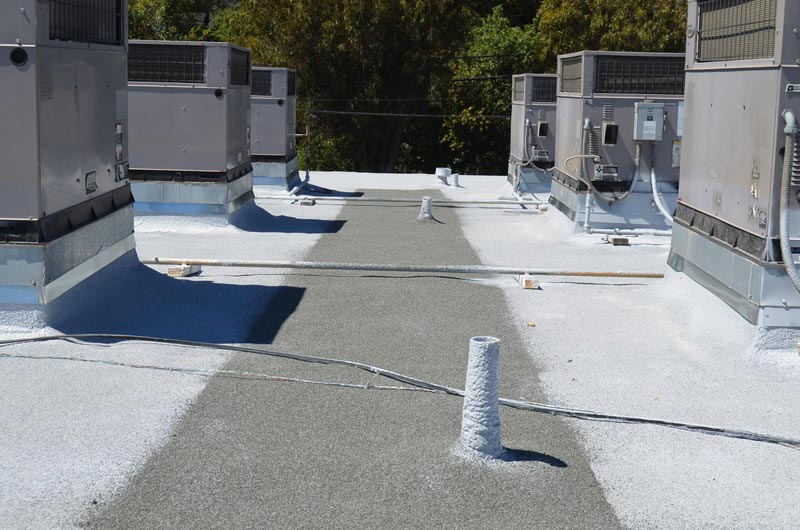 ---
Videos
What Our Clients Say
"We have been working with Wedge Roofing for over 40 years. Their quality and attention to detail produces long term results with excellent service."

– McDevitt Construction Partners, Inc.

"I am Project Manager for a Builder, Developer, and Property Management firm. Wedge Roofing has been and continues to be an outstanding performer in replacement of roofs of various types throughout our portfolio. Their team provides clear options to meet varying situations and budgets. They provide timely, clear proposals with pictures that include overall and specific areas of concern. Their team works with our buildings that have older roofs providing patch crews during inclement weather. Our agency appreciates their expertise and timely response to our concerns. I will continue to recommend them to others and am super happy to work with them."

– Rob B., Project Manager Greenbrae Management

"Gary Harvey and the whole Wedge Roofing Team have been my roofer of choice for over 15 years. As a property manager I am always looking for the best vendors for my clients and Wedge Roofing has never let me down. They have proven to be dependable, loyal and competitively priced. I could not be happier."

– Paul M., Vice-President Citi Scape Property Management Group

"Great service & work. Truthful evaluations."

– Lorraine W., Marin Modern Real Estate

"Wedge Roofing went above and beyond to make sure our company's business was not affected by our new roof installment. They worked closely with our business schedule to make sure they did not affect our customer satisfaction. The staff was professional, and the job was completed faster than anticipated. I highly recommend using Wedge Roofing for any project large or small!"

– Landmark Vineyards, Sonoma County – Winery Roof Installation

"I have worked with Wedge Roofing for over 40 years in the North Bay. They have been an asset when I worked with them as a general contractor and in my current consultant position. I rely on them for recommendations for systems that fit the needs of my clients. The recommendations always take into account the specific needs of my clients."

– Ed B.

"The Board of Directors of the Piper Place Homeowners Association would like to express our sincere gratitude for the expertise, time, and extra care that Wedge Roofing took to ensure that the roofing project was successful and easy. It has been a pleasure doing business with Wedge Roofing."

– Board of Directors, Piper Place HOA

"Wedge Roofing is our go to roofer in Marin for us and our clients!"

– Madeline Schaider Real Estate, Marin

"Always on time, always prepared, always excellent work!"

– Hansel Ford

"I use Wedge Roofing for my rental properties. The service and workmanship exceeded my expectation again. I felt taken care of at a great cost. It is nice to be able to sleep at night knowing my renters are safe and my long-term investment is taken care of. I recommend Wedge Roofing to everyone I know."

– Kirsten C., Petaluma, CA

"I've worked with Wedge Roofing for a number of years including my own office building. The team have always been nice to work with, they've done a good job, and they are fair in their pricing."

– Collen M., Mahoney Architects & Interiors, Marin County, CA

"Wedge Roofing came through with flying colors… they were on time and prepared for every phase of the project and had the roof installed quickly and efficiently, even as sales consultants continued to sell cars, the Service Drive continued to function without a hitch, and customers continued having full access to the area."

– Hansel Auto Group

"Wedge Roofing has been responsive, timely, professional, and accountable.I cannot imagine managing our complex without the help of Wedge Roofing."

– Kathleen S., President La Mancha HOA

"If only all companies were run as professionally and did such good work."

– Kim K.

"It is so nice to deal with a firm that is willing to take responsibility for, and stand behind, their work."

– Sid S., Rental Property Owner

"This was the most technically challenging and difficult spray foam roof I have ever encountered and after his complete and thorough inspection prior to the issuance of the warranty, the manufacturer's punch list contained zero items."

– Al K., Premium Spray Foam Products

"My tenant said they were courteous, on time, and cleaned up after themselves.The repair job was well done.So happy I found them"

– M.V. Property Management, Marin County

"The finished product looks fantastic, and my tenant commented on how professional and conscientious all the employees were. I walked around the property the day after completion and their clean-up was impeccable. Great Job!"

– Greg O., Petaluma Property Management

"Wedge roofing in Petaluma did a great job on my facility and won a roof of the year award. Honest and dependable."

– Bob W., Manufacturing Facility Spray Foam Roof Installation in Petaluma

"Solid company, price competitive and great service."

– Patrick D., Doyle Contractor

"Wedge and Naturalight have worked together on numerous projects and working with their crew always seems seamless and easy. We trust their recommendations and work and know that the project will be done right!"

– Christa D., Natural Light Solar

"Your crew did an outstanding job on our roof. I've been in business for 33 years and I know how important it is to have competent workers. Extend our thanks to your roofers. We appreciate their effort and professionalism."

– Jim B., Full Moon Construction

"Job was completed in a timely and satisfactorily manner – Many Thanks!"

– Two Rock Union School

"As a resident of Redwood Estates in Rohnert Park, I just wanted to let you know what a great job the crew is doing here. They are very thorough and cleaning up as they go. It is greatly appreciated."

– Jan F., Rohnert Park

"The Wedge team is always there for us no matter the size of the job. Great company and great people too. Thank you!"

– Hansel Toyota, Petaluma – Roof Repairs

"Wedge Roofing is a reliable and professional organization, and it is my privilege to recommend them to you if you seek not only a quality roof, but a contractor truly interested in their customer's unique and specific concerns."

– Hansel Auto

"You are superior! I do not hesitate to recommend Wedge Roofing."

– Hildegard, Petaluma

"Your crew worked incredibly hard, were extremely professional, and acted in the most courteous and professional manner of any construction crew I've ever been associated with."

– Mark J., Santa Rosa

"Wedge Roofing is professional, responsive, flexible, straight up and honest, true tradesman with quality workmanship."

– Shank Services

"Wedge will be the company I call first for all our roofing needs."

– Timothy B., Sonoma

"We have used them for many years and they always do a great job"

– William M.

"We had a fire at our house and it burned the roof and the stucco on the side of the house. They did a great job and had it back to new in a timely manner. Thank you!"

– Jamie, Petaluma

"Extremely Pleased with the work done. Clean, polite crew, very professional, and all work completed on schedule."

– Aldersly Retirement Community, Marin County – Roof Replacement

"The crew was in and out in a limited time. Faster than predicted, very efficient."

– Napa Commercial Roof Coating

"My husband is a General Contractor and does not like to give referrals but he always refers Wedge Roofing because he knows his clients will be taken care of. In 17 years he has never had a complaint from a client for work that has been done by Wedge Roofing."

– Debra D., Sonoma County – Roof Repairs

"This letter is to acknowledge with great appreciation the work your company did for our homeowner's association. Prior to your reroofing efforts, we had almost continual problems with leaky roofs and resultant interior damage, unhappy homeowners, and residents. Since the reroofing and drainage project was completed last spring, we have had over 40 inches of rain, but NOT ONE LEAK! Our complex is now a much happier place to live. Though the work you did was extensive, it was completed on time, with a minimum of hassle and excellent quality."

– Karen R., Cypress Creek Homeowners Association Novato
Accreditations and Awards