Roof Above The Tide: Luxury Sausalito Hotel's New Spray Foam Roof
By JUAN SAGARBARRÍA, Spray Foam Magazine, January 2017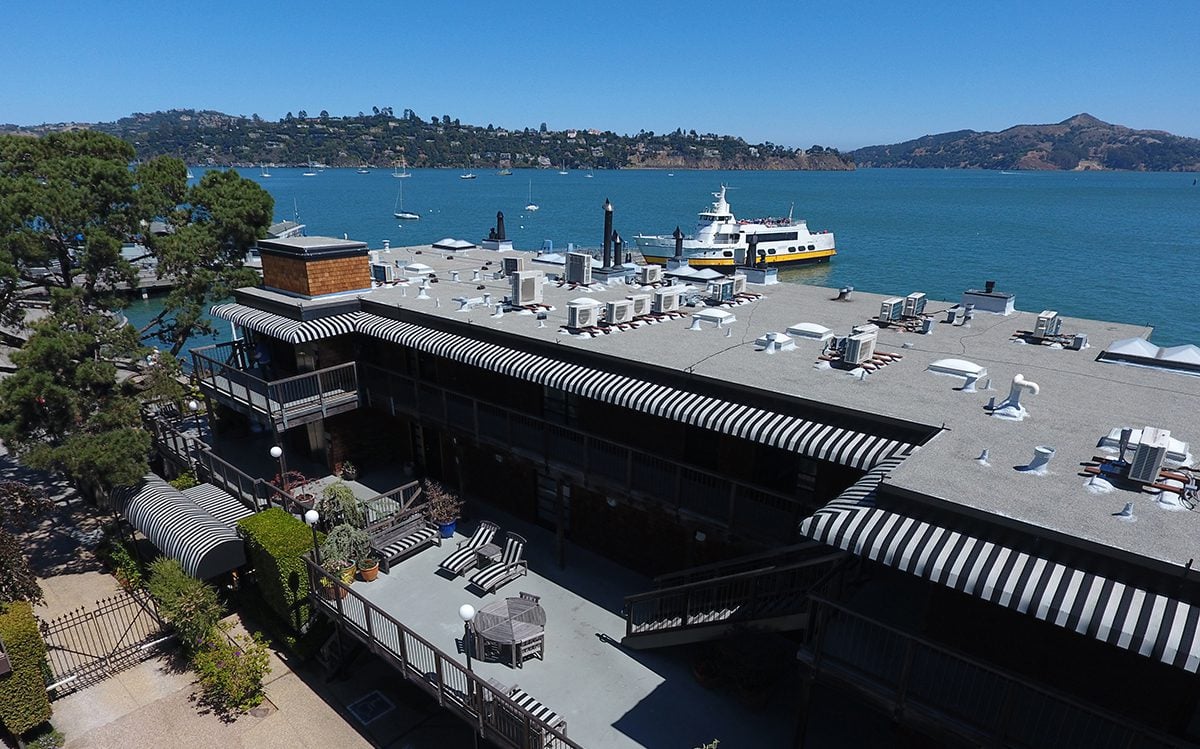 If you've ever driven through San Francisco's Golden Gate Bridge and kept heading North through Marin County towards Napa or Sonoma Valley or on to Oregon, you missed a crucial stop at one of the world's finest little towns: Sausalito.
An eight-mile-long gem tucked behind San Francisco's urban motif of buildings, bridges, paved hills, and cable cars, Sausalito is the kind of town that unequivocally sparks a yearning to remain there longer than the time allotted on your visit, at least that was the case for the writer of this article.
Marked by its signature combination of hillside and shorelines, the town of Sausalito offers picturesque ocean views, a quaint residential community that includes copious amounts of houseboats, gourmet seafood, as well as hillside private residences commonly occupied by members of a wealthy, artistic enclave, and a noted history dating back to World War II, when Sausalito was first known as a shipbuilding center.
For all these reasons, Sausalito is today a prime destination for daily Bay Area visitors from all walks of life. While many of these tourists tend to make day trips to Sausalito while staying in San Francisco, Berkeley, or even Oakland, there are a great number of folks that like to spend a little extra to stay in one of Sausalito's luxury hotels. In a town know for luxury, these hotels strive to remain well… luxurious – often remodeling to stay in fashion. California building codes, however, can be stringent and hotel owners must take into account the proper components that are necessary for a remodel or restoration as the years pass to avoid structural problems in the future. This was precisely the case with The Inn Above Tide, a luxury boutique hotel located in the heart of Sausalito.
The Inn Above Tide exudes exclusivity: 31 rooms and suites with modernly chic interior designs and outside decks overlooking the San Francisco Bay. It is a hotel that is regularly in high demand and is constantly fully booked far in advance. Be that as it may, time bears down on all structures and, consequently, there were some important exterior building repairs and updates that were pending, so the hotel owners compromised by ordering a 10-day shutdown of the hotel to get these repairs completed. 10 days – nothing more. One of the major projects stipulated for the building's exterior repairs was a roof restoration given that the hotel's built-up roof was at the brunt end of its serviceable life.
With time being a key factor, it was decided that the most efficient system to install was a spray polyurethane foam roofing system. For the installation, the hotel owners brought roofing experts Wedge Roofing into the mix. In order for other trades to complete their respective projects – including HVAC modifications – throughout the 10-day window, The Inn Above Tide's owner made it clear to Wedge Roofing that they'd have the hotel practically to themselves for only four days in order to complete the SPF application.
"A spray foam roof was the logical choice because it could be installed faster than TPO or a built-up roof without the hotel sustaining great expenses, while at the same time providing a robust, monolithic air and moisture barrier and bolstering the insulating value," says Gary Harvey, Wedge Roofing's General Manager. "The roofing system will also ward off damage from sunlight or seagulls and marine birds."
The roofing system in question consisted of three parts: A closed-cell polyurethane foam layer, followed by a base coat of silicone coating, and a top coat of silicone coating containing gravel. To get it done, the Wedge crew assembled a team of 10. They equipped two rigs with Graco Reactor E-30 proportioners; Graco Fusion air-purge guns; 300 feet of hose on both rigs; a Graco GH 933 high-pressure gas hydraulic sprayer pump; and a Graco XTR-7 gun; and headed to the waterfront hotel. Once there, they accessed the roof by way of scaffolding that had been assembled prior to their arrival; all of Wedge's manpower and hose lines went up the scaffolding stairs. Additionally, the crew utilized a PAUS conveyor mechanism to load equipment and tools onto the roof.
Before the Wedge team could install the system, the roof needed to be prepped. The first step entailed removing the existing aggregate from the 7,000 square foot low-slope roof down to the existing membrane, which the Wedge crew did by hand, revealing the existing tapering built-up roof substrate. Then, the crew used wood components to fabricate two diamond roof crickets around the location of the roof drains in order to divert water that had ponded on the roof surface over time. They then used brooms and a chute on the side of the building to clear off the roof surface from any debris generated by the aggregate removal and the cricket assembly, as well as any remnant debris that had been generated by other trades.
Once proper drainage of the standing water was accomplished by the cricketing, and the roof was smooth and clear, the Wedge crew moved onto the next step. The crew then suited up in Tyvek coveralls and put on 3M 7500 Series full-face respirators with 5201 filters, boots, and gloves. For the foam application, the Wedge crew used PremiSeal 280, a 2.8 lb. closed-cell spray polyurethane foam made by Premium Spray Products, an Accella Performance Materials brand. Wedge's SPFA-certified applicators then installed an inch and a quarter of foam to the entire spray area, which included the 7,000 square foot flat surface, a series of vertical chimney flue boxes, and a vertical sidewall that was part of the roof's elevator shaft.
The application was performed in ¾-inch lifts with a total installation of three sets of foam. Because the Wedge crew was standing on a roof that was right in front of the ocean, sea breezes and high winds should have been a considerable issue in the midst of a foam application. The crew installed perimeter windscreens six feet away from the edges of the roof to prepare for any unexpected gusts, and furthermore, had a member of the crew monitoring wind direction at all times for overspray prevention. These crewmembers were also responsible for monitoring sprayers that worked along the edges of the roof, even though said sprayers were tied off to roof anchors and tethered in full body harnesses derived from FallTech's 8595A Roofer's Kit.
In the end, the breeze was surprisingly low during the time of the application, according to Harvey. "We lucked out," notes Harvey. "But we were completely prepared for heavy-wind conditions." The coating application was completed with the use of Premium Spray Products' PremiCote 2100, a high-solids, single-component silicone coating that is compliant with Bay Area standards, which according to Harvey constitutes 96 percent solids coating with less than 50 grams per liter of VOCs. "Our San Francisco Bay Area requirement for VOCs is lower than in the rest of California, which is lower than the rest of the United States," points out Harvey. "So, it is a very stringent amount and this particular coating complies with it." With the Graco XTR-7 airless spray gun in hand, the Wedge crew applied a white base coat at 31 DFT mils at 7,500 psi to provide UV protection to the cured foam. Then, they applied an additional gallon of grey silicone coating for adhesive purposes followed by the embedding of 3/8-inch Pea gravel aggregate finish surface on top. Harvey explained that the aggregate layer maintains an aesthetic presentation and also provides an impact resistant layer for the roof.
The roof application was successfully completed on schedule. "This a well known boutique hotel in a very exclusive zip code, the layer of aggregate was able to give it a level of aesthetic that blends in with the expensive homes that are located uphill from the hotel; this was a great concern to the building department," says Harvey. "The aggregate surface also adds significant protection against impact damage from marine environment birds."
Roof restoration and external repairs made, The Inn Above Tide reopened a few days later to regular Bay Area tourist traffic. Harvey recounts that aside from insulation and wind uplift protection, the roof restoration, in theory, should be the last disruption the structure will need as far as roofing goes for the next 20 years. Guests will be sleeping in an ideal climate at night due to the insulation value and the hotel owners will be able to save on energy costs due to spray foam's energy efficiency.