---
GAF Master Elite Roofing Contractor
Only 3% of roofing contractors nation wide posses the professional roofing qualifications and proven commitment to superior roofing standards required to earn GAF's premier accreditation.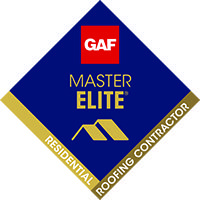 GAF Award-Winning Consumer Protection
Depend upon our award-winning reputation for delivering premier quality service and reliability in every roof we install.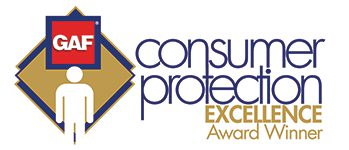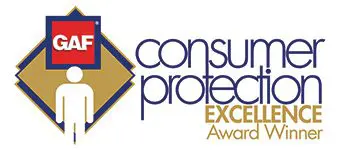 GAF Award-Winning Expertise
Providing an unsurpassed level of expertise, Wedge Roofing's professional roof craftsmen are California Certified Journeymen Roofers, GAF manufacturer-trained, and highly experienced specialists in all GAF roofing systems ensuing every roofing project is completed on schedule and to the highest of quality standards.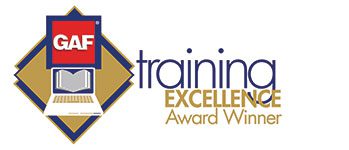 GAF's Best Warranty
Our expert roof installations qualify for enhanced roof warranties including GAF's Golden Pledge® Warranty guaranteeing our workmanship on the Lifetime Roofing System for 25-years backed by GAF's financial clout as North America's largest roofing manufacturer.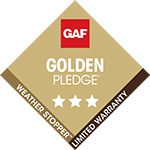 ---

Wedge Roofing is a GAF Select Solar Contractor with certified installation expertise of the GAF DecoTech™ Integrated Solar Roof System.
---

GAF and the U.S. Green Building Council has certified Wedge Roofing as a Green Roofer. This designation recognizes Wedge Roofing as an environmental leader in our community with a proven record of environmentally sound practices.
---
GAF Roofing offers many styles of Architectural Roofing Shingles to meet every budget and aesthetic consideration from the Premium Lifetime Designer Roofing Shingles, which emulate the look of slate or wood shake roofs, to the popular Timberline® Lifetime Architectural Roofing Shingles Series featuring color blends and shadow effects for a dimensional look.
GAF Shingles are Class A fire-rated and designed with GAF's Advanced Protection® Technology, which minimizes the use of natural resources while providing superior protection for your home.
GAF Shingle Roof systems available in the San Francisco Bay Area, including Marin County, San Francisco Sonoma County and Napa are Timberline, Timberline Reflector Series, Camelot II, Glenwood, Grand Canyon, Grand Sequoia, and Woodland.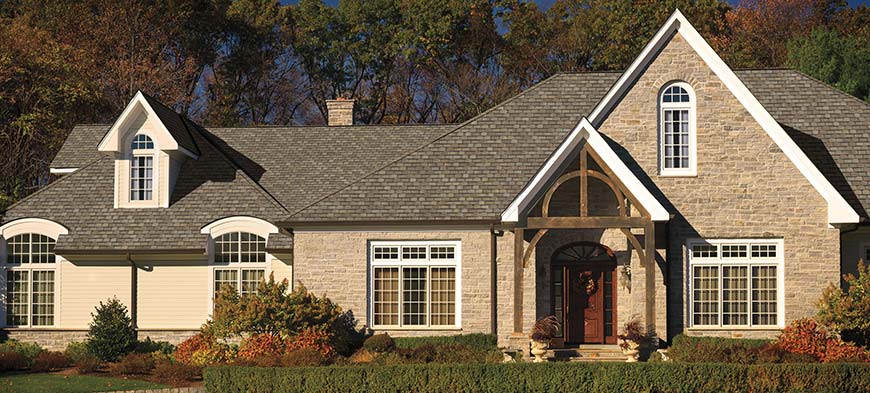 ---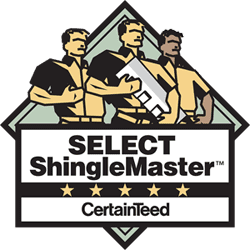 CertainTeed Select Shingle Master Contractor
Qualifying as a Select ShingleMaster™ Roofing Contractor places Wedge Roofing in the top 1% of the roofing profession. Having met the stringent requirements to earn CertainTeed's premier roofing credential represents an endorsement of excellence in our workmanship, customer satisfaction and ethical business operation.
---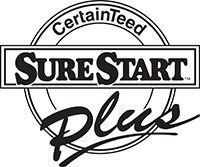 CetainTeed's Best Warranty
Our Select ShingleMaster™ Contractor status assures your new CertainTeed Shingle Roof meets the highest quality specifications to qualify for CertainTeed's strongest extended warranty coverage, including the Sure Start Plus™ 5-star coverage, which guarantees our Integrity Roof System™ installation for 25-years.
---
CertainTeed Shingle Roofs
CertainTeed Roofing offers a wide array of residential roofing shingles that are as beautiful as they are durable. From the Presidential Shake™ with the look of wood shakes, to the Grand Manor™ with deep shadow lines replicating the look of slate roofs, to the scallop edged Carriage House™, to the classic dimensions of the Landmark shingle™ and the solar reflective Solaris® – CertainTeed Shingles offer the enhanced aesthetic appeal you want with the durability you need.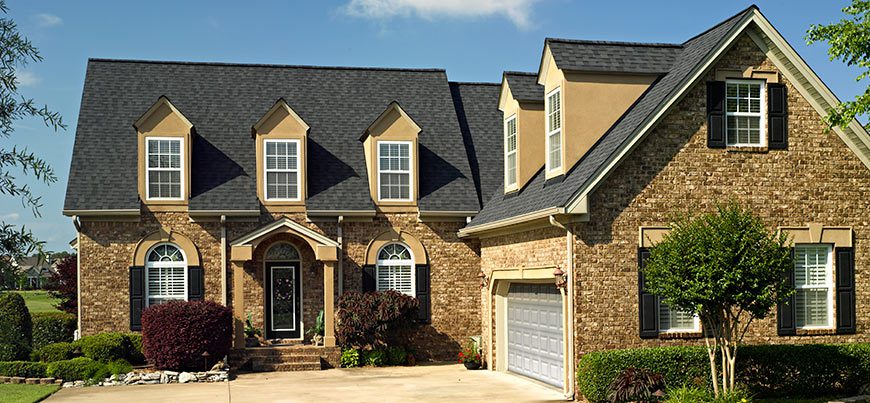 ---
IKO Shield Pro-Plus Roofing Contractor
Wedge Roofing combines over four decades of shingle roofing knowledge with the beauty and durability of the IKO selection of shingle roofing systems. As a certified IKO Pro-Plus Roofing Contractor, our roof installations qualify for the manufacturer's best warranties.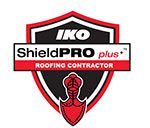 Malarkey Emerald Pro Contractor
Wedge Roofing has met the criteria, standards, and training to earn Malarkey's Emerald Pro Contractor certification. This accreditation offers roofing excellence assuring your roof is built by factory-trained installers utilizing the latest industry installation techniques to qualify for the enhanced Malarkey Emerald Pro Warranty. Wedge Roofing proudly installs Malarkey environmentally designed Nex Shingles featuring smog-absorbing granules.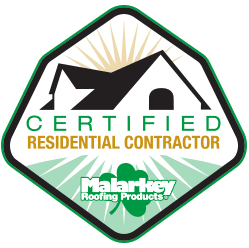 Owens Corning Preferred Contractor
Only the most knowledgeable construction professionals in the industry are part of the Owens Corning Roofing Preferred Contractor Network, and all qualifications are periodically reviewed to maintain the highest standards.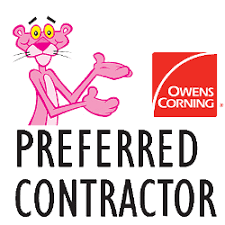 ---
Videos
What Our Clients Say
"Wow! Wedge Roofing is an exceptional company that deserves a 5-star rating in every category, including competitive pricing, the highest standards of workmanship, an impressive system for integrating a new roof with solar panels, and overall, a joy to work with."

– Janet M., Lucas Valley – GAF Solar Shingle Roof and Spray Foam Roof

"Now that our home has been reroofed and the GAF Solar system installed, we want to let you know how much we appreciated working with Lalyn Pruett. His communication skills and follow up were excellent in addition to him being an overall "good guy". As a homeowner tackling many remodels and a real estate broker for over 25 years, I interacted with hundreds of service people and contractors and know how important prompt and clear communication can affect the outcome."

– Carol and Richard O., San Rafael – GAF Solar Roof Installation

"We interviewed several contractors and engaged Wedge Roofing. It was an excellent choice. The quality of workmanship is superior and is reflected in our gorgeous roof with distinctive hip and ridge lines. Each day, the foreman met with us to discuss progress and our satisfaction. The teams were friendly, hard-working, and skilled in roofing."

– Ken J., Novato – GAF Timberline Shingle Roof Installation

"Wedge Roofing was very professional throughout the process and worked closely with me to accommodate my travel schedule. They completed the work expeditiously and with great care for the property. Extremely satisified with the entire installation including help with my insurance company. Extremely proud of the new GAF roof."

– Gerald M., San Rafael

"This is our third roof from Wedge Roofing that says it all."

– Mrs. B., Dillon Beach, Novato

"Great experience with Wedge. House looks GREAT and I feel confident because they guaranteed and stand by their work. Highly recommend."

– Gwen C., Marin County – Shingle Roofing

"I am so completely grateful to Wedge Roofing for my new roof! They installed a new GAF shingle roof, which was sadly to replace a "new roof" that was installed incorrectly by another area roofer."

– Gwendolyn A., Novato – Residential Shingle Roof Replacement

"Your crew were helpful and a real pleasure to work with."

– Shingle Roof Client, Sebastopol

"Wedge Roofing is professional in every way and trustworthy. They worked like a first-rate Swiss watch. The overall appearance of my home is beautiful."

– Stan M., Novato

"Terry was very helpful and answered my calls in a timely manner – wonderful to deal with. A+ in service!"

– Carol H., San Rafael – Shingle Roof Replacement

"Honest and Reliable."

– Jacki M., San Anselmo, CA

"Roof looks great, and all employees were very professional and kept all areas clean, thank you."

– Joanne B., San Rafael – GAF Shingle Roof and Spray Foam Roof

"Remarkably fast, efficient and knowledgeable. Work exceeded my expectations, very satisfied. I will be using you on another roof next years. Thanks."

– John P., Glen Ellen

"Terry was so great from start to finish. The crew doing the work was very professional and hard working. I have already referred you guys on to a friend!"

– Nicki M., San Rafael – Shingle Re-Roofing

"All work performed in an excellent and professional manner. Clean up was good. Terry was wonderful to work with and always there when called and needed. You have an excellent company!"

– Richard E., Novato – Shingle Roof Replacement

"My situation was very bad. Your guys got on top of it quickly and everything's done before the worst of the rainy season."

– Dennie M., San Rafael

"Thank you Wedge Roofing, for everything. We are deeply appreciative of the extra steps taken to ensure our satisfaction with our new roof."

– Diane P., Petaluma
Accreditations and Awards