CertainTeed's Integrity Roof System is a popular shingle roof in the San Francisco Bay Area, which qualifies for CertainTeed's best roof warranty if installed by a Select ShingleMaster™ Roofing Contractor.
The Integrity Roof System™ is a systems approach combining high-performance CertainTeed components – underlayments, roofing shingles, accessory products and ventilation – to make the Integrity Roof System a complete roofing solution. When you choose an Integrity Roof System, you gain the advantage of having CertainTeed as your single manufacturing source to stand behind its roof system components.
A superior roof is stronger than the sum of its parts: A quality roofing system involves the underlayments, shingles, accessory products, and ventilation all working together. Day after day, year after year.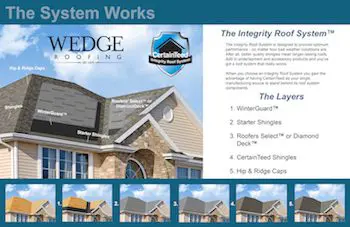 WinterGuard™
Waterproofing shingle underlayment prevents leaks from wind-driven rain in vulnerable areas.
Roofers' Select™ or DiamondDeck™
High-performance underlayment provides a protective water-resistant layer over the roof deck and a secondary barrier against leaks.
Starter Shingles
Starter shingles are designed to work specifically with each different type
of CertainTeed shingle for maximum performance.
CertainTeed Shingles
High-quality shingles available in a wide variety of styles and colors.
Flat Roofs
CertainTeed Flintlastic® roofing products are also available for flat roof areas.
CertainTeed Ridge Vents
Combined with sufficient intake vents, such as CertainTeed Intake Vents, are the most effective ventilation system.
Hip & Ridge Accessories
Accessory shingles are used to finish the hips and ridges of the roof and are designed to complement the appearance of CertainTeed shingles.