---
Spray Foam Insulation
Spray Polyurethane Foam Insulation is commonly applied to the interior side of wall and roof cavities, providing insulating and sound deadening benefits. According to the Spray Foam Alliance, Spray Foam Insulation dramatically increases the racking strength in steel and timber frame buildings, and offers the highest R-Value per inch of any insulating material on the market today.
Additionally, Spray Foam Insulation can be applied to the outside of a building, where it can be used as a combined vapor and air barrier system, which is recognized as such when applied to the American Air Barrier Association standards. Spray Foam Insulation also performs extraordinarily well when installed in basement or foundation spaces.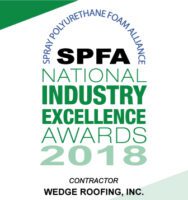 Sound Deadening
Both Open and Closed Cell Spray Foams reduce noise from exterior sources by absorbing and repelling a wide range of sound frequencies.
Highest Standards
Wedge Roofing is the first contractor in California to have successfully passed the new rigorous standards of testing regulated by the Spray Polyurethane Foam Alliance, receiving certification as Advanced Level Master Installer and Project Manager.
This internationally recognized, ANSI accredited certification is the most rigorous, extensive and defining program for Spray Foam Professionals in the world. This distinction certifies our demonstrated expertise, essential knowledge, skills and abilities inherent among the highest class of Spray Foam professionals. We provide our clients with the highest level of safety, performance, quality and professionalism well above industry standards.