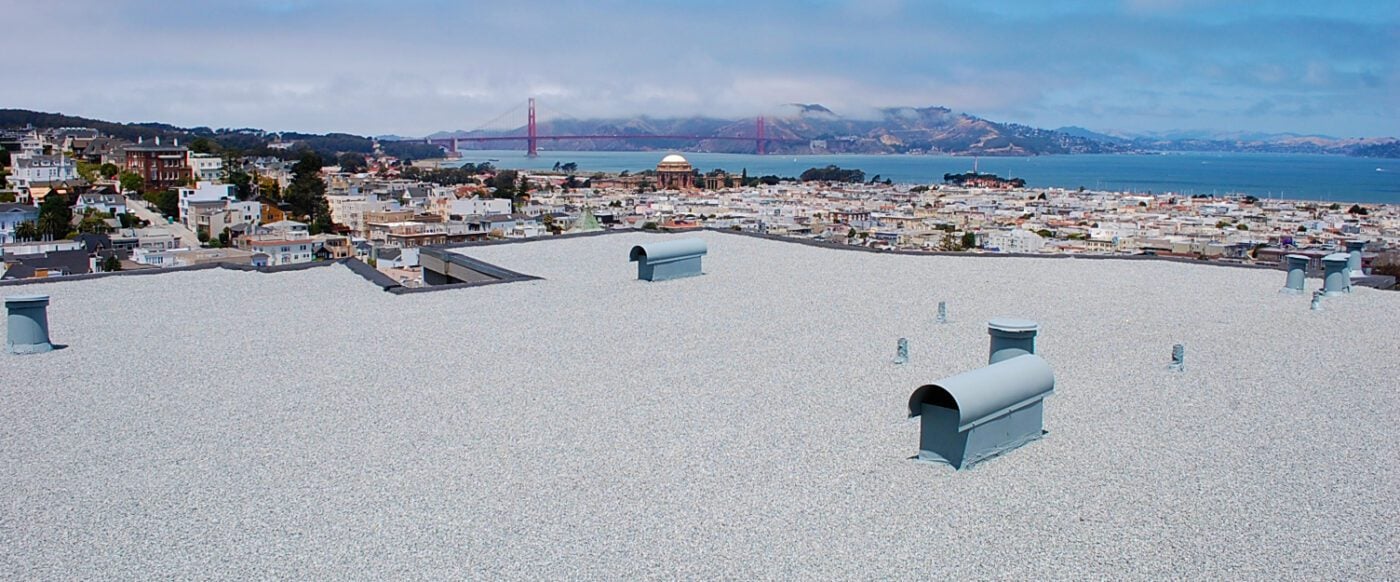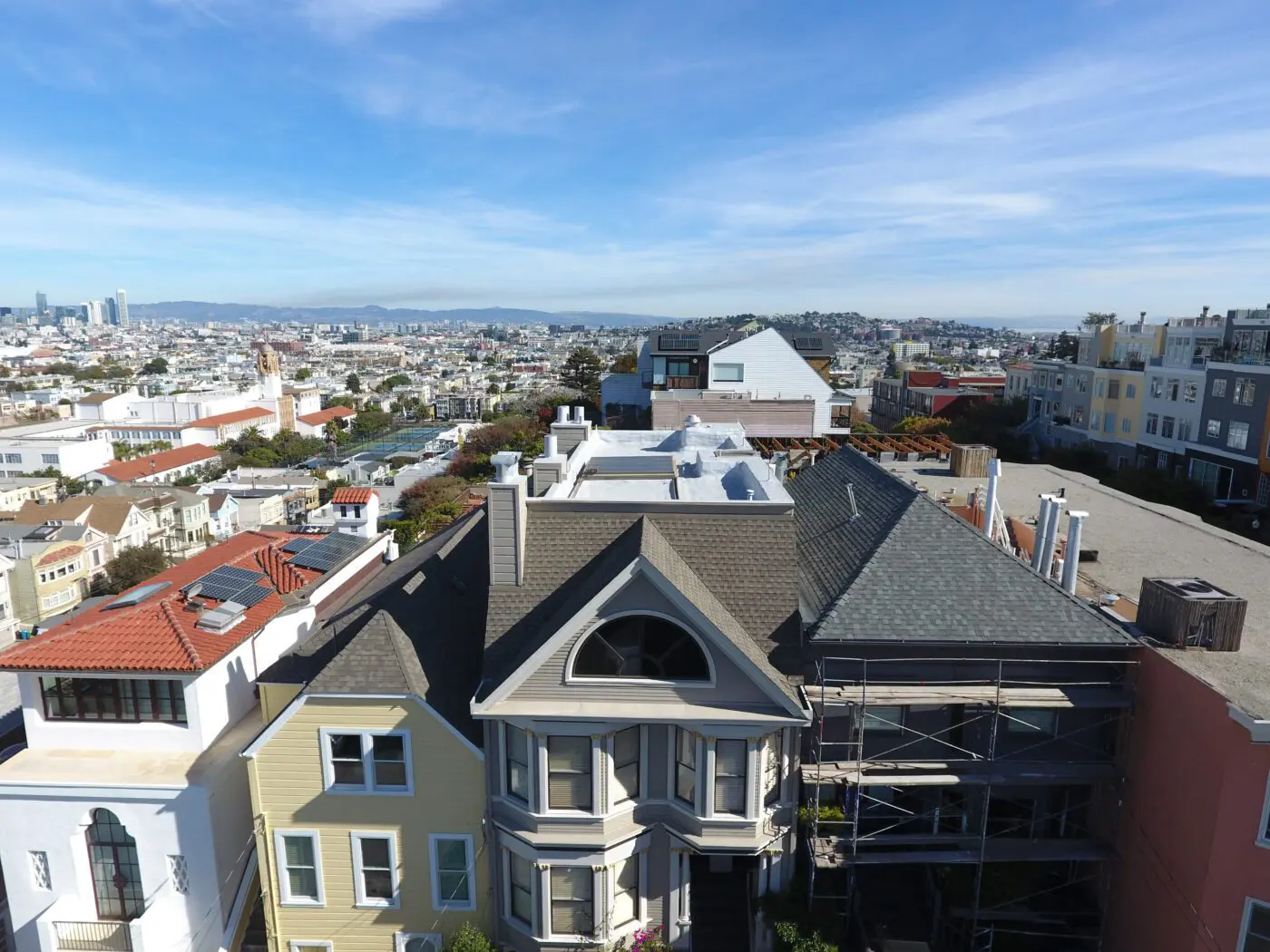 San Francisco Residential Roofing
Notable Residential Roofing Projects:
Spray Foam Roof Installations: Pacific Heights, Castro, Russian Hill, St. Francis Woods, Marina, Ashbury Heights, Sunset, Duboce Triangle, Bernal Heights, West Portal, Lower Haight, Haight-Ashbury, and the Mission.
Shingle Roof Installations: Pacific Heights, Mission Delores, Inner Mission, Sunset, and Presidio Heights.
Roof Coatings: Corona Heights, Nob Hill, Twin Peaks, Pacific Heights, Bayview, Mission Bay, South Beach, and the Castro.
Residential Roof Systems:
Spray Foam Roofs, Single-ply, Shingle Roofs, Solar Roofs, Clay and Concrete Tile Roofs, Standing Seam Metal Roofs, and Natural Stone Slate Roofs.
San Francisco Roof Services
Award-winning commercial and residential roof installations and re-roofing for spray foam, shingle, metal, tile, and slate roofs in San Francisco.
With a dedicated roof repair division, Wedge Roofing offers a budget-friendly option to extend the life of your San Francisco roof with guaranteed results.
Roof Coatings
Our award-winning roof coating installations enhance roof durability and improve energy efficiency for spray foam and single-ply roofing systems in San Francisco.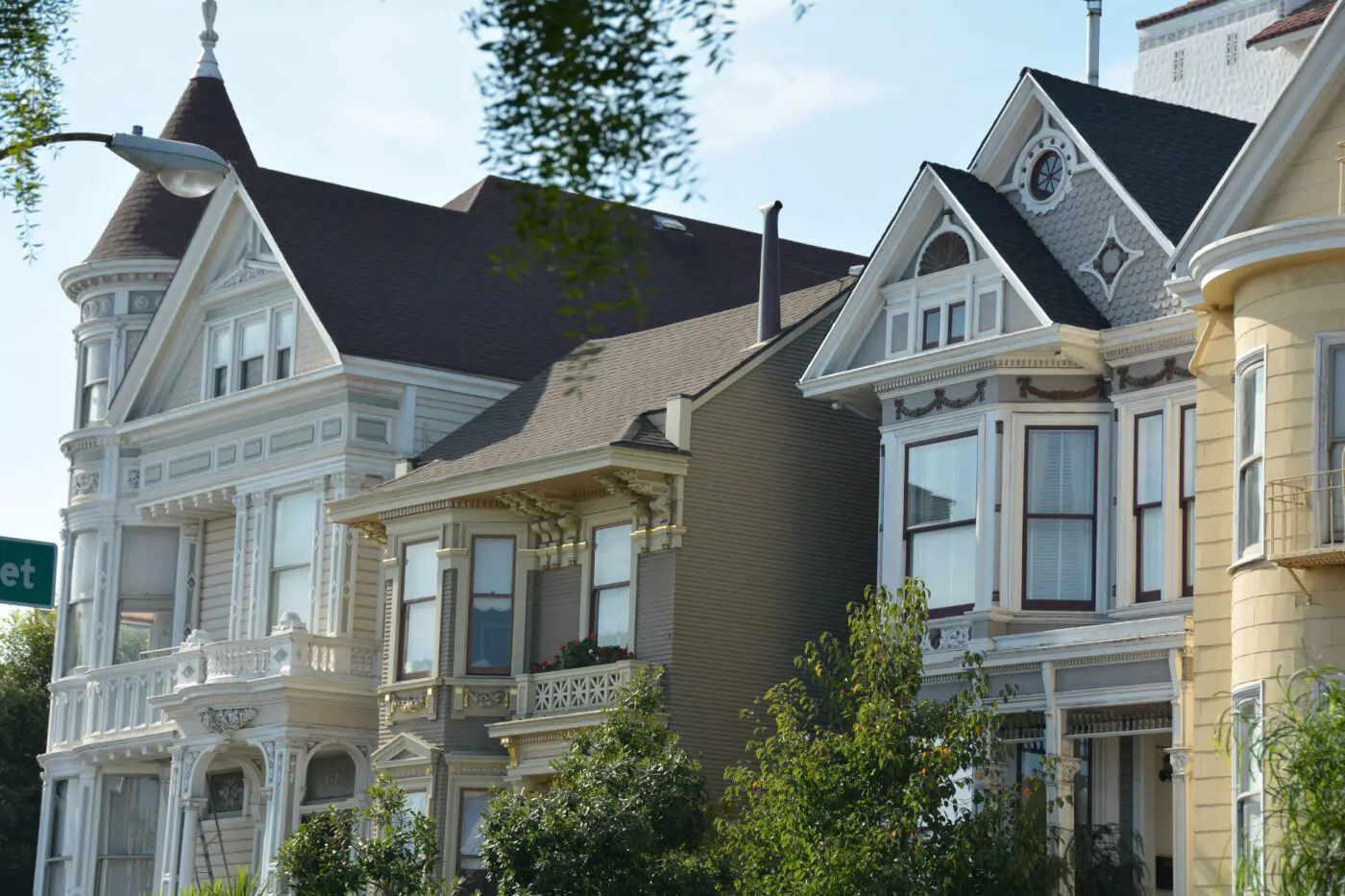 San Francisco Historic Victorian Roofing
San Francisco Historic Roofing Projects:
1883 McMorry-Lagan Victorian Residences Hayes Valley
1892 Italianate Victorian Townhouse, Henry Geilfuss Architect
1895 Stick Eastlake Guerrero Street
1898 Jackson Street Pacific Heights Victorian
1900 Noe Valley Queen Anne Victorian
1903 Cole Valley Queen Anne Victorian
1904 Duboce Triangle Grand Edwardian
1911 Hayes Valley Edwardian
1912 Pacific Heights Second Empire
1914 Classic Revival Pacific Heights
1923 Lower Nob Hill Italianate Entablature Roof Cornice
What Our San Francisco Clients Say:
"Had Wedge put a new spray foam roof on our flat roof. Received proposals from 4 companies including Armstrong. Terry fromWedge gave me the most confidence. Their bid was also very competitive. It was a complicated job as some resloping and working around ducts and skylights was needed."

– Andrew H., San Francisco

Professional and capable from start to finish. The installation was quick and clean. I cannot recommend these guys enough."

– Jim S., San Francisco – Re-roofing

"The roofers were fast, skilled, and friendly.They covered all the neighbor's cars to protect them.The workmanship was top-notch.The new roof looks fantastic and so far, I'm thrilled that we chose Wedge."

– Julian C., San Francisco – Spray Foam Roof

"Wedge did a great job on our residential roof. On time, on budget, and clean job site. Very professional."

– Ryan M., San Francisco – Spray Foam Roof

"We recently had a roof replaced on a very old house and Wedge did a great job.The superintendent kept in contact during the process and the roof looks great.They left the area spotless, like they were never there.I would recommend them to anyone and will definitely use them in the future."

– Erin F., San Francisco Reroofing

"We have a 1911 house in SF with a 30+ year roof. I had called several roofers seeking to see if it
could be repaired. Several were unwilling to visit for a potentially small job. Wedge, however responded promptly and provided a thorough recap. While the roof needed to be replaced, I did not feel up-sold, rather I had photos and info leading to a correct decision.

The contract, material selection, and scheduling process were smooth. Calls and emails were returned promptly with appropriate responses. During the work, the team showed up on time and worked hard. The job site was left clean each day. We had a change order for work I requested, which was accommodated within the schedule. The best surprise was that while we anticipated some contingency for damaged wood or other surprises, it was not needed. While that is a testament to the house, it is also easy for contractors to increase their invoices by finding extra work. Overall, we are very pleased with our roof and would definitely recommend Wedge Roofing for residential work."

– Ryan M., San Francisco – Victorian Roof Replacement

"Thank you for your expertise in recommending the best type of roof for our purposes. It's all gone very smoothly."

– Susan R., San Francisco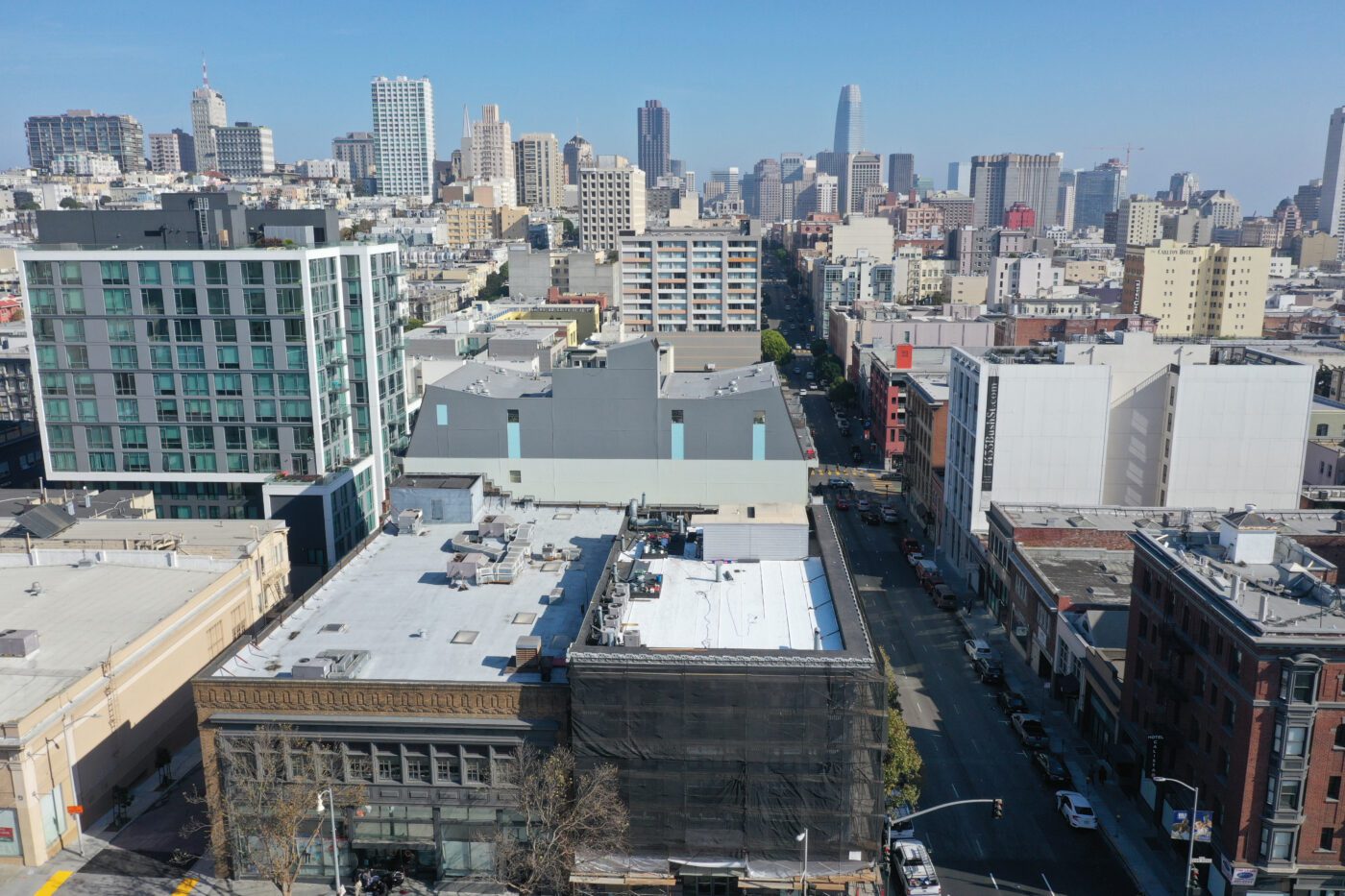 San Francisco Commercial Roofing
Notable San Francisco Commercial Roofing Projects:
San Francisco Zoo, San Francisco State University, SOMA Hotel, Mission Bay Industrial Buildings, Pacific Heights Homeowner's Association, Nob Hill Apartment Building, Lower Nob Hill Historic Building, Project Artaud, Van Ness Street Office Building, Hunter's Point Homeowners Association, Federal Reserve, Inner Mission Work/Live Loft, West Portal Restaurant, San Francisco Housing Authority, San Francisco Fire Department, and the San Francisco Public Library.
Commercial Roof Systems:
Spray Foam Roofs, Single-ply, Shingle Roofs, Solar Roofs, Clay and Concrete Tile Roofs, Standing Seam Metal Roofs, and Natural Stone Slate Roofs.
Accreditations and Awards