Spray Foam Roofing Solves San Francisco Flat Roof Leak Frustrations for North Beach Homeowner.
After numerous failed roof repair attempts by other roofing companies, the frustrated owner of this leaky San Francisco condo contacted Wedge Roofing for a Spray Foam Roofing estimate.
Following a thorough inspection of this San Francisco flat roof, Wedge Roofing's estimator advised the homeowner that a spray foam roof could be installed directly over the existing roof surface providing a seamless waterproof roof system with high insulating benefits.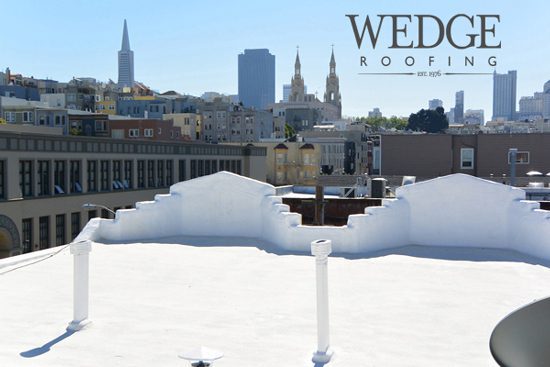 "The precise spray foam roofing detail work as seen on the parapet walls of this San Francisco flat roof requires years of experience from highly skilled and trained spray foam roofing applicators."
The first step in the installation of this San Francisco Insulating Spray Foam Roof was the preparation of the existing roof surface in conjunction with removal of the existing perimeter metal. Once the prep work was complete, new bonderized edge metal and primer were installed.
Next, Wedge's certified Spray Foam Roofing Team applied spray polyurethane foam on the roof and the parapet walls, carefully protecting the building from overspray.
The new spray foam roof was then covered with a California Title 24 Premium White Silicone Cool Roof Coating with granules.
To the delight of the homeowner, the roof is no longer leaking.