Wedge Roofing Receives BBB Torch Award for Ethics
The Better Business Bureau (BBB) of the San Francisco Bay Area and Northern Coastal California has awarded Wedge Roofing with the 2017 BBB Torch Award for Ethics in recognition of the company's ethical and trustworthy roofing services, as well as their commitment to supporting their community.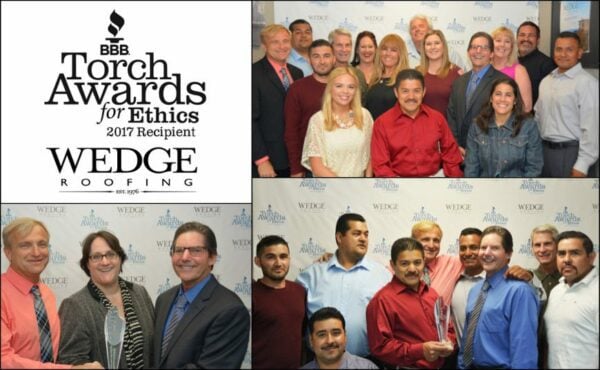 The BBB A+ Rated roofing company serving Marin County, Sonoma County, San Francisco and Napa since 1976 received the prestigious ethics award in the category of 11-49 employees, and is now nominated for the BBB International Torch Award for Ethics.

The Torch Awards for Ethics competition was created to honor businesses that demonstrate their commitment to trust and marketplace ethics, and the award embodies BBB's mission to be the leader in advancing marketplace trust. In this rigorous regional competition, businesses from thirteen counties in the Bay Area and Northern California completed a meticulous application process to illustrate their commitment to ethics and community leadership.
The independent panel of judges comprised of highly distinguished San Francisco Bay Area business and community leaders awarded Wedge Roofing a score of 53.4 out of a possible total score of 60 points.
The Better Business Bureau team, California State, and local Bay Area dignitaries attended the award ceremony held at Wedge Roofing's Petaluma headquarters. BBB President and CEO, Lori Wilson presented the Torch Ethics Award to Wedge Roofing "for going above and beyond in demonstrating strong ethical standards, and showcasing trust in the community.
Wedge Roofing president Ralph Wedge accepted the award on behalf of his entire company stating, "our core values of quality, honesty, integrity and value are the foundation of our company and are expressed by every employee. Doing what is right is who we are as a company, and is a source of pride for the entire Wedge Team."
In thanking the BBB, General Manager Gary Harvey said, "Here at Wedge Roofing we are used to receiving recognition and accolades from industry leaders and national experts, but the BBB Torch Award is different as it recognizes the environment here at Wedge Roofing that cultivates, nurtures and fosters business and leading practices."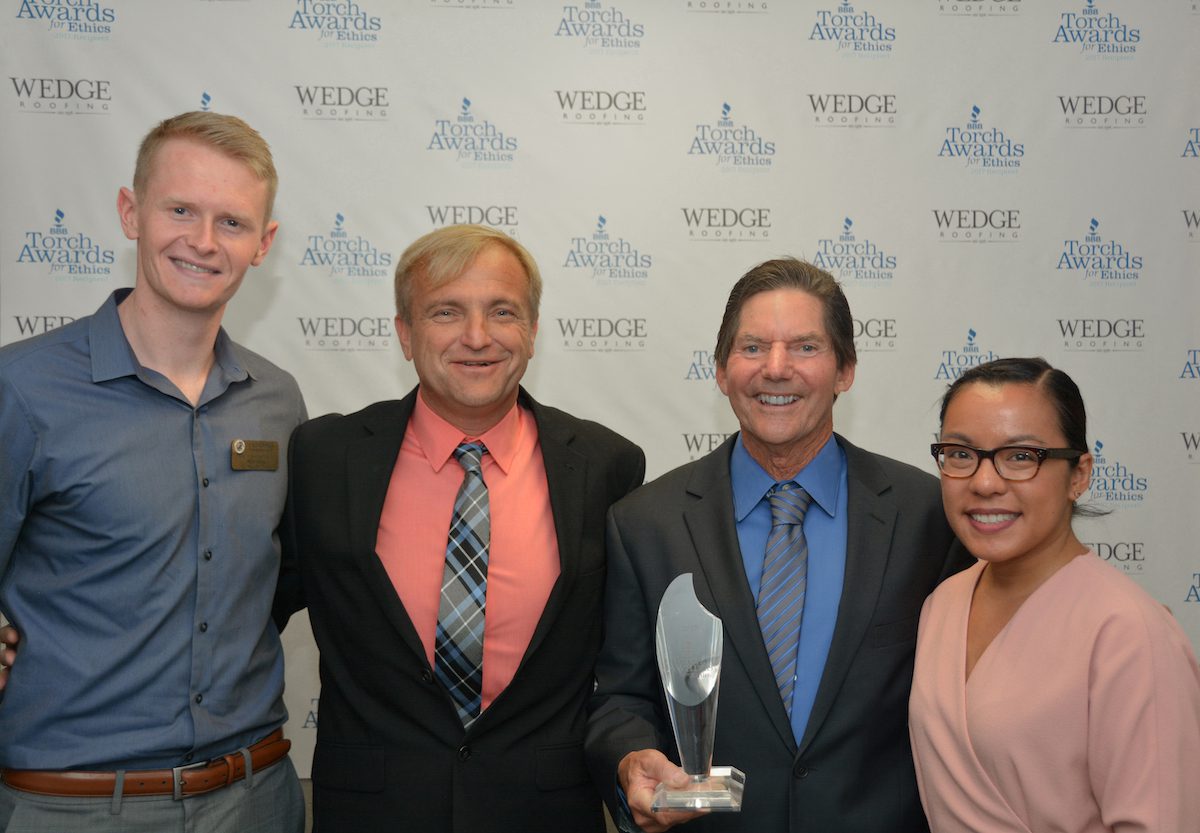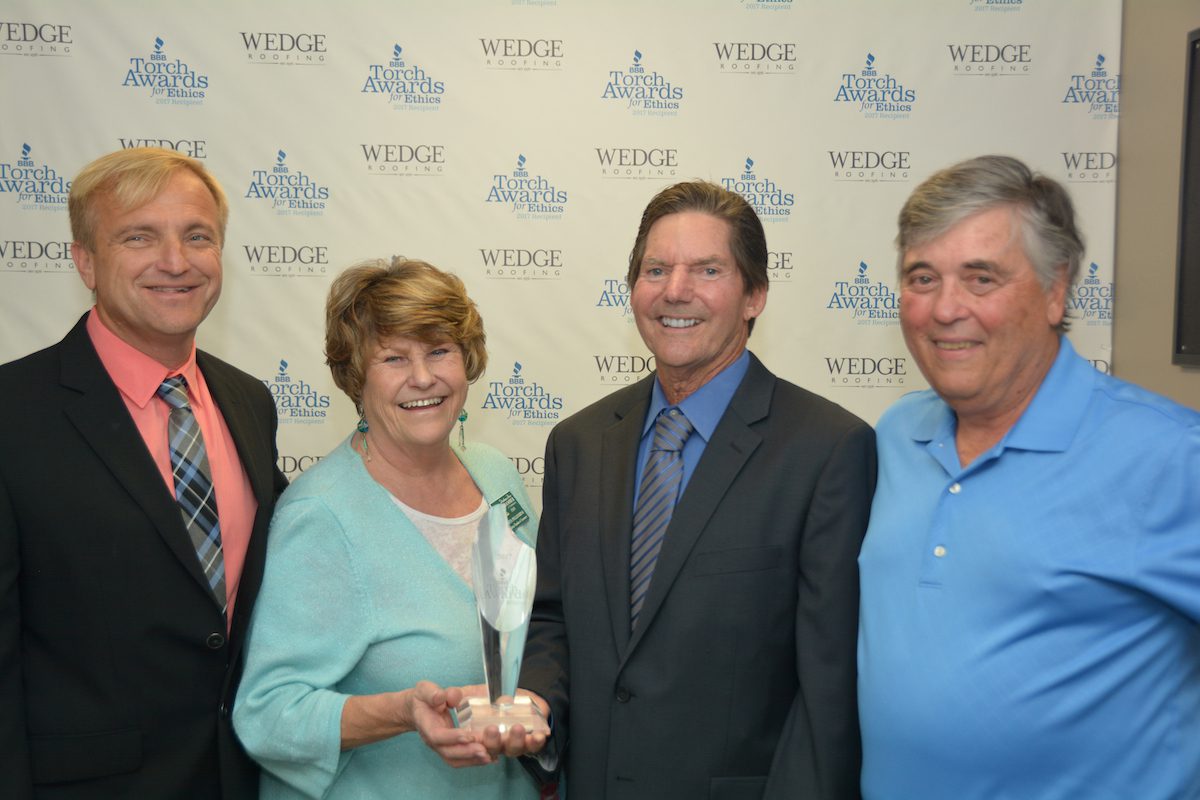 From left to right: Gary Harvey,Petaluma Chamber of Commerce President Onita Pellegrini, Ralph Wedge and Petaluma Mayor David Glass.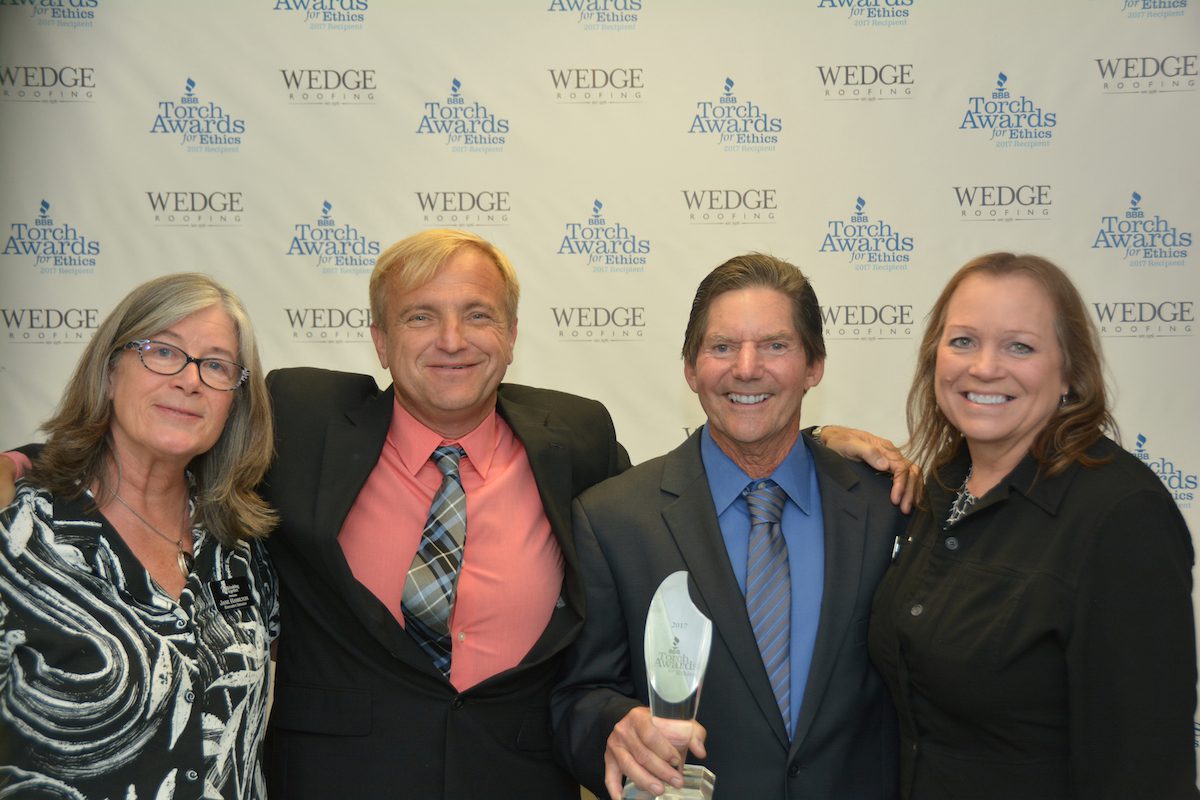 From left to right: Rebuilding Together Petaluma Executive Director Jane Hamilton, Gary Harvey, Ralph Wedge, and Bank of Marin Manager Kathy Madsen.
Wedge Roofing was selected to receive the BBB 2017 Torch Award for Ethics by an independent panel of judges including:
Steve Van Dorn, President & CEO of the Pleasant Hill Chamber of Commerce; Alan Ross, Professor of Business and Public Policy at UC Berkeley Haas School of Business; Jim Ruane, Mayor of the City of San Bruno; Lan Wu, Ph.D., Associate Professor of Marketing at the College of Business and Economics of CSU East Bay; Frank Davi, Senior Director of Canyon Design Build; Alex Alexander, West Point and Harvard Business School graduate and author of The Entrepreneur's Edge; and Reverend Dr. David Moore, pastor at Trinity Lutheran Church in Walnut Creek.