Award-Winning Sonoma Roof Coating
Recently Wedge Roofing took home their 12th Roof Coatings Award. The renowned San Francisco Bay Area roofing contractor received the 2023 SPFA National Excellence Awards for their team's installation of a silicone roof coating on one of Northern California's premiere destinations, the Hotel Healdsburg in Sonoma County's Wine Country.
Hotel Healdsburg welcomes guests with its beautifully appointed rooms, artisanal spaces, a luxurious spa, and country gardens. Situated in historic Healdsburg, the hotel is just minutes away from some of the world's finest vineyards, and, with its incredible location and offerings, the property attracts and serves guests year-round.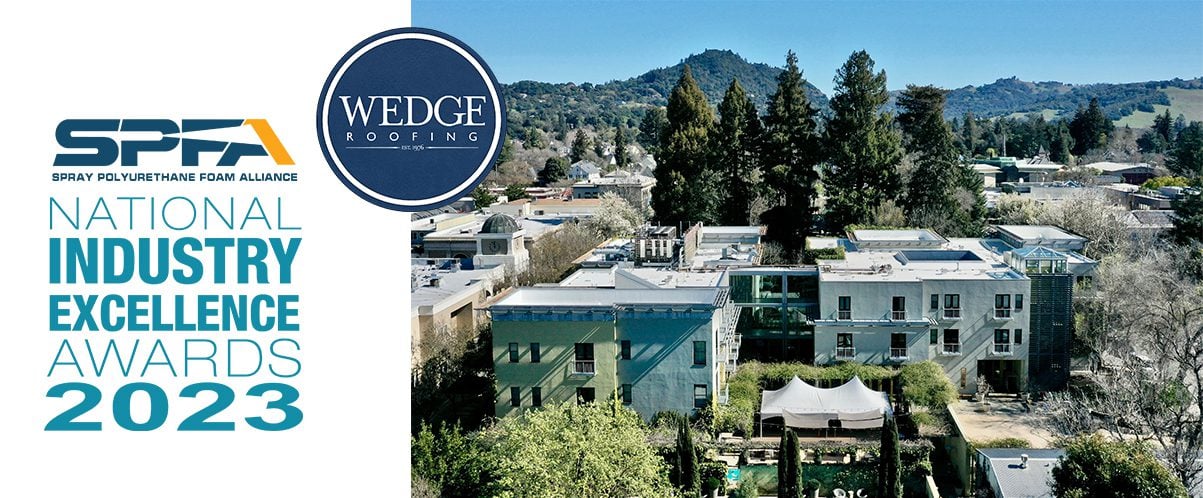 Atop Hotel Healdsburg sits two built-up roofs with a granular surface, most likely the hotel's original roof and another over it. During the historic rainstorms of 2023, roof leaks and damage began to emerge, necessitating a solution. Instead of a complete re-roof, the multi-award-winning Wedge Roofing recommended a restoration and coating solution.
Wedge Roofing's solution for the 25,000-square-foot roof surface was Thermo-Sil NP™ High Solids Silicone Roof Coating, a Huntsman Building Solutions option that extends the roof's life. A single-component, moisture-curing silicone rubber roof coating system, Thermo Sil NP provides a continuous, tough membrane that is flexible and integral to the structure.
This coating allowed us to recondition, preserve and extend the life and performance of the existing roof," explained Wedge Roofing's CEO and President Gary Harvey. In lieu of a complete re-roof, Wedge's restoration solution ultimately cut the project budget in half. "Not only was the client happy with the cost effectiveness of the silicone, but they'll also enjoy the restorations robust, lengthy performance," adds Harvey.
"Anytime we as an industry can prevent tear off and instead restore and extend the life of an existing roof, we are keeping materials out of the landfill, contributing to a sustainable future and helping the planet," says Al Kennedy, president of Cal Roofing Supply, Wedge Roofing's supplier for the project. "This is something we can all be proud of.