Wedge Historic Roofing Team Honored with National Award
Bay Area Victorian Wins Roofing Award: Wedge Roofing's Historic Roofing Team has received national recognition for their exceptional work restoring a prestigious 125-year-old Queen Anne Victorian residence in Sonoma County, CA. The Asphalt Roofing Manufacturers Association (ARMA) acknowledged the highly esteemed Bay Area roofing company's expertise by honoring them in the 2023 Excellence in Asphalt Roofing Awards Program.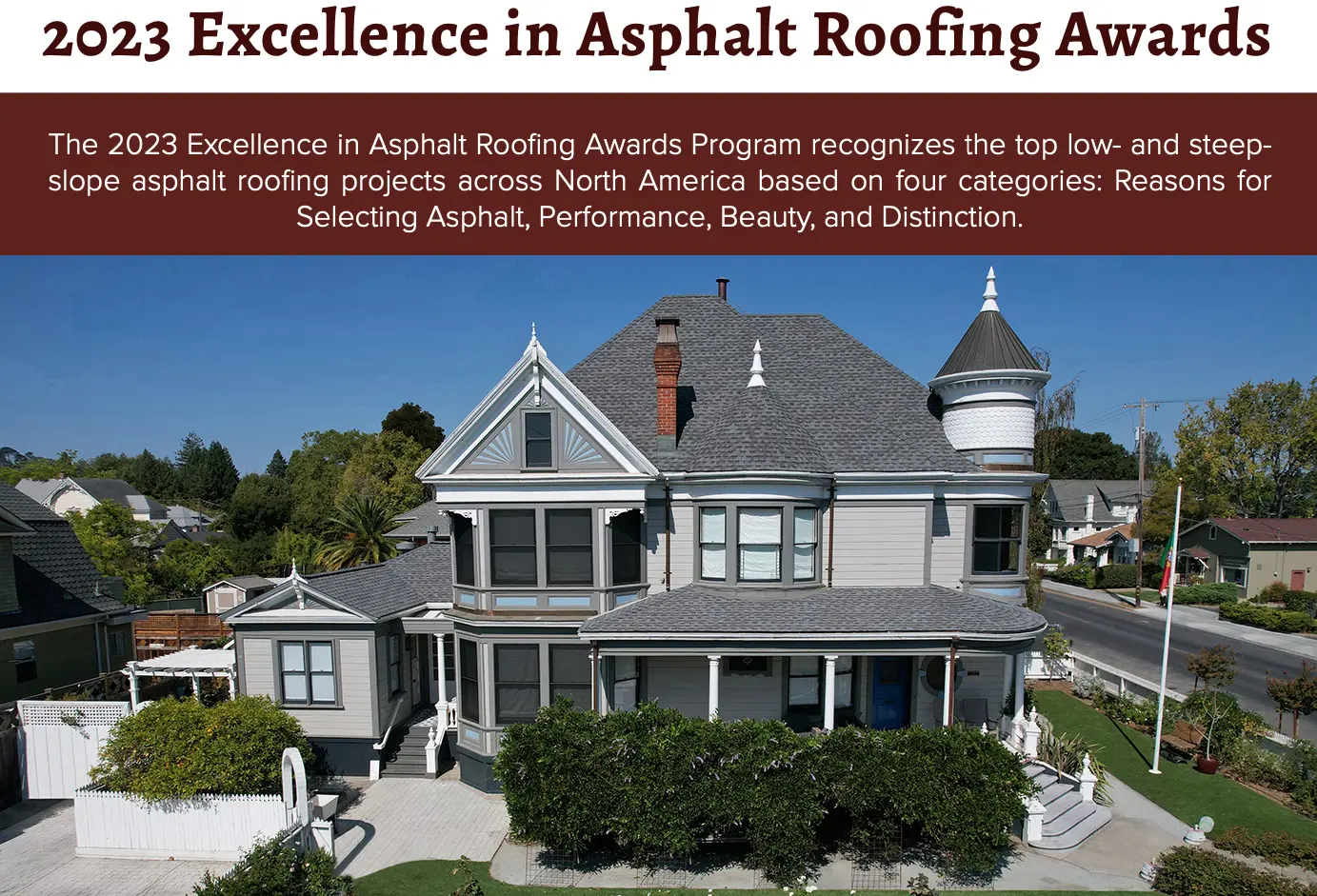 "ARMA congratulates Wedge Roofing on this beautifully detailed and challenging project," stated Reed Hitchcock, ARMA Executive Vice President. "The high-performing roof provides time-tested protection against the elements while blending seamlessly into this period piece."
Historic Roof Restoration
Demonstrating their dedication to preserving the rich architectural history of the San Francisco Bay Area, the Wedge Historic Roofing Team skillfully maintained the intricate architectural elements that define the Queen Anne style while ensuring the home's historical significance remained intact. To achieve this, they installed GAF® Timberline HDZ® RS Reflector Series Shingles on the Petaluma Victorian's steep roof, turrets, towers, and dormers, combining modern roofing performance with the preservation of its distinctive features.
---
Gossage Home
Constructed in 1899, the Gossage Home was the residence and medical practice of Dr. Gossage, a prominent figure in Petaluma's history. Following the Great Earthquake and Fire of 1906, retired capitalist Peter Magnetti acquired the Victorian, firmly resolving never to return to San Francisco. In 1922, he gifted the home to his daughter on her wedding day.
Over the years, the Victorian residence witnessed various occupants, adding layers to its rich narrative. From being the residence and medical office of pioneering female physician Dr. Marion Macauley (and the first woman to own an automobile in Petaluma) to becoming the headquarters for the local Vietnam anti-war movement led by Sonoma State Professor Dr. Joe Fortier in the 1970s, the Gossage Home holds a special place in the community's heart.
Authentic Historic Restoration
The Gossage home survived a devastating fire and twice fell into utter disrepair. Fortunately, the house was purchased by Phyllis Rankin, a historic preservationist, and later Bonnie Spindler, a San Francisco Victorian specialist who ensured the home remained authentic through several major restorations. Wedge Roofing takes pride in contributing to the preservation of this historic Victorian, ensuring its authentic character remains intact.
ARMA's Excellence in Asphalt Roofing Awards Program recognizes the top steep- and low-slope asphalt roofing projects across North America. This year was record-breaking, with 127 submissions. A panel of industry experts selected seven projects as winners of the 2023 Excellence in Asphalt Roofing Awards.