San Francisco Bay Area GAF Master Elite Roofing Contractor
For over 40 years, Wedge Roofing has proudly served Marin County, Sonoma County, San Francisco, and Napa as a GAF Master Elite® Roofing Contractor. This distinction is achieved by only 3% of roofing contractors nationwide, showcasing Wedge Roofing's dedication to superior roofing services.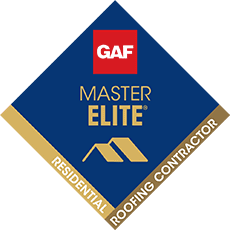 "Wedge Roofing is one of a small number of professional contractors in the San Francisco Bay Area that has earned this special certified status as a GAF Master Elite. By reputation, Wedge is among the very top for the entire United States in both quantity and quality of GAF installations. My guess is that property owners that choose your organization will realize they made a great choice." Jim Slauson, VP GAF
The Right Choice
Because of the stringent requirements required to become a Master Elite® Roofing Contractor, GAF has taken the worry out of choosing a roofing company. By selecting Wedge Roofing for their shingle roof installation in Marin, Sonoma, San Francisco, or Napa, GAF assures roofing clients that they have chosen a quality, reputable and dependable professional roofing contractor.
GAF Certified Roofers
By choosing Wedge Roofing for shingle roof installations, clients gain confidence in superior quality. WEDGE Roofing exclusively employs GAF-factory certified journeyman roofers, ensuring installations that meet GAF's strict quality benchmarks.
Enhanced Warranties
Only available through a GAF factory-certified Master Elite Contractor, the Golden Pledge® Enhanced Warranty guarantees our workmanship on GAF Lifetime Roof System installations for up to 25-years. More than doubling the coverage of traditional roofing warranties offered by roofing contractors who have not achieved Master Elite status, and even includes a rooftop evaluation by GAF's factory-trained inspectors.