San Francisco Bay Area GAF Master Elite Roofing Contractor
GAF, North American's largest roofing manufacturer announced Wedge Roofing has achieved their highest accreditation status of Master Elite® Roofing Contractor.
Premier Accredidation
This is a rare achievement, with only 3% of roofing contractors nationwide possessing the professional roofing qualifications and proven commitment to superior roofing services required to earn GAF's premier accreditation. In the San Francisco Bay Area, there are only a small number of roofing contractors who have earned the Master Elite certification.
Choosing a Roofing Contractor
Because of the stringent requirements required to become a Master Elite® Roofing Contractor, GAF has taken the worry out of choosing a roofing company. By selecting Wedge Roofing for their shingle roof installation, GAF assures roofing clients that they have chosen a quality, reputable and dependable professional roofing contractor, employing GAF-factory certified journeyman roofers whose expert installation meets GAF's exacting quality standards.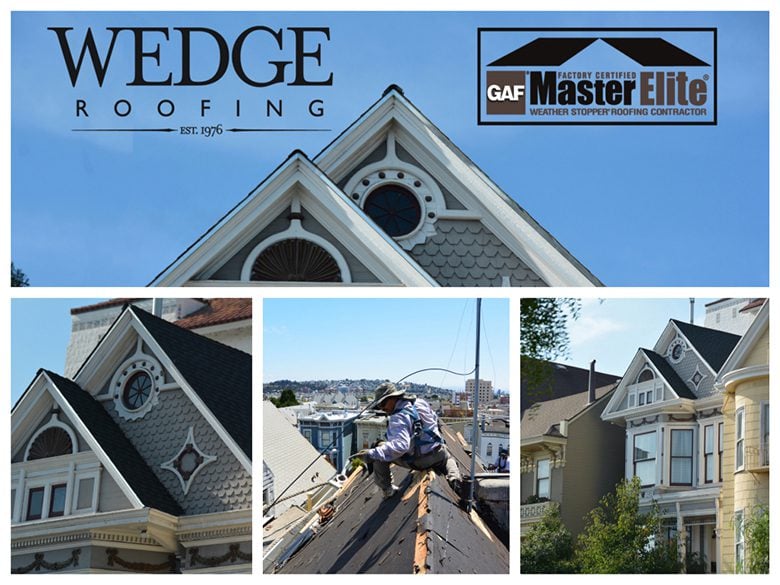 As a GAF Master Elite Contactor, we can proudly state that not only do we guarantee the quality of our roofing workmanship, but so does North America's largest roofing manufacturer.
Enhanced Roof Warranties
As a GAF Master Elite® Roofing Contractor, Wedge Roofing's select roof installations meet the highest-quality standards to qualify for GAF's enhanced roof warranties covering not only manufacturing defects, but our workmanship backed by GAF's financial clout as North America's largest roofing manufacturer.
Only available through a GAF factory-certified Master Elite Contractor, the Golden Pledge® Enhanced Warranty guarantees our workmanship on GAF Lifetime Roof System installations for up to 25-years. More than doubling the coverage of traditional roofing warranties offered by roofing contractors who have not achieved Master Elite status, and even includes a rooftop evaluation by GAF's factory-trained inspectors.
Commercial Roofing
As a certified GAF Master Commercial Roofing Contractor, our roof installations qualify for  GAF's strongest commercial roof warranty, the Diamond Pledge™ – No Dollar Limit Roof Warranty, which guarantees our workmanship on GAF's single ply roof systems and built up roof systems for twenty years. The Diamond Pledge warranty covers the  EverGuard®TPO, EverGuard®PVC and GAFGLAS® Built-up roof systems.
In addition to enhanced roofing warranties, Wedge Roofing can now offer financing for GAF roof installations and GAF Green Roofing certification to their San Francisco Bay Area roofing clients.