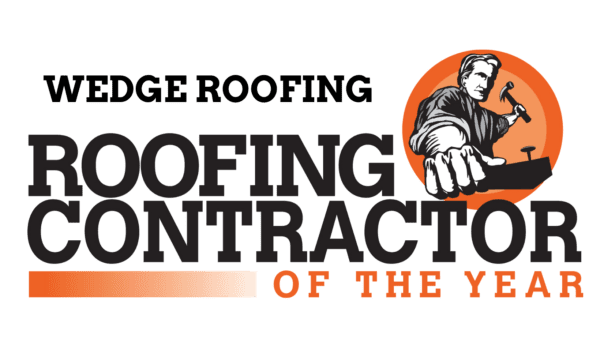 "Wedge Roofing has an award-winning pedigree, an excellent referral reputation built over more than 47 years of high-caliber work and even better customer care. They are committed to operational excellence, curbing waste, and giving back to the communities they serve. Wedge has shown the ability to go above and beyond, and earned the 2022 Residential Roofing Contractor of the Year honors."
Art Aisner, Editor-in-Chief of Roofing Contractor Magazine
"We are incredibly honored to receive the 2022 Residential Roofing Contractor of the Year Award from Roofing Contractor Magazine. The Wedge Team's mission is to provide exceptional roofing solutions and ethical customer service to our clients while supporting the communities where we work and live. It is extremely gratifying that our efforts are recognized by the roofing industry's leading national magazine."
Gary Harvey, CEO Wedge Roofing
By Art Aisner, Editor-in-Chief Roofing Contractor Magazine (December 2022)
On paper, Wedge Roofing is a traditional, family-oriented roofing company in Northern California. It has an award-winning pedigree, an excellent referral reputation built over more than 47 years of high-caliber work and even better customer care. Taking a closer look, there's a lot more. Launched with humble beginnings in Marin County, California in 1976, Wedge evolved into a premier residential and commercial roofing contractor servicing sprawling territories stretching from San Francisco's North Bay through Silicon Valley.
Sixty full-time employees helped generate double-digit millions of dollars in revenue in 2021, nearly making RC's Top 100 List for the second straight year (#110). The growth over just the past two years appears to be no fluke. Founder and President Ralph Wedge described the company's recent performance as well-managed, controlled, seven-figure growth year-over-year. And the company trajectory is on pace to make this year a success.
A STEADY LOOP In more than four decades, Wedge crews installed roughly 3.5 million square feet of rooftops that represent systems of all kinds. That includes high-end and highly-specialized residential projects that have received national recognition. But that's just part of the overall picture.
While developing their expertise on the residential side, Wedge crews also grew into highly-efficient commercial and industrial roofing installers in their growing market. As a licensed public works contractor in California, the company's client list includes major municipalities, dozens of school districts and active nonprofit community organizations.
Given the impressive numbers listed above, there's a lot that company leaders are pleased with and thankful for as another challenging year comes to a close. But there's one set of numbers that stands out to longtime General Manager Gary Harvey. "The stunning aspect of our business is that 62% of our clients are repeat business," Harvey said. "That makes for a very nice business model."
Wedge also stays local. Despite the sprawling nature of Silicon Valley and all the building opportunities that type of growth and attention afforded over decades, the company works close home — rarely going beyond a 20-mile radius from its location. With such a high rate of repeat business and quality referrals, crews stay busy year-round not only with reroofing projects, but with roof repairs, emergency leak response, maintenance and structural restoration.
TRULY VERSATILE While business remains steady, Wedge said the uptick in growth experienced last year was sufficient for them to manage sufficiently without jeopardizing quality. The company expanded its workforce by 10% at the beginning of 2021, allowing revenue to grow proportionately. Investment in equipment and additional licensing capabilities helped broaden the scope of roofing- related services, including expansion into solar, roof coatings, spray foam roofing and spray foam insulation.
Versatility isn't just a business priority, it allows the company to instill important philosophies, such as corporate responsibility when it comes to the environment and the community. One of the company's core principles is to try and reuse or refurbish roofs that are still capable of extended lifecycle. That means getting more familiar with different products, their chemical composition and building profiles.
The attention to detail and knack for creative solutions earned top honors from the Spray Polyurethane Foam Alliance (SPFA) for a commercial coatings job in Santa Rosa, Calif. The roof atop the 1960s steel facility was heavily rusted and well overdue for a reroof — or so the facility managers thought, until the quarter-million price tag came into focus
.Harvey's team determined the panel laps, joints and fasteners were the cause of persistent leaks, and the 26,000-square-foot roof could be recovered with a silicone coating. Beyond the cost savings to the client, there's a sense of pride among the crew in knowing that roof will probably last decades longer.
"That roofing assembly was scheduled for removal and to be taken to the landfill," said Harvey, who acted as project manager on the job. "It just fit in our strategy — our 'world- first' approach — to be able to refurbish it."
Its ability to fit Wedge's "world-first" environmental philosophy into projects means their use of spray foam roofing should only increase. "For me, part of training and teaching and growing our staff is to expose them to a diverse assortment of products, and spray foam is one that takes a few years to truly master," Harvey said. "And that ability to learn and grow is really important to us."
PIVOTING TOWARD THE FUTURE Award-winning work earned both before and after the pandemic shows Wedge's consistency and determination for high-quality installations. The ability to adjust and pivot shined through.
Already organizationally-focused on safety, Harvey said the team at Wedge was able to hit the ground running with safety adjustments and went back to work quickly. By the end of 2020, the company celebrated its best year financially at the time.
While the supply issues that impacted contractors industrywide posed challenges in the months that followed, Wedge shifted its inventory levels, bridging certain gaps in material availability. It also helped make their price points a little more stable and predictable for clients, Harvey added.
Arguably more impactful to area has been repeated years of historic wildfires. And the fire forecast continues to look grim, with traditional "burn seasons" starting earlier and ending later. While crews were up to speed on best building practices for their market, the recent wildfires put greater emphasis on working with fireproof materials.
The industry calls it fire-hardening — where developers and contractors now focus on repairing or rebuilding homes with as much fire-resistant or non-combustible materials as possible. With roofs traditionally making up between 40-60% of an average home's exterior, they become critical components to any proactive fire-proofing approach.
Looking ahead, Harvey said he is part of a succession plan well underway and that he's looking forward to continuing a successful family business tradition. He said there's a lot that makes the company successful, but Harvey said it boils down to two definitive factors: their clients, and their employees. "Our long-term employees — some of them have been here longer than me — there's the care, the training and the respect, and the sense of family really extends out," he said. "Our boots on the ground are our best foot forward, and I'm most proud of that."