Wedge Roofing Wins National Award for Shingle Roof Installation on Geodesic Dome
San Francisco Bay Area GAF Master Elite Contractor, Wedge Roofing has received the 2019 Excellence in Asphalt Roofing Silver Award from the Asphalt Roofing Manufacturers Association (ARMA) for their GAF Shingle Roof installation on a Geodesic Dome in Sonoma, CA.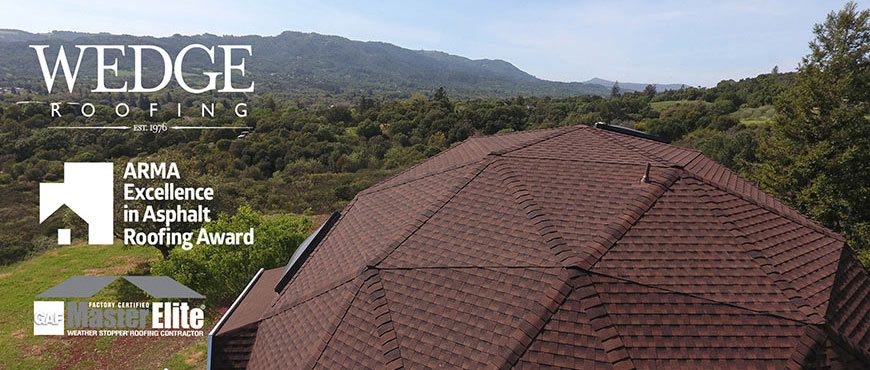 Selected from nominees across North America, Wedge Roofing's award-winning project showcases the exceptional level of asphalt shingle roofing expertise required to install a Geodesic Dome roof, while also illustrating the local contractor's efforts of rebuilding in fire-ravaged Sonoma County.
Northern California Wildfire
The date was October 2017, and the place was the charred Sonoma County wine country after the devastating Nuns wildfire roared through these valleys. Although still standing, the unique Geodesic dome, a multi-million-dollar vacation rental home, had sustained damage from the wind-blown embers and needed to be replaced with a Class A Fire Rated Roofing System.
With over four decades of dome roofing expertise, local San Francisco Bay Area contractor Wedge Roofing was called to install the new shingle roof on the unique structure. Wedge recommended a GAF asphalt shingle roofing system for its proven track record, dependability, visual appeal, and Class A fire rating. It was then a race against time to complete the project before the rental season, on a uniquely difficult structure, the geodesic dome.
Challenges of Roofing a Geodesic Dome
The Geodesic Dome is unique in that it is a group of triangles bolted together to form an irregular structure. Each triangle is a separate item with a bottom, two diminishing sides, and a top, and all of these angles must be accounted for when replacing the roof of a dome.
In addition to navigating triangular pitches inherent to domes, planning is further complicated because all conventional roofing material is manufactured as squares or rectangles. Accordingly, shingling a dome necessitates the cutting in the field of roofing material for each triangle. In short, it's a structure type that is above average in difficulty for roof installations.
Compounding that difficulty, Wedge Roofing had to race against the calendar– given only six days to complete the project as the annual renters had the dome booked on the seventh day. In the six-day time frame, Wedge's GAF Master Elite certified shingle roofing specialists installed the GAF Timberline HD roof, leaving the Sonoma Dome in pristine condition for the international travelers who would arrive the next day for their Sonoma Wine County vacation.
About the Asphalt Roofing Manufacturers Association (ARMA)
For more than a century, the Asphalt Roofing Manufacturers Association has served as the asphalt roofing industry's champion and a leader in education and innovation. The organization's membership includes nearly every asphalt roofing manufacturer in North America and their raw materials suppliers. Since it was founded in 1915, ARMA has worked to advance the industry, to aid in the development of codes and standards, and to promote asphalt roofing to both the building industry and the public.
---
Related Posts: