Northern California Wildfire Relief
All of us at Wedge Roofing were profoundly grief-stricken for those who lost so much in the tragic North Bay fires of October 2017. The losses were insurmountable, yet the strength and generosity of the Sonoma community that rushed in to offer support was inspirational. Without hesitation businesses, organizations, and individuals reached out to help those in need from the Northern California wildfires.
To support the immediate needs of the North Bay fire survivors, the Wedge Roofing team collected donations and utilized our trucks and labor force to move supplies to the evacuation centers. We are so proud of our staff who created fire breaks, assisted in evacuations, volunteered at the fire relief centers, and opened their homes to the fire evacuees.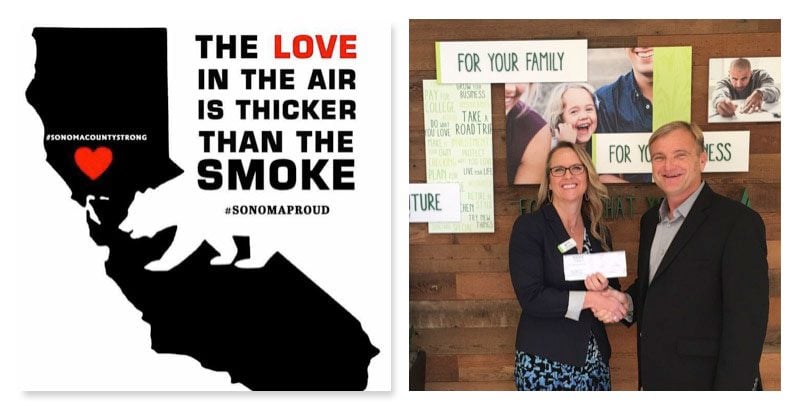 Wedge Roofing, in partnership with GAF Roofing and Santa Rosa ABC Supply, donated $5,000. to the North Bay Fire Relief Fund created by the Redwood Credit Union. This vital fund raised and distributed over 32 million dollars to those who lost their homes, and experienced economic hardship in Sonoma, Napa, Mendocino and, Lake Counties due to the devastating Northern California wildfires.

We would like to express our sincere gratitude to GAF and ABC Supply for joining Wedge Roofing in supporting the North Bay community during this critical time of need.
---
"To say I am proud of our community is an understatement. The worst of times truly brings out the best of humanity. I am honored and humbled to be able to play such a small part in aiding and comforting those around us, in this time of need. I am proud of the hundreds, if not thousands of people doing exactly what I did and much, much, more. I am extremely proud of the company I have called home for over 20 years, for not just allowing me to help, but encouraging it and facilitating it. Wedge Roofing provided the vehicles and personnel to deliver the supplies." Gary Harvey, Wedge Roofing general manager