Healdsburg Vineyard House Roof
Recently Wedge Roofing's award-winning historic roof restoration team completed the installation of a historically accurate new GAF shingle roof on a Sonoma County Queen Anne Victorian home in Healdsburg, California. Surrounded by acres of Sonoma County's world-renowned wine vineyards, the historic vineyard home is nestled between the foothills of the Armstrong Redwoods and the Russian River.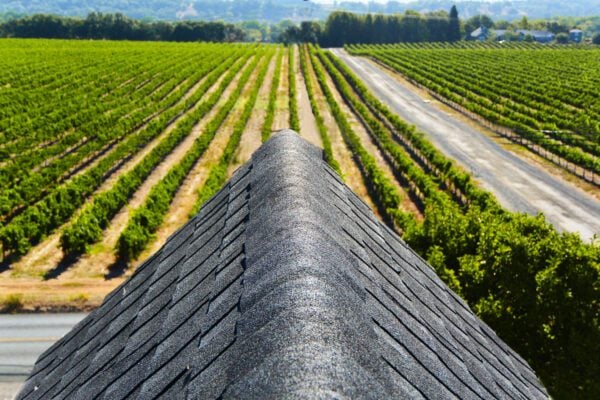 Roofing Challenges
Re-roofing the Sonoma County vineyard home while maintaining the integrity of the historic structure presented many challenges especially considering the extreme steep pitch of this gable roof.
Queen Anne Victorian
Common throughout Sonoma County, Marin County, Napa and San Francisco, Queen Anne Victorians are recognized for their many character-defining architectural elements including porches, gables, towers and turrets. One of the most striking architectural features of these ornate Victorians is the dramatic steeply pitched roof.
Dramatic Roof Pitch
Experts define a roof, as "steep" if the rise/run is over 4/12. Typically Queen Anne Victorian homes were designed with steeper roof profiles of at least 8/12. Considered a "dramatic roof pitch" this Healdsburg Victorian was built with a much steeper roofline with a pitch of 12/12.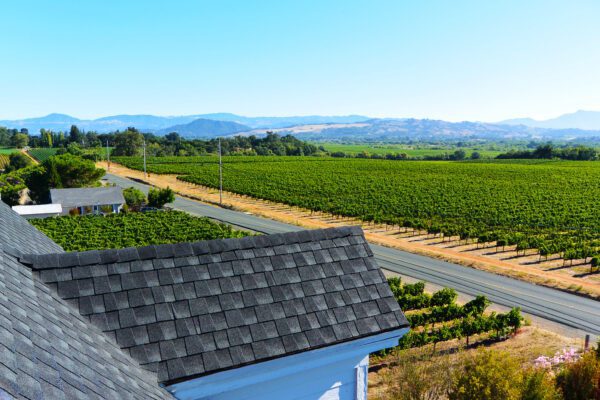 Unparalleled Roofing Expertise
The visual impact of such a steeply pitched roof is unquestionable. However, the 45-degree angle of the Healdsburg roof required unparalleled roofing expertise for the re-roofing to be completed successfully and safely.
Aesthetic Appeal
Additionally, with so much of the steeped roof system visible, choosing a shingle roof that provides aesthetic appeal was an important consideration. Shingle attributes such as texture, color, and shadow line were evaluated to select a roofing system that accurately reflected the historic character of the home while also enhancing the curb appeal.
GAF Timberline Ultra HD
GAF Timberline Ultra HD Composition Shingles were chosen as they provide the visual impact we were seeking with their high-definition color blends and enhanced dimensional shadow effect. Fifty-three percent thicker than standard architectural shingles, this durable roof system is not only beautiful, but also long-lasting. As Wedge Roofing is a GAF Certified Contractor, we were able to offer the homeowner the comprehensive GAF Shingle Warranty.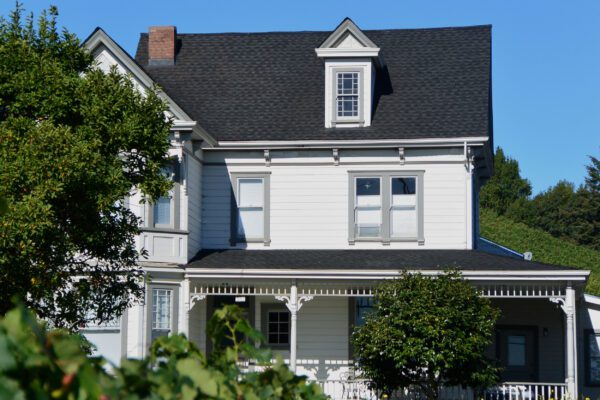 Roofing Safety
While Wedge Roofing emphasizes safety on every job, on such a steep roof where walking is impossible, additional planning and safety measures were implemented. Fall protection with harness and tie-off lanyards for all roofers was necessary at all times. Additionally, staging platforms, plus complete foot and hand supports were temporarily built on the roof.
Historic Roof Restoration
In addition to safety protection for the roof restoration team, it was imperative to protect the historic structure and surrounding landscaping during the construction project. After the removal of the existing roof, the careful and delicate re-roofing began. The steep slope made working difficult as only one shingle could be adequately installed at a time. This precise work required a "feeder" (additional crew-member) to unbundle and feed the installer shingle by shingle.
Vineyard Home
With the new roof installed – one shingle at a time – and full clean-up of the site completed, the Sonoma Victorian Vineyard Home was restored to its original beauty to the delight of the homeowners. We are proud of the work, as it met our two primary goals for the re-roofing project: Implement a visually striking and historically-accurate roof, and build into it unmistakable quality and long-lasting design.