One of our Marin County roofing clients, a homeowner in Belvedere CA, enjoys spectacular views of the San Francisco Bay, the Golden Gate Bridge and Mt. Tamalpais from her stunning home.
Therefore, when she contracted with Wedge Roofing to install a new roof, she not only wanted a long-lasting, durable roofing system, but one that would provide an equally stunning esthetic quality.
With a home built on the Tiburon Belvedere shores of the San Francisco Bay, specific considerations due to wind and salt-water exposure are crucial when selecting and installing a new roof.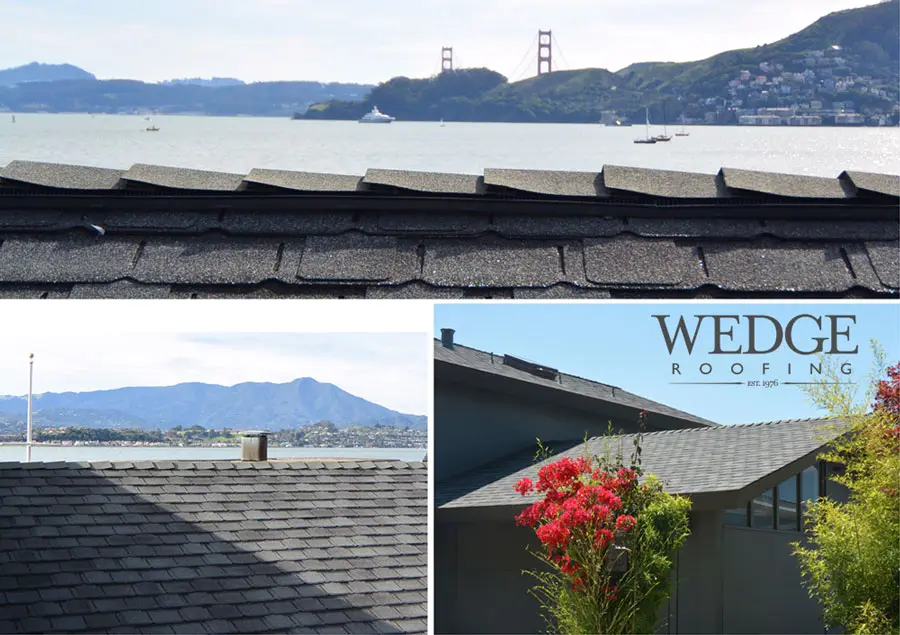 After consulting with our shingle roofing expert, the Marin homeowner selected GAF's Camelot II Shingle Roof System. This Class A Fire Rated fiberglass shingle offers a dimensional appearance with artisan-crafted shapes combined with oversized tabs in a specially formulated color palette designed to accentuate the shingle's natural appeal.
To begin the wood shake-to-shingle roof conversion the Wedge Team efficiently removed the original wood roof while carefully protecting the home and landscaping. All metal flashings were replaced with new non-corrosive copper metal and then a protective layer of shingle underlayment was installed over the sheathing boards.
Then, Wedge's GAF factory trained shingle roofing experts precisely installed courses of GAF Camelot II Roofing Shingles attached with corrosion resistant stainless steel nails.
Because Wedge Roofing is a GAF Master Elite Roofing Contractor, our Marin County roofing client was assured all work was completed to GAF's exacting standards to qualify for the manufacturer's best roofing warranty.
Our Belvedere roofing client is ecstatic about her new roof, which complements the beauty of her Marin County home.