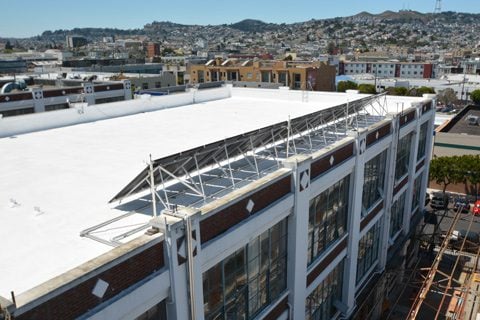 Wedge Roofing recently installed a commercial spray foam roofing system on a San Francisco Bay Area building that is home to the pioneering art complex, Project Artaud. The ninety-year old building, which encompasses an entire city block, was originally the American Can Factory.
In 1971, a group of artists converted the 111,000 square foot abandoned industrial building into housing and studio space. Today the member-run, non-profit organization is home to a thriving community of innovative sculptors, designers, photographers, filmmakers, writers, musicians, and performers. In addition to live/work spaces for more than seventy artists, the complex includes three theaters and two dance studios.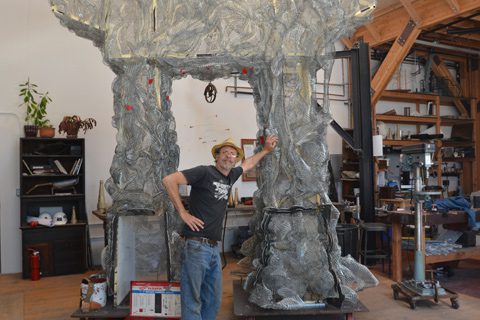 Wedge Roofing president Ralph Wedge was invited to tour Project Artaud where he met legendary artist Brian Goggin and witnessed the sculpting phenom in the process of creating his latest masterpiece, "Lantern Gate." Hand-made from cement and concrete, this nearly ten-foot-tall arched sculpture was designed by Goggin to represent twisted roots overtaking a decomposed archway with fire nozzles blossoming from the vines.
When complete, Goggin's site-specific sculptural installation will be installed as an illuminated pedestrian passageway at the Natomas Fire Station near Sacramento.
Goggin further explained the concept of "Lantern Gate": "Freestanding gates are traditionally used in landscape settings as a symbolic means to transform one's consciousness. The sculpture will encourage distractions from everyday life, allowing a return to a state of conscious strength and calm. It conveys to the visitor they have arrived at a unique place, where firefighters work in a state of watchful readiness."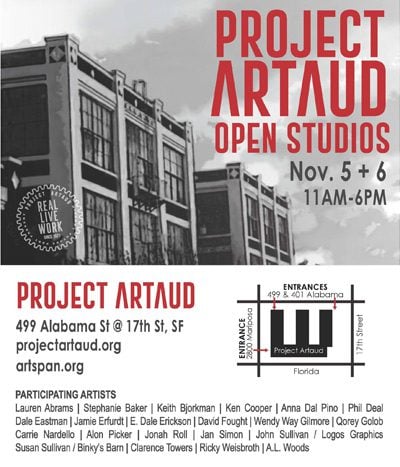 To learn more about Brian Goggin's renowned site-specific sculptural installations, please visit his website. www.metaphorm.org