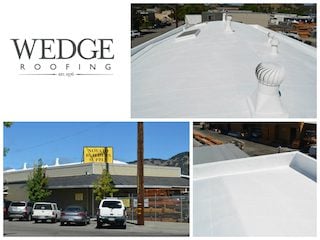 Wedge Roofing recently installed a Cool Roof Coating to the barrel roof at Novato Builders Supply in Marin County. The 5,000 square foot built-up roof topped with a mineral cap sheet was coated with an ENERGY STAR® Cool Roof Coating providing the reflective, energy-efficient properties to meet the energy saving golas of California's Title 24 roof requirements.
As with many of our clients, Novato Builders Supply requested a Cool Roof coating to not only extend the life of their roof for years to come, but also to significantly reduce energy costs.
Commonly seen in the San Francisco Bay Area on commercial and industrial buildings, the barrel roof is a semi-symmetrical or half arched shaped roof. Actually, the barrel vault form is an extension of the rounded arch, one of the oldest and most prolific architectural forms. Unlike flat roofs, the curved barrel roof shape provides for improved water and debris shedding. Subject to the roof pitch, roof application options on barrel roofs include cool roof systems, metal roofing, single-ply roof assemblies, spray foam roofs and composition shingles.
The Wedge Roofing Team was happy to provide a secure and long-lasting roof coating for Novato Builders Supply, as they have been supporting Marin County builders and homeowners for over 40 years from their convenient location in Novato.