Located in the India Basin Neighborhood of San Francisco, the original metal roof on this 1960's industrial building was found to have multiple deficiencies. Due to the building's proximity to the San Francisco Bay, failure of the roof coating exposed the metal roof and fasteners to corrosion from the SF Bay salt air.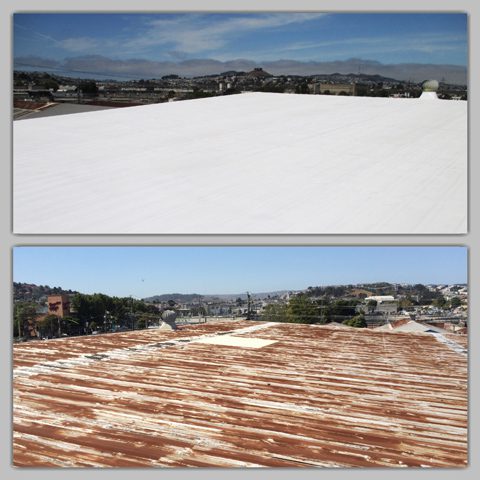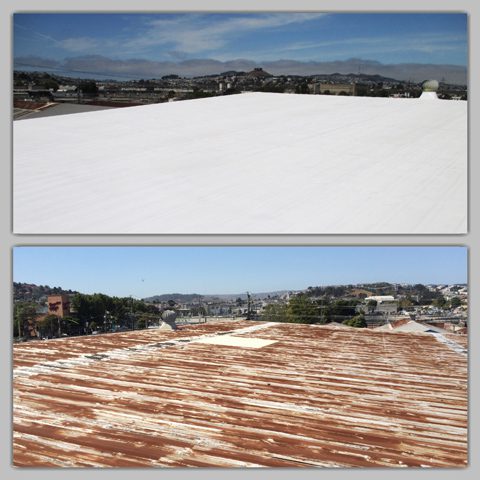 To correct these deficiencies with a new roofing system, Wedge Roofing proposed the installation of a corrosion resistant commercial Spray Polyurethane Foam Roof with a Cool Roof Reflective Coating directly over the existing metal roof.
This high-performance, durable roof system provides excellent waterproofing and insulating properties improving the energy-efficiency of the entire building in conjunction with California Title 24 Energy Goals.
With proper preparation of the existing metal roof, the lightweight and tenacious adhesion characteristics of spray foam results in the successful installation over most roof substrates providing a cost-effective option to removal and replacement of the existing roof system.
After a thorough roof preparation including metal roof repairs and anti-corrosive protection measures, Wedge Roofing's Certified Spray Foam Roofing Team installed the Spray Polyurethane Foam Roofing System.
Sprayed in a liquid form, closed-cell polyurethane foam quickly expands into a seamless, monolithic roofing membrane acting as both a thermal and moisture barrier. Covered with a UV-protective, highly reflective Cool Roof Coating, the spray foam roof has superior insulation, waterproofing, and reflective capabilities and is unmatched for energy-efficiency.
Through pre-construction meetings with the facility operations personnel, combined with the knowledge, expertise and specialized equipment a company garners during its 40-years in business, the new spray foam roof was completed on budget, ahead of time and without disruption to the building's occupants and operations.
Wedge Roofing is a SPFA-Certified Spray Foam Roofing Contractor serving Marin County, San Francisco, Sonoma County and Napa since 1976. Our spray foam roofing projects were awarded as best nationwide by the National Roofing Contractors Association in 2016 and the Spray Polyurethane Foam Alliance in both 2015 and 2016.