Mrs. Grossman's New Single-Ply Roof
The Wedge Roofing team recently completed a commercial Single Ply TPO Re-Roof project for Petaluma landmark company, Mrs. Grossman's Stickers.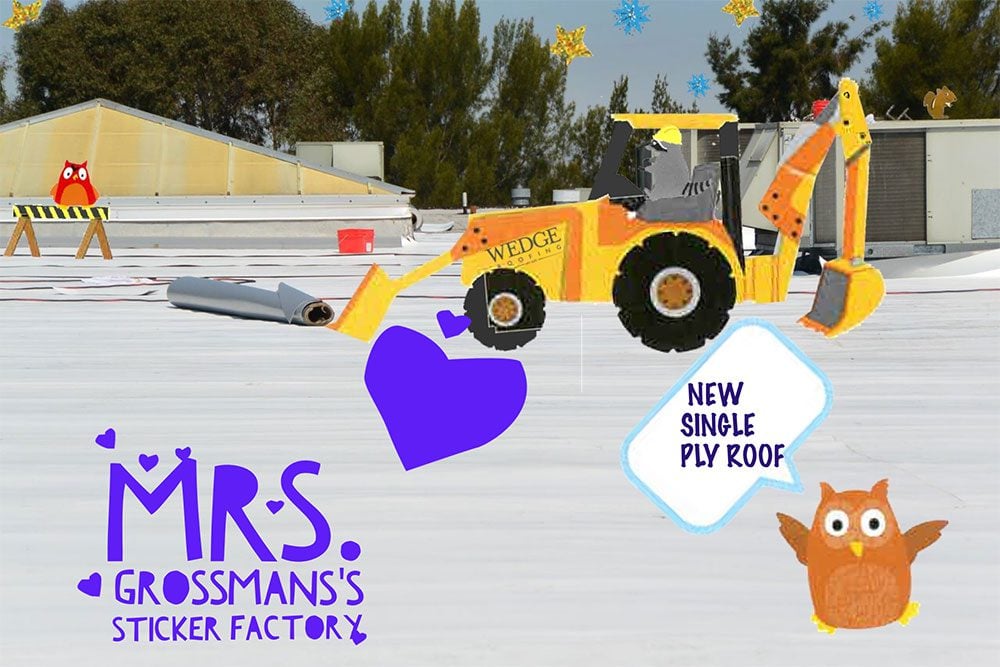 Beloved Stickers
Mrs. Grossman's, which was founded in 1979, undoubtedly has a special place amongst many San Francisco Bay Area parents and children, as the stickers are a family favorite throughout the area.
Fond Memories
As a father of three grown children, I fondly remember taking my kids to pick out their Mrs. Grossman stickers at local shops in Novato. Each son had an incredibly unique personality, and yet there seemed to always be a set of stickers that captivated their attention and freed their imagination.
"In the spirit of the free imagination Mrs. Grossman's stands for, we at Wedge decided to re-imagine the project with help from some of Mrs. Grossman's most popular stickers." Ralph Wedge, Owner and CEO Wedge Roofing
Mrs. Grossman's Son Moves Forward
Prior to the start of the project, I had the chance to tour the facilities with Mrs. Grossman's son, Jason; now the President of the company. I learned that beyond the innovative and imaginative stickers the company releases, they are also highly focused on gold production and produce labels for vineyards throughout the area.