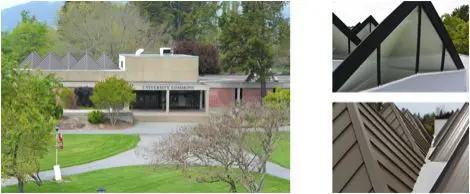 A new Spray Foam Roof, topped with a Cool Roof coating, is the perfect solution for breathing new life into a unique roof design located in Sonoma County. Wedge Roofing recently installed the roofing system, which solved lingering roof leak and building envelope waterproofing issues at the new headquarters of Sonoma State University's Wine Business Institute.
Located on the Cotati campus in Sonoma County, this distinctive 14,000-square foot building boasts a unique roof design featuring twelve pyramidal skylights on the flat roof. Built in 1969 the former "University Commons Building" was designed by San Francisco architectural team, Marquis and Stoller. The award winning design's unique use of natural light, used to illuminate the interior, earned the project a "superlative achievement in total design" from The International Designs Awards Program.
However, this unique design had technical drawbacks. According to Sonoma State University, "The intricate roof design with its multiple angles presented unique challenges for the waterproofing of the roof, walls and skylights." Through the installation of the Spray Foam Roof system and Cool Roof Coating, Wedge Roofing corrected the roof's deficiencies without affecting or compromising the lauded design. The Spray Foam Roof effectively halted the interior water intrusion while simultaneously improving the building's overall energy-efficiency with Spray Foam Roof Insulation.
Additional energy-efficiency was achieved through the use of the ENERGY STAR™ Cool Roof Coating, which allows the roof's surface to remain cool throughout the summer months; reducing energy consumption and complying with California's Title 24 Energy requirements. In addition to the Spray Foam Roof System, Wedge Roofing installed new, standing-seam metal roof panels on the tall skylight wells. These metal roof panels provide a long-lasting, low-maintenance, durable surface while preserving the distinct look of the original design.
Now waterproofed and energy-efficient, this unique building is the permanent home for Sonoma State University's Wine Business Institute. Further renovation is ongoing thanks to the generous contributions of Gary Heck, president and owner of Korbel Wines and Marvin R. Shanken, editor and publisher of Wine Spectator magazine.
Founded in 1995 as a partnership with the wine industry and Sonoma State University, the Wine Business Institute is the only accredited program to offer managerial and business degrees exclusive to the wine industry.