COVID-19 Safety Plan for Roofing Projects in Marin, Sonoma, San Francisco, and Napa
Updated December 3, 2020
Wedge Roofing is open and servicing our community's vital roofing needs as an Essential Workforce (defined in section #13 Industrial, Commercial, Residential, and Sheltering Facilities of California Executive Order N-33-20 for Essential Critical Infrastructure Workers, updated December 3, 2020).
We are in full compliance with the Regional Stay at Home Order issued by the California Department of Public Health on December 3, 2020, and adhere to all COVID-19 California State and San Francisco Bay Area Public Health Departments directives.
As an industry leader in this crisis, we have continually updated our original March 9, 2020, detailed risk assessment and work site-specific COVID-19 plan to include the most recent safety measure and procedures (see below).
Our job site safety protocols are monitored by on-site COVID-19 safety supervisors and randomly inspected by third-party experts.
As an ethical roofing company, we only hire professional roofers and provide all employees with full health benefits, including sick pay. Plus, we have distributed masks to every employee and each member of their families.
Clients are offered the option of meeting with our estimators remotely. This means that projects can be started and completed without any unnecessary face-to-face contact.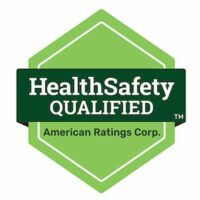 Wedge Roofing is a certified HealthSafety Qualified Business. This certification provides consumers with the peace of mind that the service company that visits your home or business is compliant with COVID-19 safety practices. 
Wedge Roofing COVID-19 Safety Protocol
EMPLOYEES ARE PROHIBITED FROM REPORTING TO WORK IF THEY HAVE BEEN EXPOSED TO COVID-19 OR ARE EXHIBITING SYMPTOMS.
DAILY TEMPERATURE AND SYMPTOM SCREENING OF ALL STAFF PRIOR TO COMMENCEMENT OF WORK.
DESIGNATED COVID-19 SUPERVISORS ON EVERY JOB SITE TO OVERSEE SAFETY PROTOCOLS.
ZERO FACE-TO-FACE CONTACT BETWEEN BUILDING OCCUPANTS AND WORKERS. ROOFING CREWS ARE INSTRUCTED TO COMMUNICATE WITH CLIENTS VIA PHONE OR TEXT ONLY.
MANDATORY USE OF FACE COVERINGS.
EMPLOYEES ARE PROVIDED WITH MASKS, GLOVES, AND GOGGLES AS APPROPRIATE FOR THE ACTIVITY THEY NEED TO PERFORM.
ON-SITE SANITIZATION STATIONS WITH STRICT ADHERENCE TO CDC AND OSHA HYGIENE MEASURES, INCLUDING FREQUENT, THOROUGH HAND WASHING.
SOCIAL DISTANCING EXCEPT AS STRICTLY NECESSARY TO CARRY OUT A TASK ASSOCIATED WITH THE CONSTRUCTION PROJECT.
CLEANING AND SANITIZING OF JOB SITES, WORKSTATIONS, EQUIPMENT, TRUCKS, AND FREQUENTLY TOUCHED ITEMS.
ALL OFFICE WORKSTATIONS ARE MORE THAN SIX FEET APART.
EMPLOYEES ARE NOT TO SHARE, BORROW, OR CO-MINGLE TOOLS, EQUIPMENT, OR ANY OTHER ITEMS.
RESTRICTED ACCESS TO OFFICE AND JOB SITES BY NON-EMPLOYEES.
ESTIMATORS ARE AVAILABLE FOR BOTH ON-SITE AND REMOTE ROOF INSPECTIONS.