Marin County Eichler Home Wins Roofing Award
Wedge Roofing's Marin County Eichler spray foam roofing work won the 2015 National Industry Excellence Award from the Spray Polyurethane Foam Alliance (SPFA) for Best Spray Foam Roof nationwide under 40,000 square feet.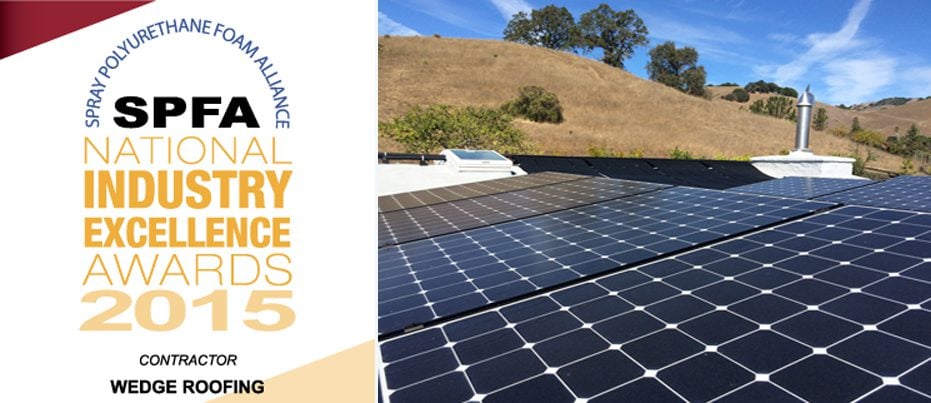 As a Spray Foam Roofing Contractor with Advanced Level Master Installers and Project Managers, Wedge Roofing was uniquely qualified to meet the complex demands of this project.
Installation of a highly insulated spray foam roofing system providing energy-efficiency, temperature control and sound deadening properties in an open beam roof design.
Implementation of expansive rooftop photovoltaic and solar hot-water heating system.
Integration of telecommunications and fiber-optics infrastructure.
Historically accurate roof restoration of the 1950's Eichler residence and enhancement of curbside appeal.
Accordance with California's Title 24 energy efficient codes and Marin County's Wildfire Urban Interface (WUI) requirements.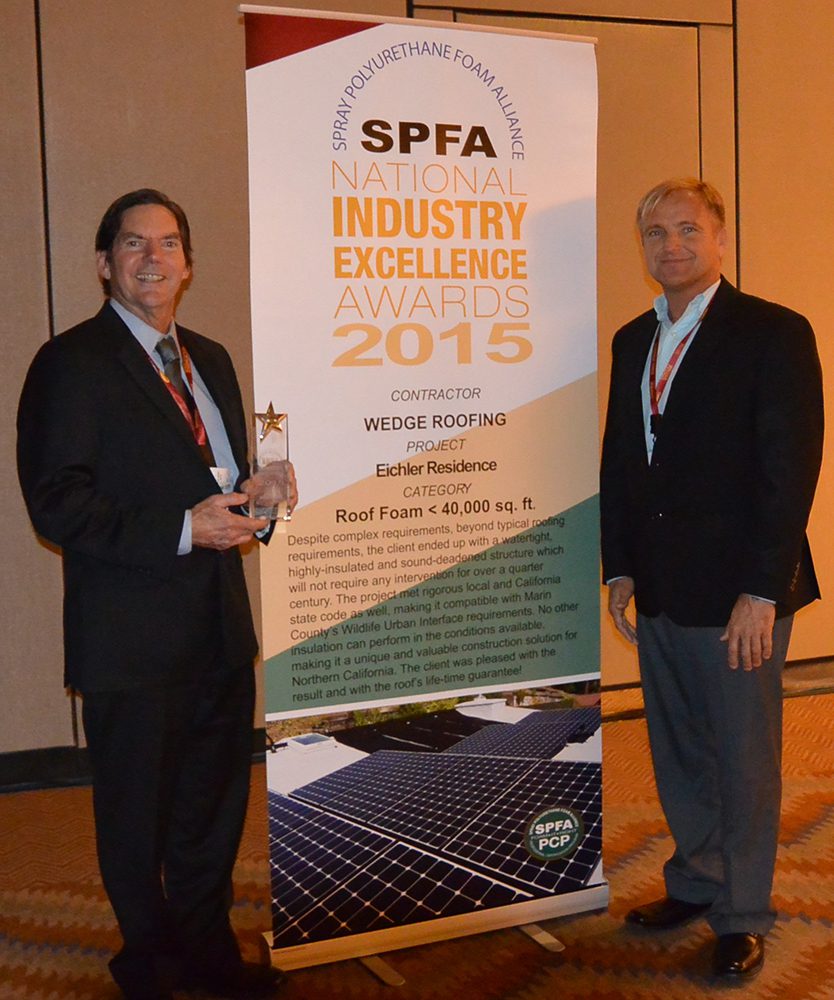 Wedge Roofing president and owner Ralph Wedge and Gary Harvey, general manager accept the 2015 Spray Foam Roofing Award for their work on a Marin County Eichler home.
Wedge Roofing would like to thank the SPFA for this esteemed award; we are truly honored to have received the 2015 National Industry Excellence Award for our spray foam roof project.
We also want to acknowledge the dedication and hard work of our General Manager, Gary Harvey without whom this award would not be possible, and the entire Wedge Spray Foam Division for their dedication to quality spray foam roofing and insulation.
The SPFA is the voice and educational arm of the polyurethane foam industry. SPFA delivers training, industry certification, leadership on energy conservation, the environment, health & safety, building codes and technical advances in the industry. Members are professional contractors, manufacturers and distributors who strive to educate, regulate and improve the trade.
Nominations were judged on the value for money, speed of delivery, environmental sustainability, innovation, best practices, problem-solving, and risk mitigation. Nominations were judged independently by a national panel of industry experts.