El Nino San Francisco Bay Area
Update September 26, 2018: El Nino Prediction for Fall 2017 and Winter 2018
The weather phenomenon of El Nino, which has resulted in torrential rainstorms in the San Francisco Bay Area, is again building with the warming of the equatorial Pacific waters. According to the Climate Prediction Center of the National Weather Service, NOAA, "There is a 50-55% chance of El Niño onset during the Northern Hemisphere fall 2018 (September-November), increasing to 65-70% during winter 2018-2019."
The 2014-2016 "Godzilla" El Nino resulted in the heaviest rainfall in the San Francisco Bay Area in over 125 years.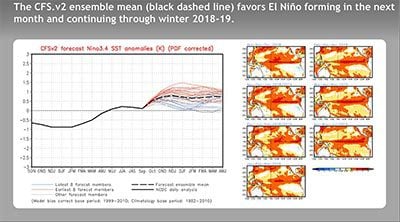 Image Credit: National Weather Service
Neglected Roof Maintenance Equals Disaster
Prior to the 2015/2016 El Nino, many homeowners and building owners neglected their roofs and building envelopes, which resulted in catastrophic roof leaks, expensive interior-water-infiltration damage and even disastrous roof-collapse when the El Nino storms hit the San Francisco Bay Area.
We urge our clients and all San Francisco Bay Area homeowners and building owners to start preparing now in order to secure your structures prior to the likely El Nino. The time to have Wedge Roofing experts analyze your roof for safety and stability is now!
Prepare Your Roof Now for El Nino
Schedule a free roof estimate to determine if your roof will remain watertight during the winter rainstorms of this historic El Niño winter.
Proceed with suggested roof repairs, roof coatings, dry rot repairs, reroofing or roof replacement immediately as during El Nino winters roofing crews have extremely busy schedules.
Subscribe to a roof maintenance program to spot small leaks or roof damage before they become significant, costly problems.
Ensure your roof drains, gutters and downspouts are clear of leaves and any other roof debris that might impede roof drainage.
If your roof is leaking, do not ignore it, as it is a sign that water has infiltrated below the roofing membrane possibly leading to interior damage and structural dry rot.
Experienced El Nino Roofing Contractor
Since 1976, Wedge Roofing has provided watertight roofs and building envelopes for San Francisco Bay Area homeowners and commercial building owners during the previous El Nino Winters, most notably the exceptionally wet winters of 1982-1983, 1997-1998, and 2015-2016. Our residential and commerical roofing service areas include San Francisco, Marin County, Sonoma County, and Napa Valley.
---
2014 – 2016 El Nino
"El Nino conditions are present. Positive equitorial sea surface temperature anomalies continue across most of the Pacific Ocean. There is a greater than 90% chance that El Nino will continue through Northern Hemisphere winter 2015-16, and around a 80% chance it will last through early spring 2016."
Meteorologists are warning that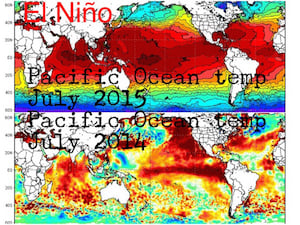 the largest El Niño in fifty-years has intensified in the Pacific with a 90% probability of bringing significant rainfall to the San Francisco Bay Area this winter, possibly surpassing the historic rainfall totals of the 1997/1998 El Nino.
"A Godzilla El Nino"
The rapid and dramatic warming of equatorial Pacific waters indicates the strongest El Nino ever documented with the possibility of record-shattering precipitation driven by the Pacific storm track.
The National Oceanic and Atmospheric Administration (NOAA) is predicting a greater than 90% chance that El Niño will occur this fall and winter with above normal rainfall in California continuing into spring 2016.
NASA climatologist, Bill Patzert describes the coming El Nino as "Not a puny El Niño, but a Godzilla El Niño." Patzert further warns that May's headlines recounting the devastating floods in Texas and Oklahoma could be written about California this winter.
Related Posts