Marin County Best Spray Foam Roof Nationwide
The spray foam roof installed on a Marin County landmark home by Wedge Roofing has won the 2018 First Place Award for Best Spray Foam Roof Nationwide from the Spray Polyurethane Foam Alliance (SPFA).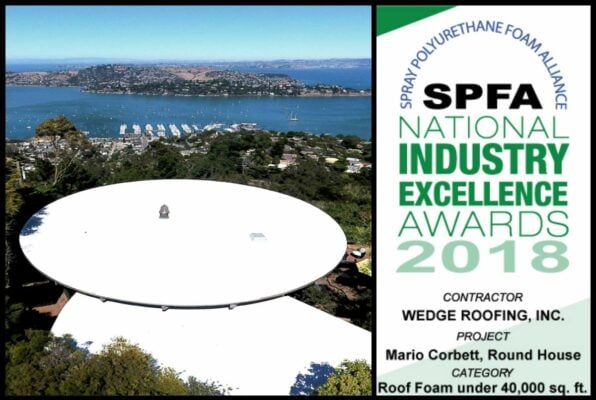 This is Wedge Roofing's fourth consecutive year, and the second Marin County roof to receive the first place SPFA award for Best Spray Foam Roof Nationwide. Judged by an independent panel of experts, the (SPFA) Industry Excellence awards are considered the spray foam roofing industry's highest honor and one of the most prestigious awards for a roofing contractor.
Towering Above the San Francisco Bay
Both technically challenging and architecturally significant, Wedge Roofing's award-winning spray foam roof was installed on a 1954 atomic-era home designed by famed mid-century modern architect, Mario Corbett in the Marin County Headlands. Towering nearly a thousand feet above the San Francisco Bay, perfectly aligned with the south tower of the Golden Gate Bridge, the home offers broad sweeping 160-degree views from the Pacific Ocean to the nine counties of the San Francisco Bay.
From Mid-Century Modern to High-Tech Roofing
Embodying both aesthetics and history, the 45-foot diameter circular home design stands as a nostalgic symbol of a remarkable phase in American culture. It harkens back to a time when the pursuit of lunar exploration was still a daring aspiration, and a thirst for modernity defined the present moment.
To bridge the 1950's era structure with the consistency and dependability of a contemporary roofing system, Wedge Roofing designed a highly-insulating foam roof providing the air-sealing energy-efficient characteristics not available in the original ceiling and roof assembly construction.
Highly-Insulating and Eco-Friendly
Sprayed-in-place, the spray foam conforms to the radius of the home, expanding into a solid, seamless membrane sealing the building envelope and eliminating heat and cold syncs. Beyond its insulation prowess, the spray foam prioritizes eco-friendliness. It was directly applied onto the pre-existing roof, circumventing the environmentally detrimental roof removal process. This approach reduces ecological impact and ensures sustainability through routine roof coatings.
Roofing in San Francisco Bay Area Fog
The Marin Headlands are often consumed by fierce, driven Pacific winds blanketing the area in thick waves of fog rolling over the coastal hills. This San Francisco Bay Area atmospheric condition could be challenging to some spray foam roofing contractors. However, as a certified spray foam contractor with over 45 years of Bay Area roofing expertise, the Wedge spray foam team utilized their unique installation techniques devised precisely for San Francisco fog.