New Roofing Completes Revitalization Project of Historic Sonoma County Building
Wedge Roofing Teams with Sessi Brothers to Revitalize Sonoma County's Penngrove Market
Built in 1872, the historic Rosheimer building received a new Insulating Spray Foam Roof with a Title 24 Silicone Roof Coating as part of the revitalization project following the 2015 fire that nearly destroyed the structure. Fully renovated, it is now home to Sonoma County's farm-fresh sensation, the Penngrove Market.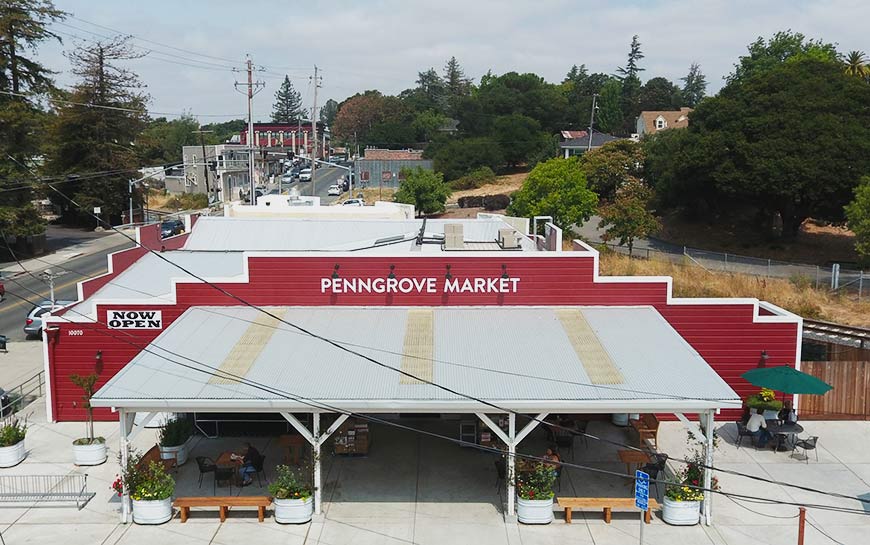 Martin Sessi
Step into the rich history of the Sonoma County landmark that is the Rosheimer Building, a venerable structure initially named after its original owner. However, it's time to recognize it as the Sessi Building, an homage to its current owner Martin Sessi and his family. Their unwavering dedication to historical preservation has breathed new life into this 146-year-old architectural gem.
Martin Sessi and his late wife Kelly, cherished members of the Penngrove community for years, have left an indelible mark. They've created more than thirty residences and rejuvenated the historic charm of Penngrove, envisioning a thriving and family-friendly downtown hub that celebrates local enterprises.
2015 Fire
In the annals of the Rosheimer Building's history, 2015 stands as a pivotal year. A swift and voracious fire threatened to consume this cherished establishment, often referred to as the "heart and soul" of Penngrove. With tenacity and care, Sessi undertook the painstaking restoration of the building, driven by a vision to bestow upon the town's 2,500 residents a communal haven in the form of a vibrant market.
Penngrove Market
This vision materialized into reality through the collaborative efforts of local culinary connoisseurs, namely Rebecca and Evan McDowell, along with Shaina and Joe Ferraro. Together, they are the proud proprietors of the newly christened Penngrove Market. Guided by an ardent love for local craftsmanship and seasonal bounty, this dynamic team presents the Penngrove community and visitors alike with an assortment of locally sourced provisions, home essentials, and handcrafted gifts, all lovingly cultivated by skilled artisans and small-scale farmers.
Highly-Insulating Foam Roof
Designed and installed by Wedge Roofing, an award-winning, certified spray foam contractor, and historic roofing specialist, Penngrove Market's Spray Foam Roof, and Cool Roof Coating is the perfect solution for flat and low slope roofs. Installed directly over the existing roof membrane, Wedge Spray Foam Roofs are a cost-effective and environmentally-friendly alternative to complete roof removal and replacement.
Wedge installed highly-insulating foam roofs, covered with a reflective, low-VOC cool roof coating are the most energy-efficient roofs available, lowering energy costs and providing a long-term renewable roofing solution.
Related Posts: