New Roofing Completes Revitalization Project of Historic Sonoma County Building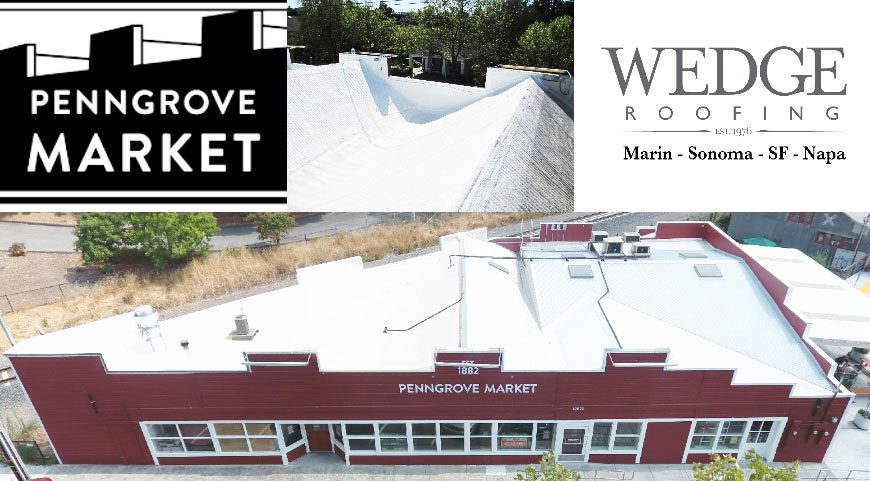 Wedge Roofing Teams with Sessi Brothers to Revitalize Sonoma County's Penngrove Market
Built in 1872, the historic Rosheimer building received a new Insulating Spray Foam Roof with a Title 24 Silicone Roof Coating as part of the revitalization project following the 2015 fire that nearly destroyed the structure. Fully renovated, it is now home to Sonoma County's farm-fresh sensation, the Penngrove Market.
Martin Sessi
Although named the Rosheimer Building after the original owner, perhaps this Sonoma County landmark should also be referred to as the Sessi Building after the current owner Martin Sessi and his family, whose devotion to historic restoration gave the 146-year old building a new life.
Long-time Penngrove residents Martin Sessi and his late wife Kelly built over thirty residences and revitalized historic Penngrove with their vision for a viable family-friendly downtown area featuring local businesses. Sessi is also a local hero, having saved an 11-year-old girl trapped in a runaway horse-drawn carriage.
2015 Fire
In 2015, a fast-moving fire nearly gutted the Rosheimer Building, long considered the "heart and soul" of Penngrove having served as the town's railroad station, general store, post office, and hardware store. Sessi painstakingly restored the building with a vision to provide a community market for the town's 2,500 residents.
Penngrove Market
Sessi's vision was brought to life by a group of local culinary experts, Rebecca and Evan McDowell and Shaina and Joe Ferraro, who are the owners of the new Penngrove Market. With a passion for local products and seasonal produce, the team provides the Penngrove community and tourists with locally sourced food, home goods, and gifts created by small farmers and artisans.
"We are devoted to bringing the best locally grown and made in Sonoma County items to our store. Our products reflect our commitment to sustainability, quality, value, and community."

Penngrove Market
Highly-Insulating Foam Roof
Designed and installed by Wedge Roofing, an award-winning, certified spray foam contractor, and historic roofing specialist, Penngrove Market's Spray Foam Roof, and Cool Roof Coating is the perfect solution for flat and low slope roofs.
Installed directly over the existing roof membrane, Wedge Spray Foam Roofs are a cost-effective and environmentally-friendly alternative to complete roof removal and replacement.
Wedge installed highly-insulating foam roofs, covered with a reflective, low-VOC cool roof coating are the most energy-efficient roofs available, lowering energy costs and providing a long-term renewable roofing solution.
Related Posts: