Marin County Geodesic Dome Roof Replacement Wins 2021 National Award
Marin County, CA: The Asphalt Roofing Manufacturers Association (ARMA) announced the winning projects in the 2021 Excellence in Asphalt Roofing Awards. year's Bronze Award was presented to Wedge Roofing for their shingle installation on a geodesic dome roof residence in the coastal community of Dillon Beach in Marin County, California.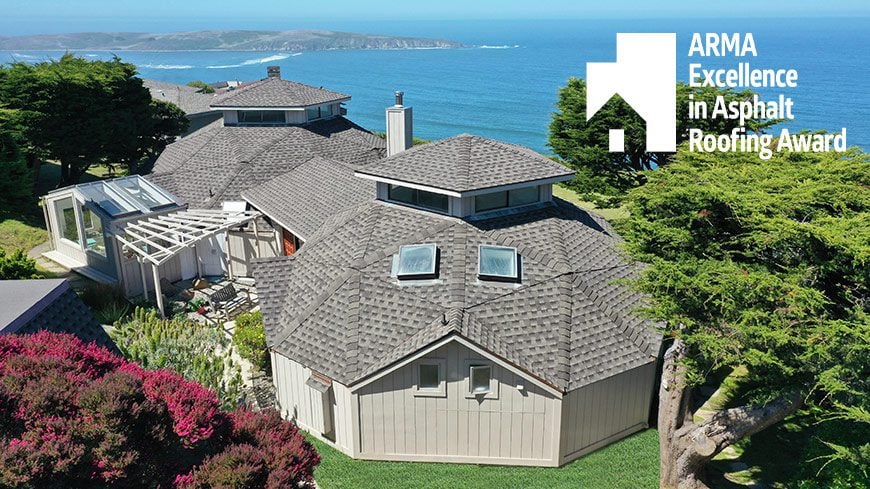 This intricate puzzle of a project consists of two conjoined geodesic dome shingle roofs, which can present a myriad of challenges to even the most experienced and skilled roofing contractor. In total, there were 94 individual roof sections, each needing to be meticulously integrated with its surrounding puzzle pieces. For this Marin County roofing project, the GAF Master Elite Contractor utilized GAF Timberline High-Definition Architectural Shingles.
This is Wedge Roofing's third consecutive year to receive the prestigious ARMA award and their second award for a geodesic dome shingle roof installation.
"Asphalt was the clear choice to maintain aesthetically pleasing architecture while also offering lasting protection against the elements," said Reed Hitchcock, ARMA Executive Vice President. "ARMA congratulates Wedge Roofing for their work on this complex and challenging project." ARMA received a record-breaking number of award submissions this year, which were judged by a panel of industry experts and members of the trade media.
Wedge Roofing will be recognized during a virtual awards event due to the ongoing coronavirus pandemic. This program recognizes low and steep-slope asphalt roofing projects from across North America based on four categories: Reasons for Selecting Asphalt, Performance, Beauty, and Distinction.
As the Bronze winner, Wedge Roofing will receive a cash prize which they will donate to the SF-Marin Food Bank.