California Wildfire Relief
San Francisco Bay Area GAF Master Elite Contractor Wedge Roofing, whose Sonoma County post-wildfire reroof project won the 2019 Asphalt Roofing Manufacturers Silver Award, has donated 100% of the prize money to assist victims of California wildfires.
Doubling the donation, Standard Industries, the parent company of GAF the manufacturer of the shingle roof Wedge installed, matched the contribution.
The Asphalt Roofing Manufacturers Association (ARMA) honored Wedge Roofing for their complex GAF shingle roof installation on a geodesic dome, which was also notable as it was part of the Sonoma County post-wildfire rebuilding and repair efforts after the deadly 2017 North Bay Area wildfires.
Along with the"Excellence in Asphalt Roofing Silver Award," ARMA Executive Vice President Reed Hitchcock presented Wedge Roofing President Ralph Wedge with a monetary award at the ceremony.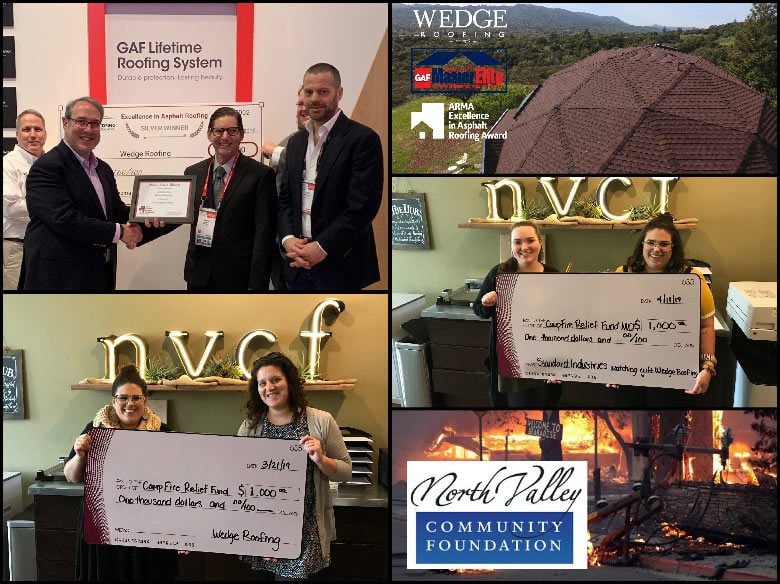 Caption: Reed Hitchcock, Executive Vice President of ARMA presents award to Ralph Wedge, President of Wedge Roofing and David J. Millstone, Co-Chief Executive Director Standard Industries. The check is gratefully accepted by representatives of the North Valley Community Foundation.
During his award acceptance, Wedge announced that his company would donate 100% of the winnings to the North Valley Community Fire Relief Fund to support victims of the devastating November 2018 "Camp Fire," which destroyed 14,000 homes, and killed 85 people in the Sierra Nevada foothills community of Paradise, CA.
David J. Millstone, Co-Chief Executive Officer of Standard Industries, the parent company of GAF, who participated in the award ceremony, announced that GAF Standard would match the donation for the rebuilding and relief of this California community, where 85% of all buildings were destroyed.
This is not the first time GAF and Wedge Roofing have teamed together for California wildfire relief. In 2017, the team partnered with ABC Supply Santa Rosa in donating funds to Redwood Credit Union to support North Bay wildfire victims in Sonoma and Napa Counties.
As we live and work in the communities of Sonoma and Napa, which were severely impacted by the October 2017 North Bay Firestorms, we saw first-hand the trauma and destruction of Northern California wildfires and want to extend our support to our neighbors in Paradise as they rebuild and recover from the 2018 Camp Fire. We extend our gratitude to ARMA for the generous award check and to GAF Standard for matching our donation." Ralph Wedge, president Wedge Roofing