Sonoma Winery Metal Roofing
Organic Sonoma Vineyard's goal for an eco-friendly, sustainable, and fire-safe building is achieved with metal roof and bamboo building components.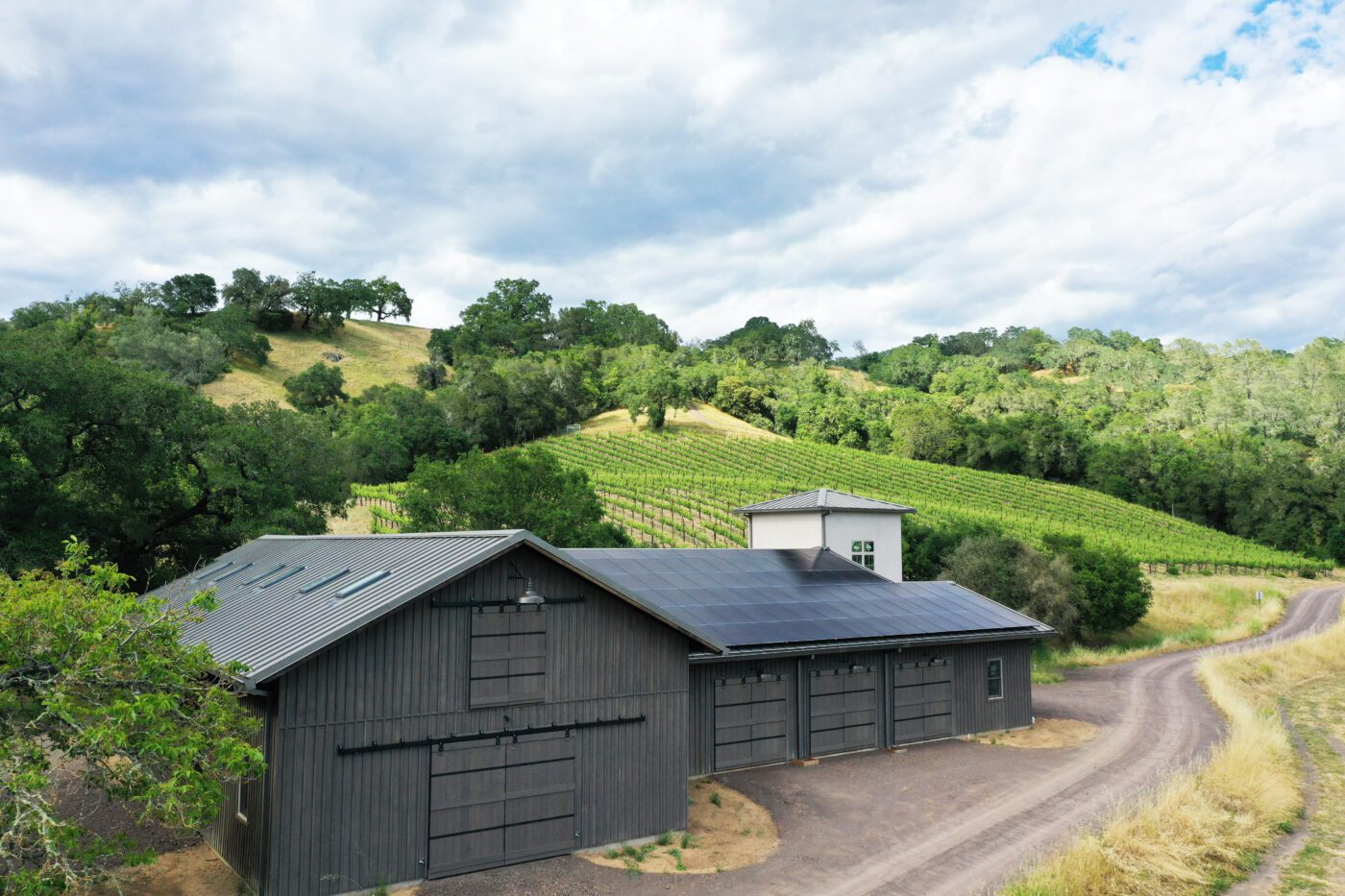 Eco-Friendly Sonoma Winery
When life-long environmentalists and philanthropists Dr. Hal Hinkle and his partner Katherine purchased 600 acres of prime wine country acreage in Sonoma County's Alexander Valley, they envisioned an environmentally friendly, self-sustaining custom crush winery.
Today, Sei Querce Vineyards near Geyserville produces premium organic red Alexander Valley grapes for wineries throughout the Sonoma and Napa Wine Country, and construction of the first vineyard building is complete.
To meet the Hinkle's goals for an environmentally responsible, sustainable, and fire-resistant building, the new structure was built with bamboo-based components and topped with a Class A fire-rated standing seam metal roof installed by Wedge Roofing's award-winning metal roofing team.
On the cutting edge of gold innovation, the vineyard's Bamcore bamboo-based wall system is not only environmentally friendly, but also has the lowest flame spread performance of any untreated wood components.
Standing Seam Metal Roof
Further reducing the vineyard's carbon footprint, the Hinkle family chose a standing seam metal roof, which is considered one of the most environmentally friendly and sustainable roofing systems available. Not only are metal roofs 100% recyclable, but they are also often manufactured from recycled materials and offer Class A Fire Protection, vitally important in Northern California wildfire zones such as Sonoma and Napa Wine country.
Low Key Bonderized Metal Roof
In order to harmonize the new building with the splendor of the vineyard's Alexander valley location, a rustic, low-key appearance was achieved with the selection of a bonderized metal roof with a finish that resembles weathered zinc or vintage galvanized steel. Unlike other "vintage-look" painted metal roofs, the unique appearance of a bonderized roof is achieved during the manufacturing process, and the metal roof panels will continue to age with time.