Why a Metal Roof is a Good Choice for Your Roof Installation
Versatile & Beautiful
Popular for Marin County and Sonoma residential and commercial buildings, Metal Roofs are available in a vast selection of materials, styles, and colors to meet every architectural design. From Standing Seam Metal Roofs to Granular Coated Steel Shingles, Metal roofing is considered one of the top renovation-friendly roofing systems.
Return on Investment
Although the upfront cost of a Metal Roof is higher than a shingle roof, the long-lasting durability of a metal roofing system adds significant value to your home or commercial building. According to Angie's List, homes renovated with Metal Roofing recoup on average 85.9-percent of costs nationally.
Environmentally Friendly
The longer life span of Metal Roofs reduces the environmental impacts of re-roofing. Plus, Metal Roofs contain a minimum of 25% recycled content. And, at the end of their long lives, Metal Roofs are 100% recyclable. Additionally, Metal Roofing provides the perfect surface for rainwater harvesting.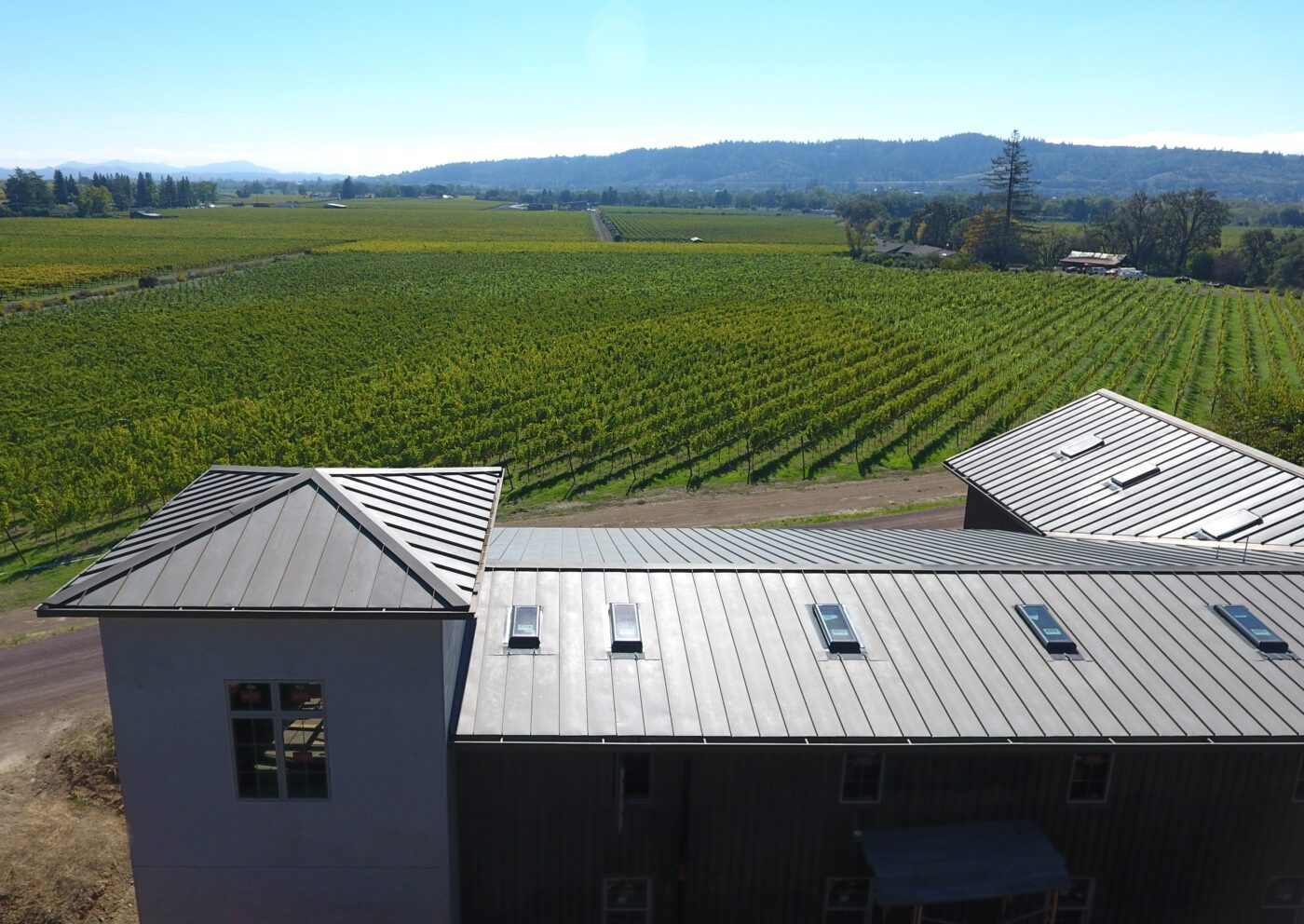 Sustainable
A properly installed well-designed Metal Roof can last decades. The lifespan of copper or zinc roofs can exceed 100 years. According to the Metal Roofing Alliance, with a life expectancy of 40 plus years, Metal Roofs last 2-4 times as long as shingle roofs.
Energy-Efficient
Reflective Metal Roofing can reduce summer cooling energy costs by allowing the roof surface to remain cooler preventing less heat transfer into the building.
Class A Fire Rated
Installed over a self-adhered, high-performance underlayment, Metal Roofs are non-combustible Class A Fire Rated providing superior protection in fire-prone areas such as Marin County, Sonoma County, and Napa Valley. Your new Metal Roof may even qualify for insurance discounts.
Low Maintenance
Metal Roofs require minimal maintenance. With periodic inspections a Metal Roof can be one of the longest lasting components of your building.
Why choose Wedge Roofing as your Metal Roofing Contractor?
Wedge Roofing is your local Metal Roofing Alliance Certified Contractor with over 46 years of Metal Roofing expertise in the San Francisco Bay Area. Serving Marin County, Sonoma County, Napa and San Francisco since 1976, Wedge Roofing has met the standards and requirements relating to services, installation and business practices to qualify as a Certified Metal Roofing Alliance Contractor.
For more information about Metal Roofing or to receive a free estimate for your home or commercial property, please contact Wedge Roofing's Metal Roof Specialists at info@wedgeroofing.com or call (888) 763-7663.