Metal Roof Replaces Wood Shingles
Moving Past Wood Roofs
(August 2015) Once the most popular steep-slope roofing systems in the San Francisco Bay Area, you can now find wood roofs on only a few homes and even fewer businesses today: wood shingles (or "shake" roofs).
It occurred to us at Wedge Roofing that in over 47-years of roofing in the San Francisco Bay Area we have seen wooden shingle roofs go from being omnipresent to being quite rare. There is a good reason for this as California experiences the driest summer in years, and wildfires consume homes in our region.
History of Bay Area Wood Roofs
Made from the heartwood of local redwood and cedar trees, wood shingle and shake roofs were the most popular steep-slope roofing material used in the construction of 19th century Northern California buildings. The history of our area's lumber production can still be seen in town names like "Mill Valley" and streets like "Miller Avenue," and this is part of the reason why wood shingles, or "shake" roofs became so popular in the San Francisco Bay Area.
Early Warnings
Despite this, even as early as 1912 the National Board of Fire Underwriters urged the elimination of wood shingle roofs and approved composition shingle roofs along with metal, slate and tile roofs as the best roofing materials as a non-combustible roofing system.
1970s Popularity of Wood Shake Roofs
Although asphalt shingles became a popular roofing choice in the early 20th century, wood shingle roofs remained popular for their aesthetic "earthy" look in many revival architectural styles. In post-war construction entire track home neighborhoods were built with wood shingle roofs and in the San Francisco Bay Area, wood shingle roofs and wood siding enjoyed another era of renaissance in the 1970's for property owners seeking a more rustic look.
1991 Oakland Hills Firestorm
In October 1991, the three-day Oakland Hills Firestorm resulted in 25 deaths, 150 injured and 3,354 homes destroyed. The fast-moving fire was fueled by hot, dry wind gusts carrying airborne-burning embers in all directions igniting home after home. According to FEMA, the major contributing factors to the devastation were a five-year drought, low humidity weather, wind gusts and, notably, wood shingle roofs and siding on the homes. Fire forensics from FEMA concluded " . . . the few homes left standing demonstrated the value of non-combustile roofing materials and brush clearance around the structure."
"I've seen too many homes burned to the ground that could've been prevented, a metal roof is one of – if not the – best preventative steps a homeowner can take to prevent the spread of residential fires and save their own homes." Jim McMullen, former California State Fire Marshall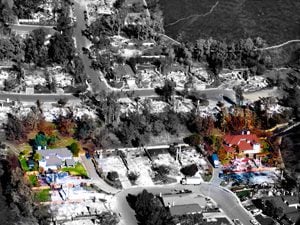 Amidst the charred remains of the Oakland Hills homes stood only two remaining houses, both with Gerard Stone-Coated Metal Roofing Systems instead of the more popular wooden shingle option. (Photo credit: Gerard Metal Roof Systems)
Wood Roofing – Major Risk Factor
Following the firestorm, throughout California's wildland-urban interface, untreated wood-shingle roofs were identified as a major fire risk factor.
In an analysis of structure loss in the 1990 Santa Barbara Paint Fire, California Dept. of Forestry and Fire Protection (CAL FIRE) assistant fire chief, Ethan Foote said the factors most important in structural survival were: roofing material, flammable and vegetation clearance.
Non-Combustible Roof
Foote concluded the probability of structural survivability in the Santa Barbara fire with a non-combustible roof and thirty-foot vegetation clearance was 90%, without these measures the survivability was only 15%. These shocking figures and results of these past fires began to chip away at the popularity of wood shingle roofs and siding.
Class A Fire Rated Roofs
If you have a wood shingle or shake roof, please plan on replacing it right away with a Class-A Fire-rated roofing systems, including metal roofs, tile roofs, shingle roofs and slate roofs.
For more information on how to protect your home or business during fire season, please read our blog, "Fire Resistant Roof Maintenance."