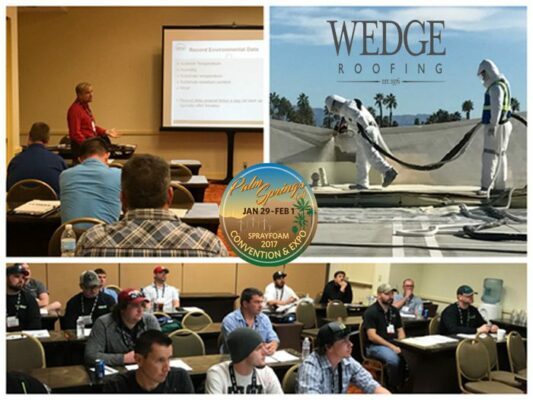 In 2013, Wedge Roofing's Spray Foam Team was the first in the United States to successfully pass the new rigorous standards of testing established by the Spray Polyurethane Foam Alliance (SPFA) earning certification as Advanced Level Master Installers and Master Project Managers for both spray foam roofing and spray foam insulation.
The Spray Foam Roofing Professional Certification verifies Wedge Roofing's demonstrated expertise, essential knowledge, skills, and abilities inherent in the highest class of spray foam professionals.
Indeed, our San Francisco Bay Area Spray Foam Roofing projects were selected as the best nationwide by the National Roofing Contractors Association in 2016 and the Spray Polyurethane Foam Alliance in 2015, 2016, 2017, 2018, 2019, and 2021.
Now, it is time for Wedge Roofing to give back: At the 2017 Spray Foam Expo in Palm Springs, General Manager, Gary Harvey, prepared the next generation of spray foam roofers for the rigorous testing required to earn Master-level Spray Foam Roofing Professional Certification.
Harvey's advanced-level spray foam roofing courses readied his students to successfully pass the written test and the field examinations required to earn both Master Installer and Master Project Manager Certifications. Topics covered in the curriculum include: foam installation methodology, coating installation, testing standards, building codes, pre-job planning, material and design selection, and spray foam equipment maintenance.
We wish the best of luck to these up-and-coming Spray Foam Roofing professionals.
---
Wedge Roofing is a San Francisco Bay Area Certified Spray Foam Roofing Contractor serving Marin County, San Francisco, Sonoma County and Napa since 1976. We specialize in Spray Foam Roofs that insulate and waterproof San Francisco Bay Area residential, commercial and industrial buildings providing a long lasting, cost-effective, energy-efficient roof system that is California Title 24 compliant.
As recipient of the 2015 and 2016 National Spray Foam Alliance Industry Excellence Award for best spray foam roof nationwide, we provide our spray foam roofing clients with the highest level of safety, performance, quality and professionalism, well above spray foam roofing industry standards.
Leading the way for safe and precise Spray Foam Roofing in the San Francisco Bay Area, Wedge Roofing's Spray Foam Experts are certified as advanced level "Spray Foam Roofing Master Installers" and "Spray Foam Roofing Project Managers" by the Spray Polyurethane Foam Alliance.