Recently, Sonoma County Roofing Contractor, Wedge Roofing donated their Historic Roof Repair Service to beautifully restore the Walnut Park Bandstand in Petaluma, CA.
Since 1927, generations of Petaluma residents have enjoyed music-filled evenings with friends and family picnicking at the Walnut Park bandstand. In addition to music, matters of political importance have taken place from this bandstand, politicians such as Adlai Stevenson have given speeches, and anti-war demonstrations took place there during the Vietnam War. The bandstand donated by the Lion's Club in 1927, is part of an enduring history of community dedication to Walnut Park, which was founded by the Petaluma Ladies Improvement Club in 1897.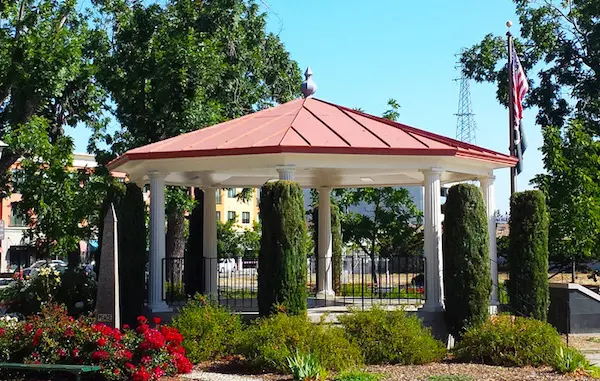 Today, the Petaluma Service Alliance, including three local Rotary chapters (Rotary, Petaluma Valley Rotary and Petaluma Sunrise Rotary), Petaluma Host Lions and 7-11 Lions, Kiwanis and the Elks Lodge all volunteer their resources to maintain and renovate the beloved park.
Recently damage to the finial atop the bandstand's metal roof compromised the structural integrity of the roof, allowing interior leakage. Ralph Wedge, a member of the Petaluma Sunrise Rotary Club, volunteered the services of his 40-year roofing company, Wedge Roofing to restore the bandstand roof.
Wedge Roofing's historic roofing team removed the damaged finial for repairs and delicate refurbishing. Once complete the finial was reassembled with all seams individually soldered and replaced atop the bandstand, making it look as good as the day it was installed in 1927.
In keeping with the tradition of local volunteerism inspired by the Ladies' Improvement Club of Petaluma more than a century ago, Wedge Roofing donated all of their labor and materials for this rooftop renovation.
"Wedge Roofing is truly proud to give back in this small way to Petaluma and for the preservation of one of the Bay Area's historic sites."  

Ralph Wedge