Napa Valley Winery Spray Foam Insulation Success
"Wedge Roofing was critical in the success of our 2017 harvest production. Unbeknownst to us at the time, the first contractor was more like a 'two buck chuck wine' compared to the refined finish of Wedge." Joshua Sterling, Realm Cellars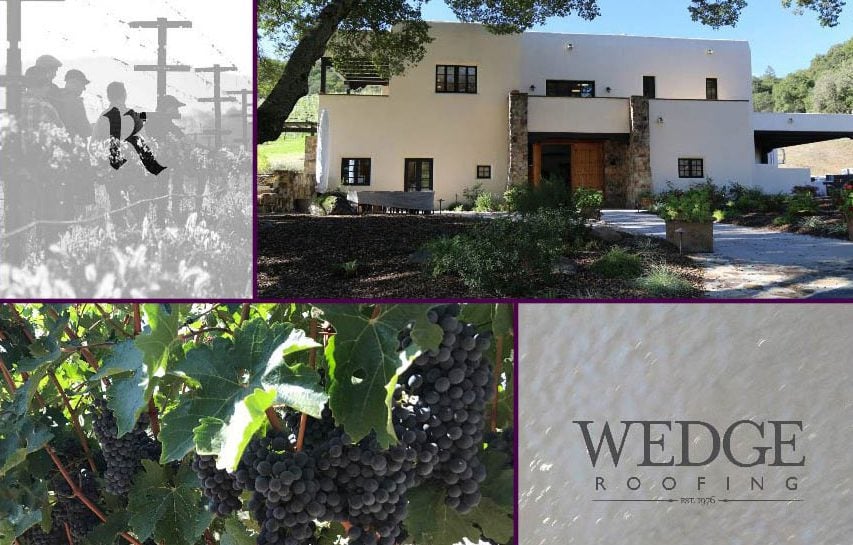 Foam Insulation
Spray foam insulation has become ubiquitous in California over the last decade, its benefits being clear to home and business-owners alike. As is always the case with a popular product, inexperienced, unaccredited installers attempt to install this complex system resulting in failed applications. Experienced home and business owners know that it takes a highly experienced, accredited Spray Polyurethane Foam Alliance (SPFA) contractor to meet the quality and safety standards established by the spray foam industry.
Imperiled Napa Wine Harvest
Just three weeks before Napa Valley's 2017 harvest season, Realm Cellars, a renowned Napa winery in the Stags Leap District with vineyards stretching from the Silverado Trail to the top of Wappo Hill, contacted Wedge Roofing to remedy a situation which imperiled their harvest. The initial use of an inadequately trained, non-accredited, unskilled contractor to install spray foam insulation left this boutique vintner without a chilled storage facility.
Non-Compliant Spray Foam Installation
What Gary Harvey, General Manager for Wedge Roofing, discovered upon inspection was the kind of finished product and application technique that makes any professional spray foam applicator cringe. What was supposed to be a straightforward installation of two inches of closed cell spray foam over the ceiling and walls was deficiently substandard. The irregular and inconsistent foam thickness, combined with a defective spray pattern from a poorly operated dirty spray foam application gun, yielded heavily cratered surfaces. These application inadequacies not only resulted in deplorable aesthetic characteristics, but rendered the facility inoperable as it was not in compliance with the incidental food contact requirements for a smooth, cleanable surface.
Remediation Plan
After completing chemical and physical analysis, consulting with industry experts and utilizing their own expertise, Wedge planned a unique remediation to provide a highly efficient cold storage with the smooth, cleanable, finished surfaces required for a food grade facility. With precision application, exacting air handling, and safety and environment management, the areas of extreme surface deficiencies were corrected, and application of spray foam insulation and coating was applied.
Napa Harvest Saved
The primary storage facility was gold-lit for use and was filled to capacity only three days after Wedge Roofing signed off on the project as complete. The owner was elated with the result. The finished product, elegant and suitable for a world-class boutique vintner, and accomplished under extraordinary circumstances in record time allowing the harvest to continue uninterrupted during the most critical time in a winery's fiscal calendar.
Economic Benefits
Wedge Roofing's spray foam insulation strategy was not only timely for the client, but also economically beneficial saving Realm Cellars tens of thousands of dollars. Without Wedge Roofing's artistic and improvised use of sprayed polyurethane foam, the worst case could have been a lost harvest from a beloved wine, the best case would have been substantial additional cost involved with facilities rental and the logistics of moving their operations to a new primary rental facility during the busiest time of the season.
---
From wine cellars to rooftops, Wedge Roofing provides expert insulation and roofing services to Wineries and Vineyards in Napa and Sonoma County. Please contact for more information.
Realm Cellars is one of the top recommended Napa Valley Wineries.