Donated Roof Saves Elderly Woman's Home
When Phyllis H., a 79-year old disabled widow, saw the new shingle roof that Wedge Roofing had installed on her Petaluma home free of charge, she exclaimed, "I've heard people say that nobody cares anymore, but I am telling you, here is a whole group that will sure prove them wrong."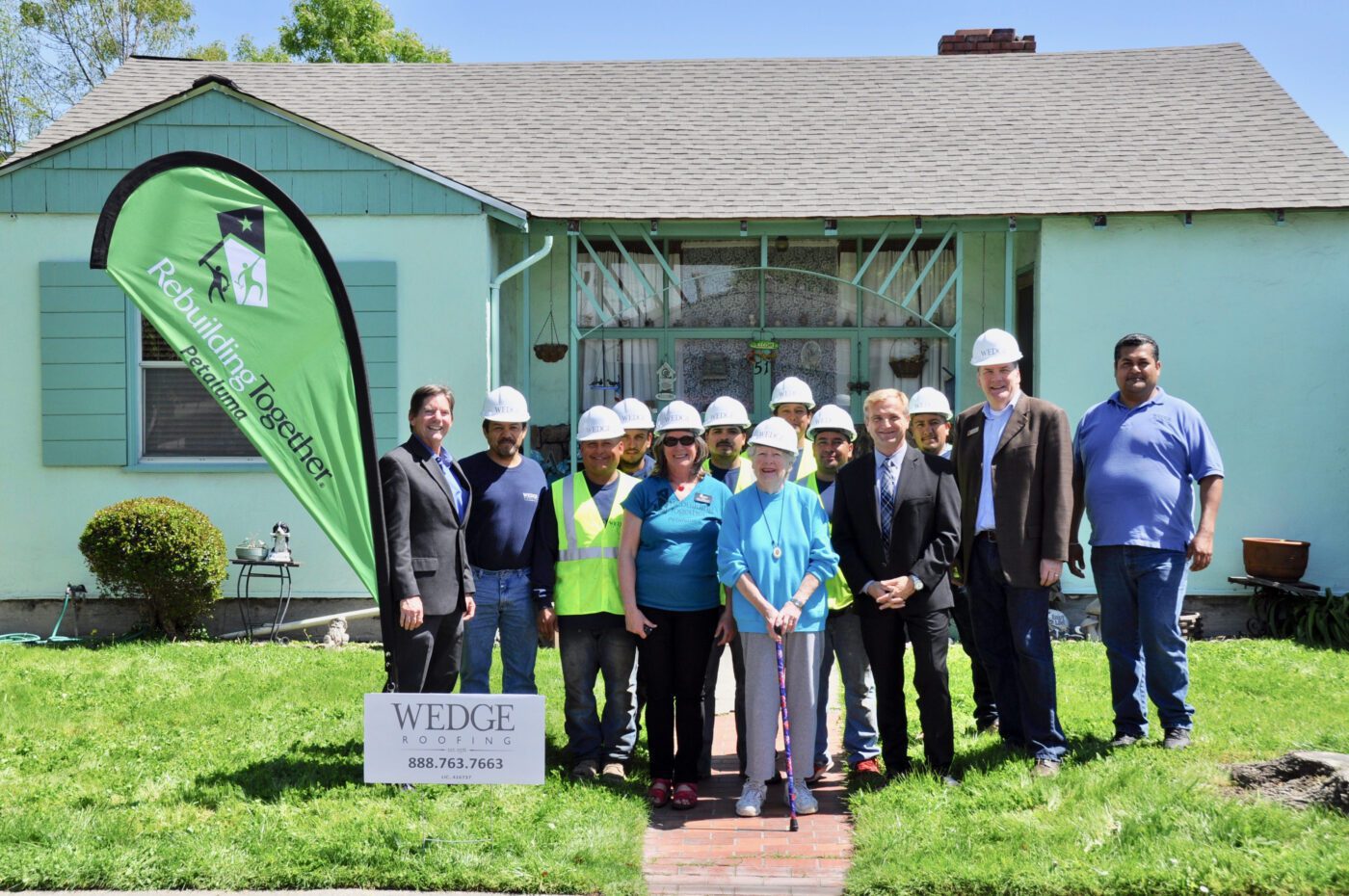 Relying upon Social Security as her only income source, the long-time Petaluma resident was in danger of losing her home before Wedge Roofing and ABC Supply, working in conjunction with Rebuilding Together Petaluma, came to her rescue.
The shingle roof on the home Mrs. H. had lived in for 47-years had deteriorated to the point where water was flowing down the walls and buckling the ceiling. The situation was so dire, that even her homeowner's insurance threatened cancelation of her policy if the roof was not replaced immediately.
It was then that Rebuilding Together Petaluma (RTP) intervened to provide assistance. Believing, "Community Starts at Home" the non-profit organization facilitates critical repairs for elderly and disabled homeowners in Petaluma who cannot afford to maintain or modify their homes.
"Wedge Roofing provides an excellent example of a business that demonstrates leadership, high standards and community values." Rebuilding Together
When RTP's executive director, Jane Hamilton reached out to Wedge Roofing, the Petaluma-based contractor offered a complete roof replacement at no charge. The owner, Ralph Wedge and General Manager, Gary Harvey, coordinated with Dennis Debolt, Manager of ABC Supply in Santa Rosa, who donated the roofing materials.
In just one day, Wedge's GAF Master Elite Shingle Crew removed the previous roofing down to the sheathing boards, performed dry rot repairs, and installed a new GAF Timberline Shingle Roof, proving to Mrs. H. just how much her Petaluma community cares.
"Petaluma has been fortunate to have Wedge Roofing headquartered in our town for the past 45 years. It is a trusted name not just in roofing but also in the larger business community with a solid reputation for top quality, reliable and honest work. When Wedge Roofing replaces a roof for a struggling homeowner, it has a lasting impact not just on the life of that family but on the whole neighborhood." Rebuilding Together

Jane Hamilton, Rebuilding Together Petaluma