Wedge Roofing Donates Roof to Local Veterans
In partnership with GAF and ABC Supply, Wedge Roofing donated a new roof to the Sonoma County based Rocca House, a sober living house for previously homeless veterans.
Marin and Sonoma County contractor, Wedge Roofing, recently honored by Rebuilding Together Petaluma as a "Hometown Hero" due to their philanthropic efforts in the Northbay, has again joined with the non-profit organization to help homeless veterans.
Wedge Roofing salutes the veterans who are rebuilding their lives in sobriety at the Rocca House. With a new roof over their heads, we hope the veterans are comforted to know the North Bay community cares about their well-being and honors their service to our country." Ralph Wedge, CEO Wedge Roofing
With more than 10,000 veterans lacking stable housing in California today, Wedge wanted to be a part of the solution in providing a safe and secure place that these local veterans could call home as they navigate their sobriety.
The local contractor provided the $16,000 GAF Timberline HD shingle roof at no cost. CEO Ralph Wedge secured donations of materials from his suppliers, GAF and ABC in Santa Rosa, and paid his employees for the three-day project.
"Wedge Roofing is the only roofing company to ever provide a new roof free of charge for a Rebuilding Together Petaluma client, something they also did once before in 2017. When a company does this type of philanthropy, it greatly multiplies our ability to help other low-income residents." Jane Hamilton, Executive Director Rebuilding Together
The Rocca House, an eight-bed sober living environment for previously homeless veterans, is owned by the City of Petaluma and leased for $10 a year to the Veterans Resource Centers of America, a community-based nonprofit that places veterans who are struggling to reintegrate on a path toward happy, healthy and productive lives.
Rebuilding Together Petaluma organized a community effort to improve health and safety concerns for the veterans at the Rocca House. The most critical and expensive improvement for the home was a complete roof replacement, which could not be accomplished by volunteers.
"California is home to nearly a third of the nation's homeless veterans. This is a big challenge in Sonoma County and throughout the state, and we couldn't do our part in addressing it without the support of our community partners. Thanks to the City of Petaluma, Rebuilding Together Petaluma, and Wedge Roofing, our veterans will now have an even better and more secure place to call home." Mary Haynes, Site Director Veteran's Resource Center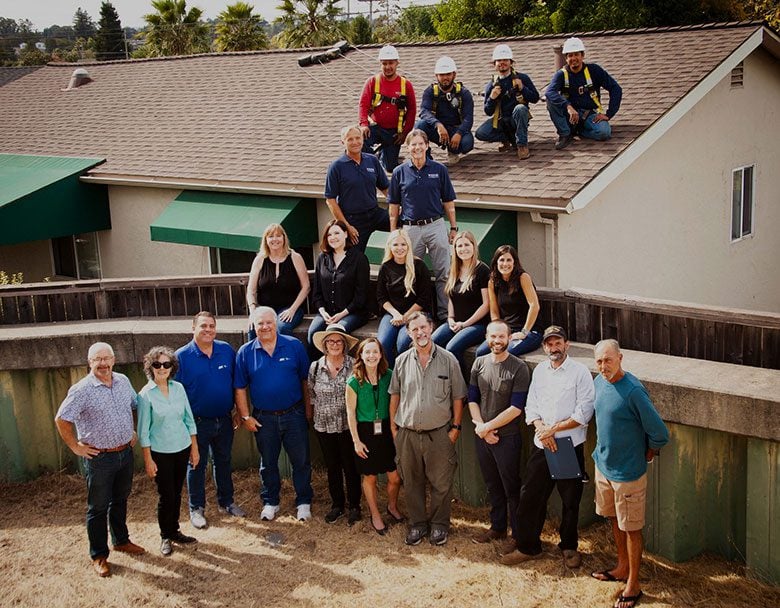 Caption: Pictured are Petaluma Mayor Teresa Barrett; Petaluma Vice-Mayor Kevin McDonnell; Jim Lupere, Clinical Coordinator for Veterans Resource Center; Joe Milsap, Communications Director for Veterans Resource Center; Mary Heath, Set Director North Bay Veterans Resource Center; Juliana Kim, Housing Locator North Bay Veterans Resource Center; Jane Hamilton, Executive Director Rebuilding Together Petaluma; Dennis DeBolt, ABC Supply; Rich Phipps, ABC Supply; and the Wedge Roofing Team