SPFA 2015 National Contractor Excellence Award Winning Project:
San Francisco Bay Area Historic House Welcomes High-Tech Spray Foam Roof Makeover
(Published in Spray Foam Professional: The Official Publication of the Spray Polyurethane Foam Alliance – Summer 2015)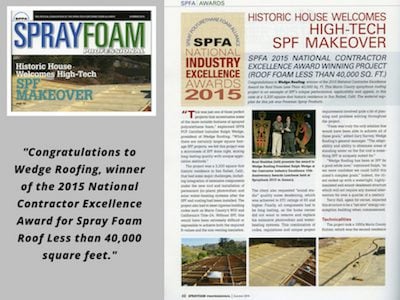 Congratulations to Wedge Roofing, winner of the 2015 National Contractor Excellence Award for Foam Roof Less than 40,000 square feet.
This Marin County Spray Foam Roofing project is an example of spray foam's unique performance, applicability and appeal, in this case at a 3,200 square-foot historic residence in San Rafael, Calif. The material supplier for this job was Premium Spray Products.
"This was just one of those perfect projects that accentuates some of the more notable features of sprayed polyurethane foam," explained SPFA PCP Certified Installer Ralph Wedge, president of Wedge Roofing. "While there are certainly larger square footage Spray Foam Roofing projects, we felt this project was a microcosm of spray foam done right, mixing long-lasting quality with unique application methods."
The project was a 3,200 square-foot historic residence in San Rafael, Calif., that had some major challenges, including integration of extensive components under the new roof and installation of permanent (in-place) photovoltaic and solar water-heating systems after the spray foam and coating had been installed. The project also had to meet rigorous building codes such as Marin County's WUI and California's Title-24. Without spray foam, this would have been extremely difficult or impossible to achieve both the required R-values and the non-venting insulation. The client also requested "sound studio" quality noise deadening, which was achieved to STC ratings of 65 and higher. Finally, all components had to be long lasting, as the home owner did not want to remove and replace his extensive photovoltaic and water-heating systems. This combination of codes, regulations and unique project requirements involved quite a bit of planning and problem solving throughout the project.
"Foam was truly the only solution that would have been able to achieve all of these goals," added Gary Harvey, Wedge Roofing's general manager. "The adaptability and ability to eliminate areas of standing water on the flat roof is something spray foam roofing is uniquely suited for."
"Wedge Roofing has been at spray foam for a good while now," continued Ralph, "so we were confident we could fulfill this client's complex goals." Indeed, the client ended up with a watertight, highly-insulated and sound-deadened structure which will not require any manual intervention for over a quarter of a century.
Terry Hall, agent for owner, expected this structure to be a "net zero" energy consumption building when commissioned.
The homeowner's major goals were:
• Eliminate the dead flat areas on their roof, which created dilapidating "pooling" of water during rain.
• Add significant R-values to his structure for temperature control and sound deadening where none was possible due to the open-beam tongue-and-groove ceiling associated with the post-and-beam construction.
• Lay significant telecommunications and high-speed Internet cabling under roof system that normally would have required a large vented cavity, which was not allowed by the Marin County Wildfire Urban Interface (WUI) codes.
• Implement expansive solar paneling and hot-water heating systems upon roof during the final stage of the project. Removing and replacing this equipment alone would cost the homeowner ~$10,000 per removal and reinstallation, which is why it was paramount that the components Wedge Roofing installed well outlasted these two systems.
• Create a roofing assembly with sufficient STC (Sound Transmission Class) ratings to work in conjunction with the ultra high sound studio quality exterior wall designs to eliminate exterior noise pollution.
• Make all project components "buy it for life." This meant that all components needed to perform for at least 25 years to avoid removal of solar and hot-water systems.
Technicalities
The project took a 1950s Marin County Eichler, which was the second residence of a San Francisco Bay Area tech mogul, and transformed a structural deficiency using the unique shaping capabilities of spray foam, mixed with some quality framing by Wedge Roofing applicators.
The 1950s Eichler design had a mostly flat roof with a sloped section in the middle. A sloping framed cavity was created on all of the flat sections varying in depths from 8 inches to 12 inches to accommodate all of the cabling, lighting, environmental control devices, fire suppression systems and high-pressure HVAC mini ducting. This cavity was then filled with 2 pound closed cell SPF for an average R-value of approximately R60. Next it was sheeted with half-inch Oriented Strand Board (OSB) and had 2 inches of 2.8 pound closed cell SPF applied over a half-inch layer of sheet rock mechanically fastened to the substrate. The sprayfoam was top coated with 4 gallons of high solid content silicone with white granules broadcast until refusal.The combined R-value of the system was in excess of R70, which means the structure's owner has well above standard code insulating value and will not be likely to revisit the project again due to future energy efficiency building codes. This system also incorporated 20 ounces of copper at all perimeter locations.
The project met rigorous local and California state code as well, making it compatible with Marin County's Wildfire Urban Interface (WUI) requirements. These requirements forbid cavities that require venting due to the ability of wild fire to be drawn into the structure through this venting provision. No other insulation can perform in this cavity and not need ventilation, making it a unique and valuable construction solution for Northern California. California's Title-24 energy efficiency codes further mandate insulating values and reflectivity qualities for structures, making foam the only solution that could attain the required R-values while also keeping in line with WUI codes.
Wedge Roofing also had to safely accommodate literally miles of data and fiber optics cables under the roofing system while maintaining historical accuracy and unassuming nature from curb-side. These were laid-into the temperature-controlled and waterproof area under the roof. Additionally, the sound-deadening quality of SPF solved the client's other requests for sound reduction inside the structure; STC ratings were above 65 in the complete roof assembly.
With the longevity of components and R-value of the roof assured and the fiber optics laid, the photovoltaic and solar hot-water heating systems could be permanently installed on top.
Also, thousands of board feet of 2×6 tongue-and-groove ceiling lumber – that formerly moved independently during wind load, temperature changes or a myriad of other outside influences – were solidly bound together as one structure (as a result of the SPF insulation). This additional benefit dramatically increased the racking strength, which is extremely important in the earthquake-prone San Francisco Bay Area.
Best Practices
Wedge Roofing is a SPFA PCP-certified Advanced Level Master Installer and project management company and also holds additional certifications with the Air Barrier Association of America, Certified Green Builder in addition to the RISE certification from the NRCA (Residential Integrated Solar Energy). Additional best practices were employed such as making sure no other trades were on site while spray application was in progress. Spray shields were utilized to prevent overspray to adjacent structures and other objects on the work site. Detailed processing parameter records and all relevant technical data including MSDS's were on site and accessible daily for review. Full accidental spill containment materials where strategically stationed at interface with wild lands, proactively. Daily job site meetings were held with employees to delineate work areas and anticipated interaction with other trades which included a representative from each impacted trade. All relevant emergency service contact information was posted on site including 24-hour contact number for Wedge Roofing representative.
In order to minimize risk, a series of preconstruction meetings took place between the representatives from other trades, the building owner and Wedge Roofing personnel. These meetings defined scheduling, return to service parameters and impacts to other trades. All personnel involved with the sprayfoam application portion were outfitted head to toe with chemical resistant Tyvek suits, gloves and full-face masks (consisting of 3M's 7500 series respirators with 5201 filters). The equipment and material area was rigorously controlled, with restricted access and "do not enter" signs posted for the duration of spray application.
Wedge was allocated eight construction days in between other trades on a tightly controlled residential plot to complete all of the work. This work was completed in six days despite two days of rain and inclement weather due to an increase in staffing and additional equipment.
"At the end of the day, this project was impossible utilizing non-sprayfoam technology without significantly altering the exterior design of the structure, which was out of the question given the owner's requirements to be historically accurate," explained Ralph.
Wedge Roofing is headquartered in Petaluma, Calif. Some examples of their work include "completely insulating 110,000 square-foot warehouses for Amy's Kitchen in Santa Rosa to providing temperature control for Napa vintners' wine storage containers," said General Manager Gary Harvey. They have also safely and securely installed spray foam insulation and spray foam roofs in the San Francisco Bay Area including Marin County, San Francisco, Sonoma County, Contra Costa County, Solano County Alameda County and Napa. Visit them at www.wedgeroofing.com or call at 888-763-7663.
Premium Spray Products Inc. based in Marietta, Ga. (www.premiumspray.com) is a manufacturer of spray polyurethane foam systems and protective coatings. For the project outlined in this article, Wedge Roofing chose to use the Premiseal 280 roof system and Premicote 2100 protective coating, as well as Foamsulate 210 for the additional insulation requirements required at the roof cavity.